Kayaking
Do you like great sunrises and sunsets, seeing turtles and the cousin of stingrays—skates? You can experience these and more wonderful experiences from a canoe or kayak in the Pamlico Sound. Free ranger-led kayak tours are held in the summer months on Hatteras Island. Check the event calendar for details.

Here are some of the easiest launch sites to find along Highway 12:
Oregon Inlet Kayak Launch
Pea Island Launch located a few miles south of the Pea Island National Wildlife Refuge Visitor Center, at the New Inlet parking area,
Salvo Sound Access located just south of the village of Salvo,
Haulover Sound Access located halfway between the villages of Avon and Buxton,
Devil Shoals Road on Ocracoke Island, and

The very end of Highway 12 in Ocracoke village, where there is a parking lot/ boat launch across the street from the NPS visitor center.
Commercial kayaks and canoe rentals are available locally, and ask where more secluded launch sites can be found if you want to try some different locations.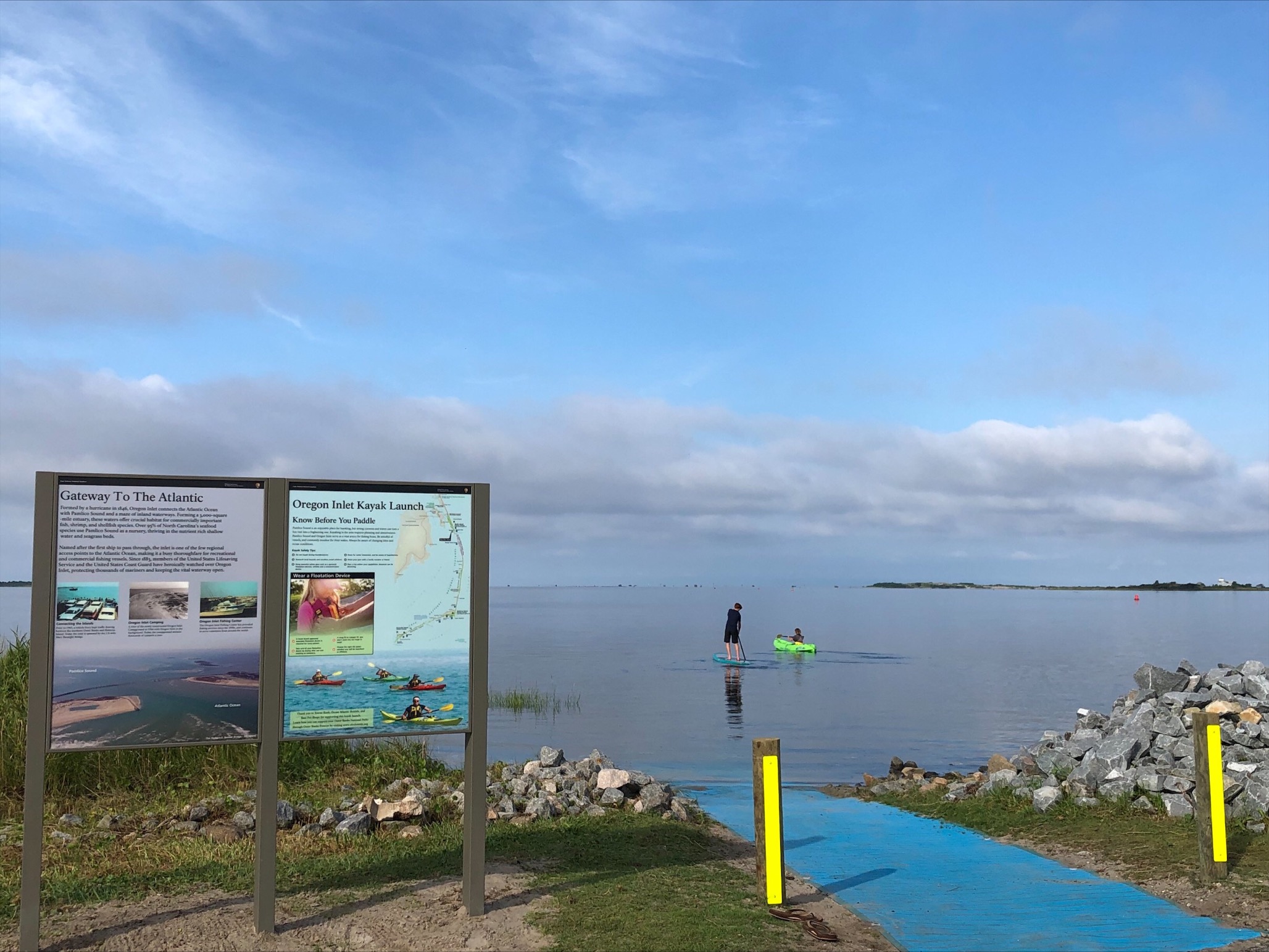 Oregon Inlet Kayak Launch
The Oregon Inlet Kayak Launch, located at the Oregon Inlet Fishing Center on Bodie Island, provides a great opportunity to put kayaks into the water. Ample parking, loading areas, and maintained path to Pamlico Sound create an easy access to Pamlico Sound and Oregon Inlet.
Pamlico Sound is an enjoyable place for kayaking, but strong currents and waves can turn a fun visit into a frightening one. Kayaking in the area requires planning and attentiveness- Pamlico Sound and Oregon Inlet serve as a vital artery for fishing boats. Be mindful of vessels, and constantly monitor for their wakes. Always be aware of changing tides and ocean conditions.
The Oregon Inlet Kayak Launch was made possible by support from
Outer Banks Forever,
Towne Bank, Ocean Atlantic Rentals, and Bass Pro Shops.
Kayaking Safely
Do not kayak during thunderstorms.
Research local hazards and weather, avoid collisions.
Bring essential safety gear such as personal floatation devices for everyone onboard, whistle, and a communicaton device.
Dress for water immersion, and be aware of hypothermia.
Share your plan with a family member or friend.
Plan a trip within your capabilities- distances can be deceiving.
Last updated: August 8, 2023