Bonner Bridge Pier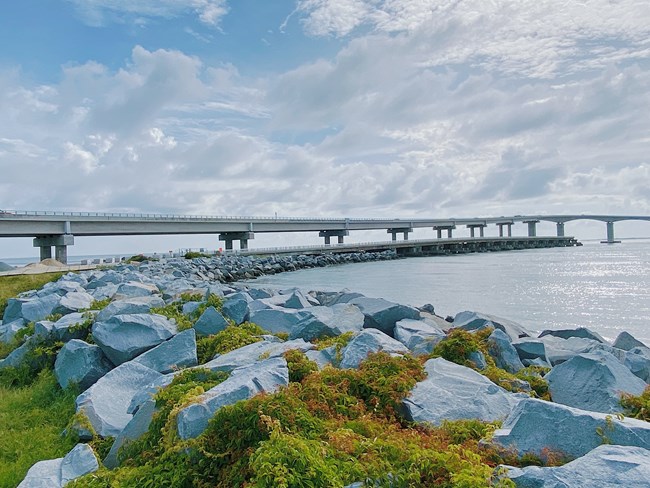 The Bonner Bridge Pier opened on Oct. 1, 2021 under cooperaton between the National Park Service, Fish and Wildlife Service, and the North Carolina Department of Transportation. The 1,046-foot-long remnant section of the Bonner Bridge, located next to the south end of the Basnight Bridge, is managed by Cape Hatteras National Seashore. The Bonner Bridge Pier is a great place to walk, sightsee, watch for marine life, and enjoy recreational fishing. The pier is free and open 24 hours a day. View photos on Cape Hatteras National Seashore's Flickr page.

Please use caution in the parking lot and on the approach road. The area is still an active construction site as the Bonner Bridge demolition project continues.
Connecting the Southern Outer Banks

Completed in 1963, the Bonner Bridge was the first constructed bridge that connected Hatteras Island with the rest of the Outer Banks. Prior to the bridge, access was only available via vehicle ferry from the Oregon Inlet Fishing Center. The completion of the bridge brought well needed connections to the southern Outer Banks, as well as faster evacuation routes during severe weather.

The Bonner Bridge reached the end of its functional lifespan in the 2010s, and the North Carolina Department of Transportation began a bridge replacement project. In 2019, the new Marc Basnight Bridge opened, replacing the Bonner Bridge. As part of the replacement project, the remnant 1000ft of the bridge on the Hatteras side of Oregon Inlet was retained as a structure to help train the ocean current further into the center of the inlet to aid navigation and as a pedestrian and fishing structure.
Rules
Fishing is a fun and rewarding experience. However it is important to be aware of the rules and regulations surrounding fishing, and to be respectful to fellow anglers. Jumping from the pier, or climbing down on the bridge pilings is prohibited for your safety. Boats are not allowed to tie-off, or moor to the bridge structure.

All anglers must have a coastal North Carolina Fishing License to fish from the pier. All state length and catch restrictions must be adhered to.

The pier is open, free of charge, 24 hours a day.

The following are prohibited on the Bonner Pier and enforceable:
Pets

Drones

Glass containers

No vehicles are allowed outside of the parking lot, including on the pier. This includes golf carts.
Canopies, grills, and generators

Pin-rig or spearfishing

Bicycles, skateboards, and rollerblades

Fishing with more than 2 rods per angler
Etiquette
Be considerate of those around you and do not crowd other anglers.
Keep music volume low
Attend fishing carts and rods at all times
Use underhand casts
Unwanted fish should be released alive
Wear shoes or sandals
Recycle fishing line in the provided canisters
Report sturgeon and seal sightings to Cape Hatterars NS Biologists at (252) 216-6892
If You Hook a Sea Turtle
Contact Cape Hatteras NS biologists at (252) 216-6892

As you wait for a response, use a net to lift turtle to pier or land

Do not lift turtle by hook or pulling the line. If unable to lift try to walk the turtle to shore

Keep hands away from turtle's mouth and flippers

When you have control of the turtle, use scissors or knife to cut line, leaving 2 feet of line to aid rescuers in de-hooking. Leave hook in place.

If you cannot reach a response team or are unable to lift turle cut line as close to turtle as possible
Last updated: October 4, 2021