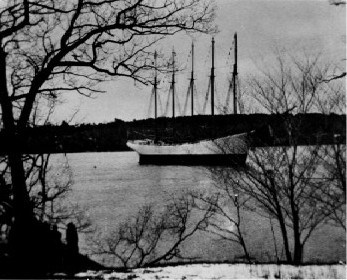 Cape Hatteras is home to many maritime legends but perhaps none is as curious as the real-life story of the massive schooner, Carroll A. Deering. Lost on the Outer Shoals in 1921 and discovered completely abandoned by the Coast Guard, this historical event has all the makings of a Hollywood ghost story.
On January 29, 1921, the Carroll A. Deering was making a return trip to Hampton Roads, Virginia from Barbados when she passed the Cape Lookout Lightship. According to the lightship keeper, the crew was milling about and a crewman, who did not look or act like an officer, reported that the ship had lost its anchors. The following day, the ship passed the SS Lake Elon southwest of the Diamond Shoals Lightship at approximately 5:45 pm. The Deering seemed to be steering a peculiar course. This was the last report of the ill-fated Deering before she was found run aground and abandoned.
At 6:30 am on January 31st, C.P. Brady of the Cape Hatteras Coast Guard Station spotted a five-masted schooner in the morning light, aground and helpless on the shoals. It was reported that the ship's decks were awash, sails were set, lifeboats were missing, and she appeared abandoned. Due to heavy seas, the surf boats failed to reach the wreck. Finally, the wrecker Rescue arrived on the morning of February 4th and, with the cutter Manning, reached the battered ship around 9:30 am. Captain James Carlson of the Rescue boarded the ship and confirmed its identity as the Carroll A. Deering. Upon investigating the ship, it was discovered that all personal belongings, key navigational equipment, certain papers, and the ship's anchors were missing. Furthermore, food was laid out as if in preparation for a meal. But there was no sign of the crew.