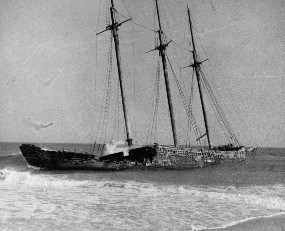 To many people, the Outer Banks are synonymous with shipwrecks. Indeed, one would have trouble finding a more representative or fascinating aspect of local history. Just as the sea has always been an integral part of life on these barrier islands, so too have been its many victims. A countless number of ill-fated vessels as well as many of the courageous seafarers who manned them have succumbed to the local "perils of the sea." The Tiger, an English ship of Sir Richard Grenville's expedition, was the first unfortunate vessel, wrecking here in June, 1585. The latest may be as recent as this morning's newspaper.
Why have so many ships been lost, after the lethal dangers of the "Graveyard of the Atlantic" became widely known? Unfortunately, avoiding these navigational hazards is much more difficult than recognizing them. In days gone by, it was the wooden sailing ship carrying goods and passengers that kept the nation's commerce afloat. To follow coastal trade routes, thousands of these vessels had to round not only North Carolina's barrier islands, which lie 30 miles off the mainland, but also the infamous Diamond Shoals, a treacherous, always-shifting series of shallow, underwater sandbars extending eight miles out from Cape Hatteras. While many believe that navigating Diamond Shoals is the only challenge, there are several other complicating factors.
First, there are two strong ocean currents that collide near Cape Hatteras. Flowing like massive rivers in the sea, the cold-water Labrador Current from the north and the warm Gulf Stream from the south converge just offshore from the cape. To take advantage of these currents, vessels must draw close to the Outer Banks.