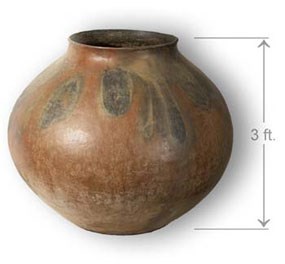 Large pottery vessels were used for water and food storage and for cooking.
When different types of temper were added, a vessel became more porous and acted as an
evaporative cooler, producing chilled water.
This olla was found near the Great House and is 3-ft. tall.
The ancient Sonoran Desert people had to have something to exchange, so they produced and traded large storage jars, pottery with intricate designs, and even jewelry made from seashells. The exchange systems they established reached their maximum extent between AD 800 and 1000, and items they created have been found hundreds of miles from their homeland.