Volunteer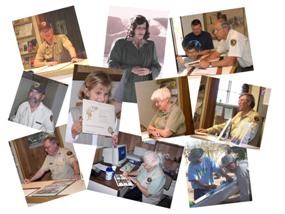 The staff at Casa Grande Ruins National Monument would like to invite you to volunteer your time and skills helping us with a variety of activities. You'll learn new skills, acquire new knowledge, meet new people and make new friends!
We enjoy a very busy visitation in the winter months from November through April. We meet folks from all over the world and enjoy special programs presented by archeologists, American Indian storytellers and entertainers, authors of books sold in our bookstore and more.
Here are descriptions of the positions we need the most help with:
Interpretive Aide: Provides general information to visitors at the secondary information desk within the park visitor center. Performs roving visitor contact; answers questions and demonstrates aspects of Hohokam culture and Sonoran desert life; assists children with the Junior Ranger Program; works on assembling materials and props for others giving programs.
Tour Guides/Education Volunteer: Provides all services mentioned above plus researches, develops and presents interpretive programs to the public.
Administrative Aide: Performs clerical duties such as filing, answering phones, faxes, mail, word processing and other basic computer skills.
Maintenance Aide: Assists maintenance staff with routine tasks such as cleaning rest rooms, cleaning grounds, emptying trash, cleaning and preparing the visitor center, sweeping and blowing walkways, and pruning and watering plants; other special tasks might include electrical, carpentry, welding, plumbing, masonry and painting.
Resources Management Aide: Assists resources manager in preserving, inventorying and monitoring natural and cultural resources of the Ruins such as plants, animals and archeological sites. Duties may include curatorial or library work.
We offer flexible volunteer work schedules to anyone residing permanently or seasonally in our area. Commercial RV parks are available in the adjacent town of Coolidge and nearby communities. The park has 6 RV pads with full hookups assigned to volunteers hired on a competitive basis through the formal volunteer-in-parks program (see openings listed below).
Please come join us and share your love of people, culture and history. Have fun, learn and help your National Parks!
Contact: Volunteer Coordinator, 520-723-3172.
Click here for an application (PDF) for these and other volunteer opportunities with the National Park Service. On-line applications are prefered. Visit volunteer.gov (follow the links below).
Current Volunteer Opportunities
Last updated: February 24, 2015