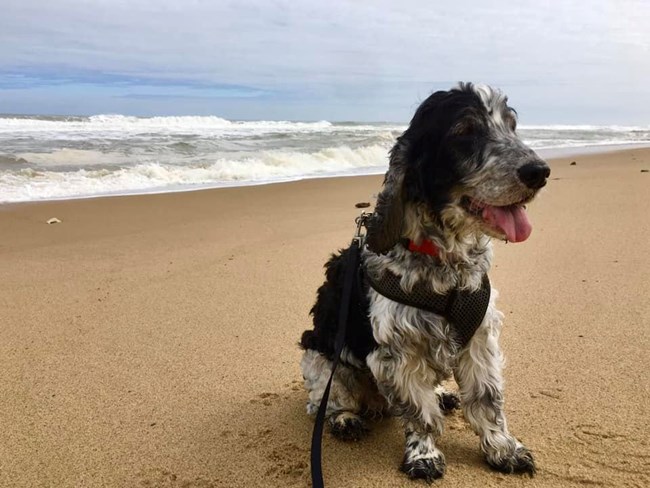 Do you enjoy exploring Cape Cod National Seashore with your canine friend? Review and follow the B.A.R.K. rules while visiting, say the pledge, and earn the Virtual Bark Ranger Badge!
Rules of B.A.R.K.
B = Bag Your Poop
Help keep Cape Cod clean by collecting and disposing of all dog waste. Be sure to carry the poop bag off the trail. Do not throw them into the woods or hang from trees. Public garbage cans are located throughout the park.

Dog feces is not a natural fertilizer. Dogs can carry disease such as parvovirus, giardia and roundworms into the park's wildlife populations. Water sources may also be polluted by dog feces.
A = Always Wear a Leash
Pets must be restrained on a leash no longer than 6 feet (2 m); retractable leashes extended beyond this limit are prohibited.

Leashes protect dogs from becoming lost and from wilderness hazards such as coyotes.

Not everyone is a dog person no matter how friendly and well behaved your dog may be. Dog friendly areas are a privilege would could be lost if leash regulations are not followed.

Many people, especially children, are frightened by dogs, even small ones. Uncontrolled dogs can present a danger to other visitors. Leashes also protect the experience of other visitors who may be afraid, allergic, or who do not want a dog approaching them.

Unfamiliar sights, sounds, and smells can disturb even the calmest, friendliest, and best-trained dog, causing them to behave unpredictably or bark excessively.
R = Respect Wildlife
Dogs can chase and threaten wildlife, scaring birds and other animals away from nesting, feeding, and resting sites.

Be especially careful around the nests of birds and turtles.

The scent left behind by a dog can signal the presence of a predator, disrupting or altering the behavior of park wildlife. Small animals may hide in their burrow the entire day after smelling a dog and may not venture out to feed.

Please keep your dog at a respectful distance from any animals you may encounter.
K = Know Where To Go
Pets should not be left unattended. Summer sunshine poses a threat to pets in vehicles. Don't leave pets alone in a car while hiking. Choose another hike or come back another day.

Where pets are allowed:

Doane Trail in Eastham and Pilgrim Spring Trail in Truro;
All fire roads within Cape Cod National Seashore;
Head of the Meadow Bicycle Trail year round and Province Lands and Nauset bike trails, November 1-April 30;
Freshwater ponds within Cape Cod National Seashore (beaches and water), October 16-May 14;
Cape Cod National Seashore ocean beaches except as follows:

During the summer, pets are not permitted on lifeguard-protected beaches. However, leashed pets are permitted to pass through lifeguard protected areas to reach areas where they may otherwise be allowed. If there are shorebird closures on or beyond lifeguard-protected beaches, pets are not allowed to walk through.

The following areas are closed or restricted to pets with the exception of service animals:

All walking trails except for Doane and Pilgrim Spring; check signs and at visitor centers for Great Island exceptions;
Nauset and Province Lands bike trails, May 1-October 31;
Fresh water ponds within Cape Cod National Seashore (beaches and water), May 15-October 15;
Areas where certain shorebirds nest, especially the piping plover, a threatened species under the Endangered Species Act. Birds may abandon nests when they perceive threats or are disturbed. These areas are posted seasonally when prohibition is in effect;
On lifeguard-protected beaches during the summer months. You may walk your leashed pet through these areas to enjoy walks on stretches of beach;
West and Sunset horse trails in the Province Lands;
Cape Cod National Seashore trams, except working service animals.
Other Important Points:
Ticks are prevalent in Cape Cod, mostly active late spring to early fall. Check yourself and your dog thoroughly after a visit to the park to prevent any ticks from latching on to you or your dog. To limit your exposure to ticks:

Walk in the middle of trails away from tall vegetation

Wear light-colored clothing so ticks are easier to spot

Wear pants tucked into socks

Spray your shoes and clothing with repellent. Tick repellents, vests and bandanas are also available for your dog.
Remember, you are taking your pet into a different environment and you are responsible for your pet. Do you have enough water for yourself and your pet? Does your pet have the endurance (and paw pads) to hike the trail you have chosen? Have you considered your pet in all of your preparations? Nearly every summer weekend park rangers and rescue personnel face numerous carry-outs when hikers are injured or become ill. It's the job of all staff to keep visitors and the park safe. If your pet becomes disabled on the trail, what will you do? With a little preparation, you and your pet can have an enjoyable trip to Cape Cod National Seashore.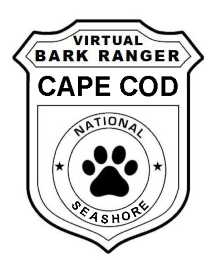 Congratulations!
You have what it takes to become an official Virtual Bark Ranger at Cape Cod National Seashore! All that's left is to read the Bark Ranger Pledge:
"As a B.A.R.K. Ranger, I promise to Bag my pet's waste, Always leash my pet, Respect wildlife, and Know where we can go."
Right-click on the badge image and save it to your computer or device. You save, print, or share from there. Additionally, you can stop by a visitor center to get a B.A.R.K. Ranger rack card with a personalized ID card.