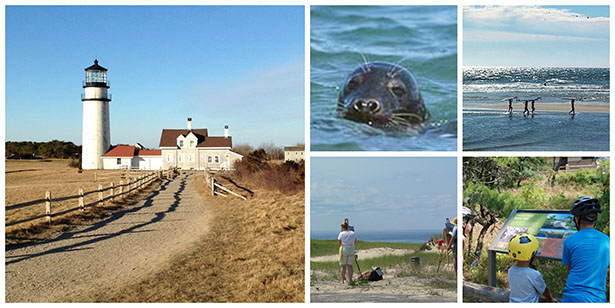 If you ask ten people to share their favorite thing to do at Cape Cod National Seashore, you might hear ten different activities--swimming, hiking a trail, taking sunset pictures, surfing, observing wildlife, riding a bike, joining a ranger-guided canoe trip, exploring a whaling captain's house, eating a wild cranberry, climbing a lighthouse. All of these opportunities (and more!) await you!
For many visitors, a trip to Cape Cod National Seashore is not complete until they've swum in the ocean and felt soft sand under their feet! With six lifeguard-protected beaches, swimming and sunbathing are very popular activities. For those who like to hike and bike, 12 walking trails and 3 biking trails beckon. Wildlife abounds at the national seashore, from sharks and seals, fox and coyote, to shorebirds and toads, bats and turtles. Some species are abundant and easily viewed; others require patience and perhaps a good pair of binoculars. The national seashore provides critical habitat to support species diversity. The human story is evident at the national seashore, represented by lighthouses, a life-saving station, 19th century architecture, and a whaling captain's house. Explore the stories of Native People, who date back 9,000 years, at the Salt Pond Visitor Center Museum.
From spring through fall, many ranger-guided programs are offered to help visitors understand and make connections to national seashore stories and resources. Some programs are short introductions; others are more in-depth on specific topics. Pick up a copy of "Park News" and seasonal activity guides and join our programs! Staff at the two visitor centers--Salt Pond (open year 'round) and Province Lands (open spring through fall)--enjoy helping guests plan their visits. Consider the visitor centers as good first stops to get the lay of the land.
If you have a question that you don't see answered among the many menu choices on this page, please email or call. Properly planning your trip in advance of your arrival will help ensure an enjoyable and safe visit. Happy planning, and we look forward to welcoming you in person!