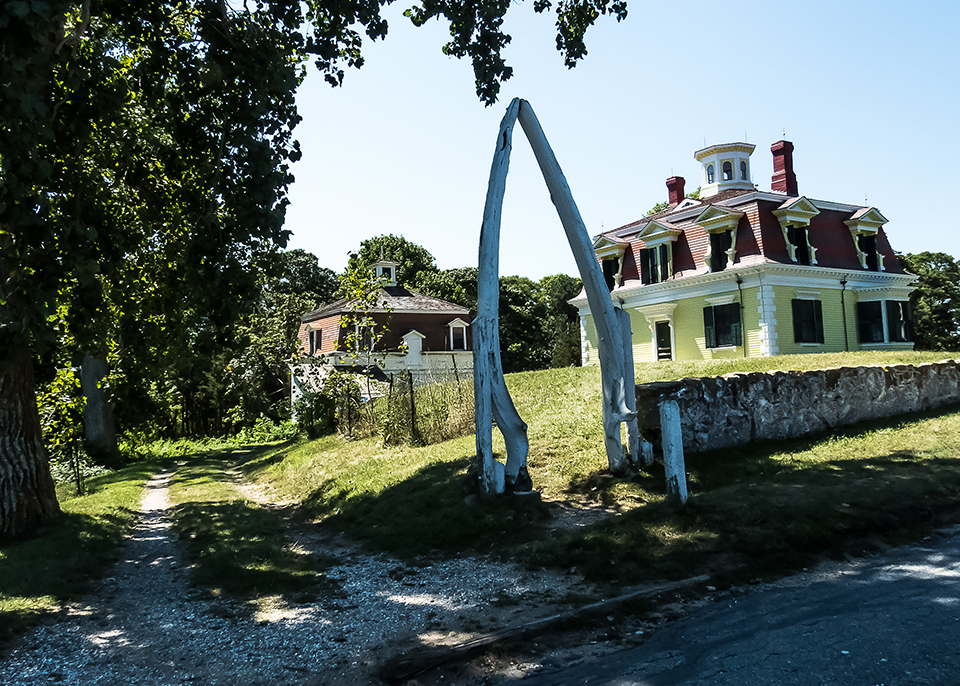 News Release Date:
April 16, 2018
Contact: Cape Cod National Seashore Historian Bill Burke, 508-255-3421, ext. 0301
WELLFLEET, Mass. – Cape Cod National Seashore Superintendent Brian Carlstrom has announced that the iconic whalebone gate at the Captain Edward Penniman House in Eastham has been removed for public safety. The gate was in a deteriorated condition and was in danger of falling. Park staff will consult with conservators and educators to discuss options for stabilizing the bones or obtaining a new gate in the future. 
Shortly after Captain Penniman built his home at Fort Hill, he installed a gate made from the jawbones of a sperm whale. The gate was sent to the Philadelphia Centennial Exposition in 1876, and was never returned. The second jawbone gate, installed sometime after 1876, was from a humpback whale. In the 1960s it was deteriorated and deemed unsafe for outdoor display and park staff removed it. The bones eventually ended up at the aquarium in Provincetown, and are currently housed in the Pilgrim Monument and Provincetown Museum. The most recent gate, from the jawbones of a finback whale, was installed in 1969. Seashore staff had applied periodic preservation treatment to the gate over the past several decades. 
"Whalebone gates can be found in locations around the world where whaling was an important way of life," said Carlstrom. "Here at Fort Hill, they symbolize Captain Penniman's success as a whaling captain, and they're a vibrant reminder of the strong connection between Cape Codders and the sea. We'll examine options for having a gate at the site in the future."
Subject to the elements for nearly 50 years, UV radiation, dirt, and extreme seasonal freeze-thaw cycles and accompanying wind, rain, and snow took a toll on the gate. Bones are porous, expanding and contracting with temperature changes, leading to cracks and delamination of the bone. Once cracked, water collects in voids, and as it swells and contracts, further damage occurs. Whale bones are particularly susceptible to pest infestation because they retain oils and fats for many years after having been cleaned. These oils can attract gnawing rodents. Additionally, once the structure has been compromised through cracking, delamination, or gnawing, the bones can serve as a stand-in for dead trees, where birds nest and woodpeckers hammer.