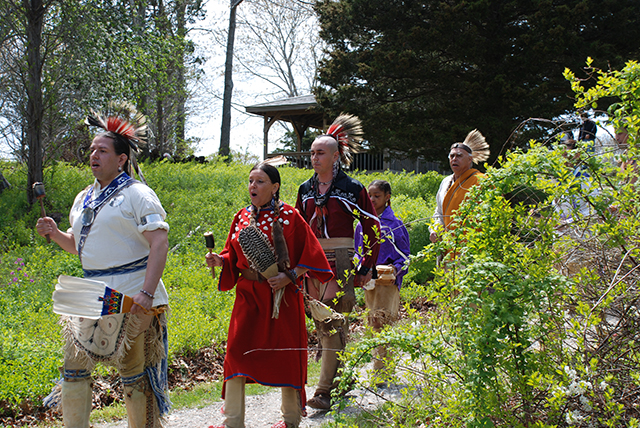 News Release Date:
May 31, 2017
Contact: Sue Moyhihan, Chief, Interpretation and Cultural Resources, 508-957-0738
Visit Salt Pond Visitor Center on June 17, 2017 to participate in a celebration of Wampanoag culture and traditions. Meet artists from the Aquinnah and Mashpee Wampanoag communities as they demonstrate and discuss refined traditional skills from their Eastern Woodland culture that have been carried down through time. Included will be weaving techniques of twining and finger weaving by Elizabeth James-Perry; a cooking demonstration by Kitty Hendricks-Miller; pottery production by Kerri Helme; soapstone pipe carving by Jonathan James-Perry, and interactive traditional games with James Hakenson and Andrew DeVido. Demonstrations will take place at the Salt Pond Visitor Center from 10:00 am to 12:30 pm.
At 1:30 pm, the Kingfisher Singers and Dancers will perform Eastern Woodlands social dances. Audience participation for all ages is encouraged. This Aquinnah and Mashpee Wampanoag group has impressed and educated numerous school groups and community organizations during performances across New England. Their performance will inaugurate the recently renovated and revitalized Salt Pond Amphitheater, one of the national seashore's cornerstone projects for the National Park Service centennial.
All activities are free, open to the public, and wheelchair accessible. Sponsorship is provided by Eastern National, the national seashore's education partner that operates gift and book stores at seashore visitor centers and tours and the Keeper's Shop at Highland Light.
If You Go:
 Salt Pond Visitor Center is located at 50 Nauset Road at the intersection with Route 6 in Eastham and is open daily from 9:00 am to 5:00 pm. The center includes a lobby with expansive views of Salt Pond, Nauset Marsh, and the Atlantic; a museum featuring the park's natural and cultural stories; staff to assist with trip planning; and a gift and book store with books, maps, puzzles, games, apparel, and other seashore-related items. There are short films shown throughout the day. The Buttonbush and Nauset Marsh Trails, and the Nauset Bike Trail are located nearby. For more information on Cape Cod National Seashore programs call 508-255-3421