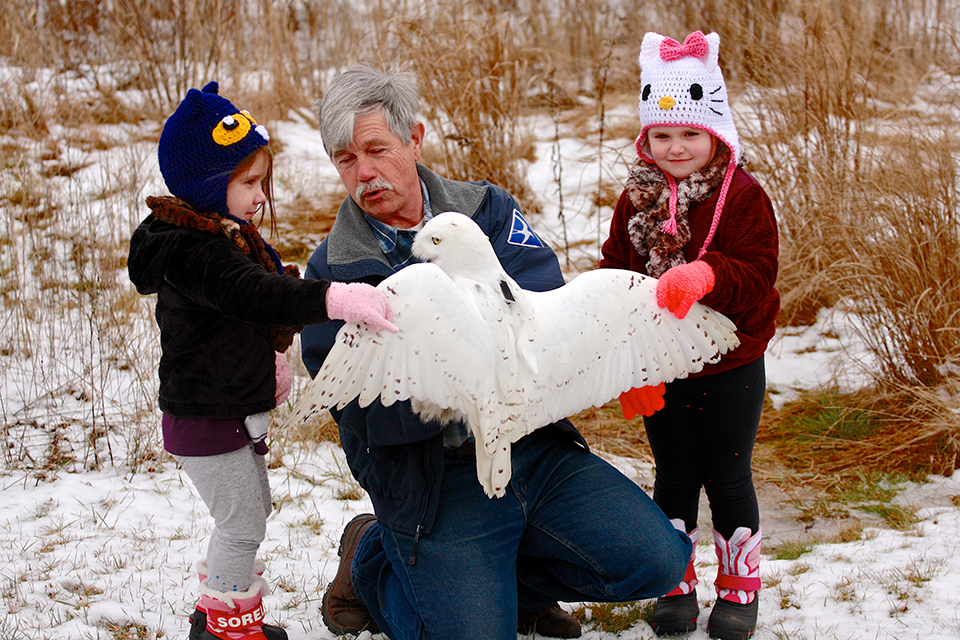 News Release Date:
February 22, 2018
Contact: Dani Cessna, 508-255-3421
WELLFLEET, Mass. – Join owl expert Norman Smith for a talk at Cape Cod National Seashore's Salt Pond Visitor Center on Saturday, March 10 at 1:00 pm.
Since 1981, Norman has spent countless days and nights, in every imaginable weather condition, observing, capturing, banding, and color marking snowy owls at Logan International Airport. He is a self-taught naturalist who has worked for the Massachusetts Audubon Society since 1974. He is the director of the Blue Hills Trailside Museum and Norman Smith Environmental Education Center in Milton, Massachusetts.
Norman has studied birds of prey for over 35 years. He has rehabilitated injured birds and has successfully fostered over 1,000 orphaned hawk and owl chicks into adoptive nests. During the program, Norman will discuss ongoing long-term projects, including trapping and banding nesting and migrating hawks and owls in the Blue Hills Reservation, and researching snowy owls and other raptors wintering at Boston's Logan International Airport.
Funding for this free talk is provided by the seashore's non-profit partner, Friends of the Cape Cod National Seashore, and Eastern National, which manages book and gift stores at park visitor centers and the tour operation and Keeper's Shop at Highland Light.
IF YOU GO: Salt Pond Visitor Center is located at 50 Nauset Road at the intersection of Route 6 in Eastham, and can be reached at 508-255-3421. The center is open daily from 9:00 am to 4:30 pm, with staff to assist with activity planning. Visit the museum, view a park film, enjoy panoramic views of Salt Pond and Nauset Marsh, and shop in the gift and bookstore featuring national seashore-related items.