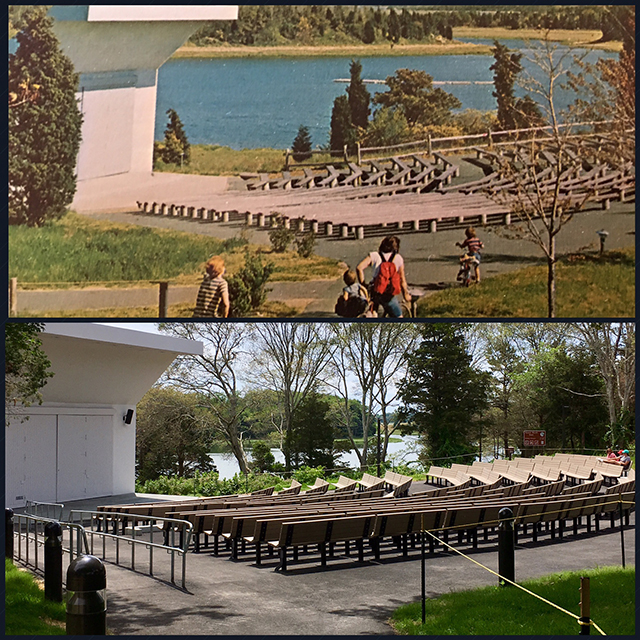 News Release Date:
July 7, 2017
Contact: Sue Moynihan, Chief, Interpretation and Cultural Resources Management, 508-957-0738
Cape Cod National Seashore Interim Superintendent Kathy Tevyaw is pleased to announce that the rehabilitation of the historic Salt Pond Amphitheater in Eastham is complete, and public programs are underway. Set alongside the tranquil Salt Pond, the revitalized amphitheater will be the site for family fun, films, traditional illustrated ranger talks, concerts, and other performance events.
Friday nights at 7:30 will feature interactive ranger programs and movies geared towards families. Explore pirates, horseshoe crabs, astronomy, sea turtles, and sea creatures, and enjoy box office hits like "Finding Nemo,"  "Finding Dory," and "Moana." PJs are welcome! On Sunday nights at 7:30 rangers will present illustrated programs on a variety of national seashore topics. Music and other performance events will be held on occasional Tuesdays and Thursdays at 7 pm.
The 1960s-era amphitheater had been repaired over the decades, but after nearly 50 years, it required significant rehabilitation and code upgrades. The national seashore competed successfully for federal funds to repair and upgrade the facility as a signature project of the 2016 National Park Service Centennial. The objectives were to make the facility safe, accessible, and functional for a wide variety of programs. The wave structure and stage were repaired, accessible paths and new benches with backs were installed, water fountains were made functional again, and new asphalt was poured. In addition, a new audio-visual system was installed, funded through beach fees collected at the national seashore.
A signature event at the amphitheater this summer will be a free outdoor concert with the Cape Symphony on August 25. The symphony performed at the amphitheater for the National Park Service Centennial in 2016 and is pleased to help the national seashore celebrate the facility's revitalization.  
All amphitheater programs are free and accessible. Bug spray is recommended for outdoor programs. If the weather is inclement, programs will be moved indoors. A listing of amphitheater program topics is available at Salt Pond Visitor Center. For a complete schedule of activities in the national seashore, pick up a copy of the summer activity guide at the Salt Pond or Province Lands visitor centers, or visit https://www.nps.gov/caco/ranger-guided-activities.htm.  
IF YOU GO: The Salt Pond Visitor Center Amphitheater is located at 50 Nauset Road at the intersection of Route 6 in Eastham