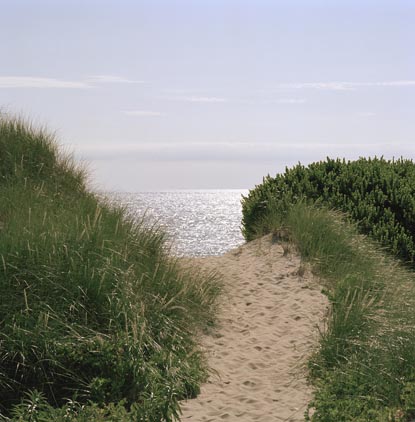 News Release Date:
April 26, 2013
Contact: Sue Haley, Interpretive Ranger, 508-255-3421 ext. 15
The Perspective Series, showcasing artist's work influenced by Cape Cod National Seashore, is coming to a close with the final exhibit of the season. During the month of May the fine art photographic prints by Philip Keohan will be on exhibit at the Salt Pond Visitor Center.
With tripod in hand and a manual camera with a square frame and fixed lens, Mr. Keohan sets off into the national seashore and other inspiring locations, where nature is ever present, and waits until something moves him. Color, light, subject, contrast, or any combination of these might come together to create the moment that he awaits, the moment that moves him to seize the spectacular unfolding scenes before him. Mr Keohan approaches photography without expectations, letting the image find him.
The photographic images taken by Philip Keohan are scanned and printed as seen in nature. Filters are not used to manipulate color. The Left Bank Gallery in Wellfleet Massachusetts has shown Mr. Keohan's fine art prints since 2000, and now, for the month of May, a number of these eye catching images can be seen at the Salt Pond Visitor Center in Eastham.
<150>If You Go:Salt Pond Visitor Center is located at the intersection of Route 6 and Nauset Road in Eastham and is open daily from 9:00 AM to 4:30 PM.The center includes a lobby with expansive views of Salt Pond, Nauset Marsh, and the Atlantic; a museum featuring the park's natural and cultural stories; staff to assist with trip planning; and a store with books, maps, puzzles, games, and t-shirts. There are short films shown throughout the day. The Buttonbush and Nauset Marsh Trails, and the Nauset Bike Trail are located nearby. For more information on Cape Cod National Seashore programs call 508-255-3421, or check the park's website, www.nps.gov/caco.150>
###