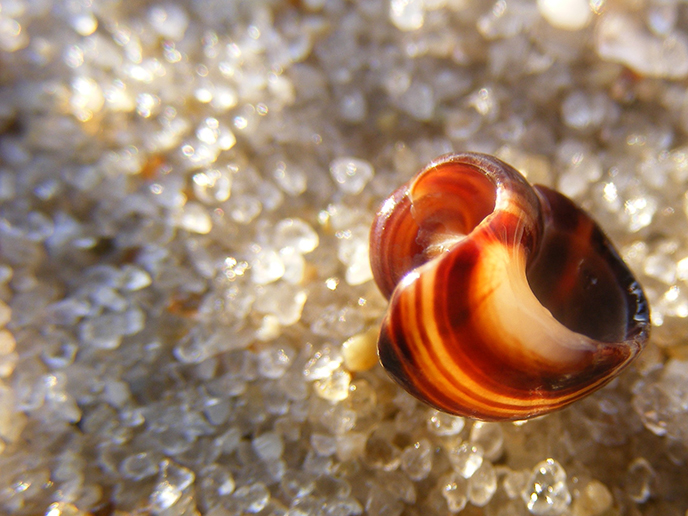 News Release Date:
December 14, 2017
Contact: Dani Cessna, 508-255-3421 ext. 0305
WELLFLEET, Mass. - Photographs by Noelle Scoullar will be featured at Cape Cod National Seashore's Salt Pond Visitor Center in January. The exhibit is part of the seashore's ongoing series - Perspectives: Seeing Cape Cod National Seashore Through Art.

Noelle focuses on the minutia of life at the seashore through her macro photography. Through her eyes, viewers experience everyday life at the beach on a unique level. She loves the way macro photography draws the viewer in closer, and inspires them to ask "what is this?" In this exhibit, Up Close and Personal, she concentrates on the Outer Cape, Wellfleet through Provincetown.

Noelle is an emerging artist with a desire to convey emotion and feeling through her photography, and has held exhibits in Wellfleet and Truro. She met her husband, Roy, in 2007, and moved to Truro in 2010, where she lives with her husband and son, Paxton.

A public reception for the artist will be held on Saturday, January 6, from 1:00 to 3:00 pm in the exhibit room at the Salt Pond Visitor Center in Eastham.

IF YOU GO: Salt Pond Visitor Center is located at 50 Nauset Road at the intersection of Route 6 in Eastham, and can be reached at 508-255-3421. The center is open daily from 9:00 am to 4:30 pm, with staff to assist with activity planning. Visit the museum, view a park film, enjoy panoramic views of Salt Pond and Nauset Marsh, and shop in the gift and bookstore featuring national seashore-related items.