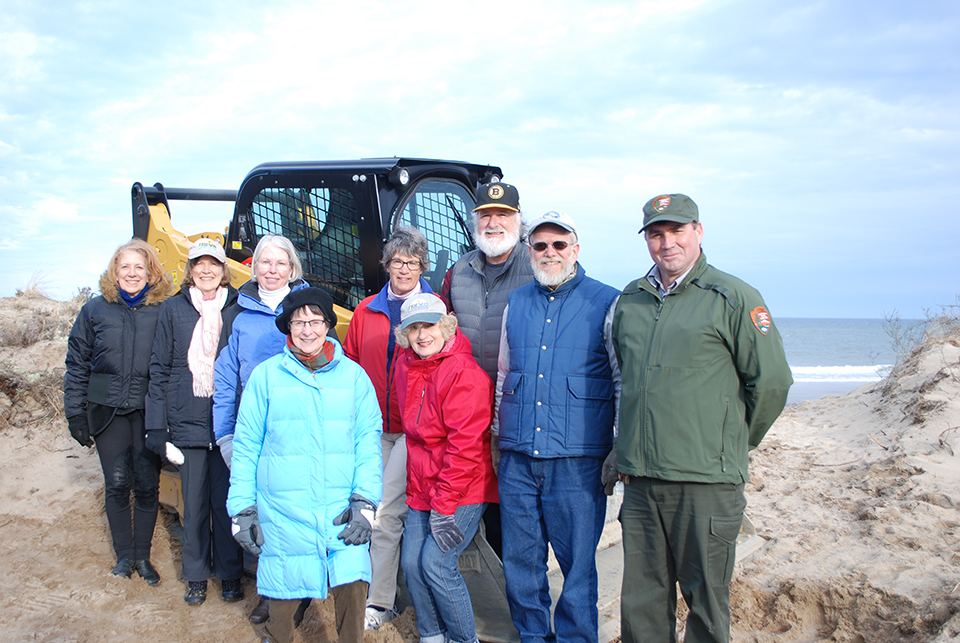 News Release Date:
February 23, 2018
Contact: Acting Superintendent Shawn P. Mulligan, 508-957-0739
Stairs and Facilities Removed Due to Erosion
WELLFLEET, Mass. – Acting Cape Cod National Seashore Superintendent Shawn P. Mulligan has announced that the new path to Nauset Light Beach in Eastham is now open. The path is a sustainable approach to providing public access to this popular beach. In recent years, wooden stairs have been damaged or destroyed by winter storms, resulting in long periods of no public access to the beach, and necessitating costly repairs or replacement. Between 2012 and 2016, 46 feet of bluff were lost to erosion at this location.
"The erosion rate at Nauset Light Beach has increased recently," said Mulligan. "We expect this rate to continue with more frequent and intense storms resulting from climate change and sea level rise. Park staff worked diligently to find a long-term and financially responsible solution to the problem of annual stair replacement. We think the public will be happy to have year-round access to this beach."
The 635-foot path follows a natural contour south of the parking lot. An engineering study and evaluation process two years ago determined that among various options, the footpath was the most sustainable, economically feasible, and safe access solution. Impacts to wildlife, cultural resources, and the nearby wetland were also considered. The path was constructed by national seashore staff, with assistance from Barnstable County AmeriCorps Cape Cod, AmeriCorps Fire Corps, and Friends of the Cape Cod National Seashore. Mechanical work was accomplished with a skid steer loader donated by Friends of the Cape Cod National Seashore. As the summer season approaches, Mobi-Mat will be installed at the end of the path to provide a firm walking surface onto the beach.
This winter the National Park Service also removed the septic tank and bathhouse at Nauset Light Beach because they were dangerously close to the bluff. Temporary facilities will be available during the season until funds become available for more permanent facilities.