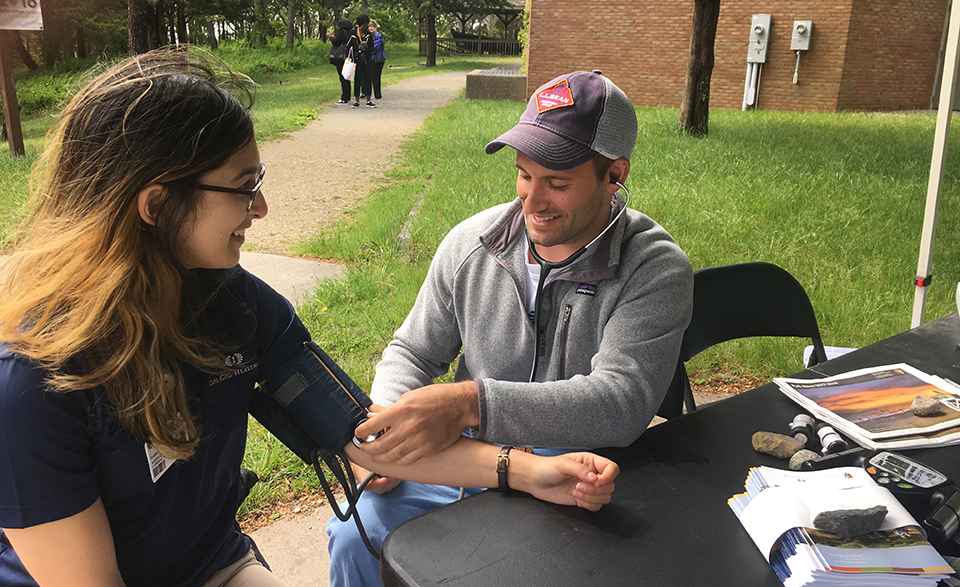 News Release Date:
June 6, 2018
Contact: Courtney Butler, Cape Cod National Seashore, 508-957-0701
Contact: Robin Lord, Cape Cod Healthcare, 508-862-7891
WELLFLEET, Mass. –
Cape Cod National Seashore and Cape Cod Healthcare are extremely pleased to announce the fourth season of their partnership initiative that benefits Cape Cod residents and visitors. 
Healthy Parks, Healthy People
(HPHP), a walking program to promote health and wellness, will begin on June 4 at Cape Cod National Seashore (CCNS). It will feature Cape Cod Healthcare (CCHC) physicians, nurses, and staff working with park rangers to help motivate participants to increase movement through enjoyment of the outdoors - and improve their health in the process. CCNS has committed park rangers and staff to the HPHP program, to assist with guiding walkers and educating participants about the five trails included in the program. 
HPHP is a movement adopted by the National Park Service as part of its centennial anniversary in 2016. Unique to the HPHP program here on Cape Cod is that the national seashore and Cape Cod Healthcare have joined forces to truly exemplify the purpose of the HPHP initiative. That is to motivate visitors and residents, alike, to get outdoors and exercise your body while walking away stress and worry. 
"Healthy Parks, Healthy People is a wonderful way for Cape Cod Healthcare physicians and clinicians to work with people on a wellness initiative in the beauty of the outdoors on Cape Cod," said Michael Lauf, president and CEO of Cape Cod Healthcare. "We are so fortunate to have this national treasure of Cape Cod National Seashore in our backyard, and are grateful for this amazing partnership to improve the health of our community." 
"When you get outside and enjoy the natural beauty of Cape Cod National Seashore, you're living a healthier lifestyle and a healthier you is a benefit to our entire community," said Brian Carlstom, superintendent of Cape Cod National Seashore. "Our health system partner, Cape Cod Healthcare, is helping our visitors do just that for the fourth straight year, with the goal of raising awareness on the health benefits when you experience the great outdoors."
From June 4 through August 31, CCHC will staff an on-site "base" at Salt Pond Visitors Center in Eastham. Participants will learn about the five trails they may choose to walk and will receive maps and guides. Interested participants may have their blood pressure read as well as their height, weight and body mass index measured by registered medical staff. Participants will receive a personal passport to record their walking performances and personal readings. The base will be staffed Monday through Friday from 8 am to 11 am, weather permitting, and not on holidays.
Studies show that half of Americans report that they do not engage in the U.S. Surgeon General's recommended 30 minutes of daily exercise most days of the week. Meanwhile, chronic disease accounts for 70 percent of all deaths in the U.S. 
"We have a crisis in this country in healthcare that is draining the economy; especially the epidemic of obesity and diabetes," said Dr. Elissa Thompson, a Cape Cod Hospital cardiologist and medical director of the cardiac rehab unit at Cape Cod Hospital. Dr. Thompson is the medical director of the HPHP program. "Exercise has a profound effect on blood pressure, glucose, and cholesterol." 
Physicians on Cape Cod are encouraged to write walking "prescriptions" to their patients to take part in the HPHP program, and will be given specially designed prescription pads. 
Over the past three seasons, 361 participants have registered.  The majority of the participants were between the ages of 60 and 79 years old, with 63% females and 37% males, and roughly 50% are from the Cape and 50% off-Cape. This year's goal is to engage more of our year-round residents and have them return to enjoy the beauty of the seashore trails while improving their cardiovascular fitness. The program has been well-received, with many people taking advantage of the complimentary blood pressure checks and activity recommendations.
Following the summer season, the second annual HPHP Walk/Run for Heart Health 5K will be held on September 22, in partnership with Koko Fit Club Cape Cod. This event is the culmination of the "Couch-to-5K" walking program, which is also offered at the HPHP base located at Salt Pond Visitor Center, with guidance from CCH staff. The nine-week training program is designed to improve fitness level from sedentary to participatory. The 5K will start and end at Nauset Regional High School. The course includes both road and trail through the national seashore. Proceeds from this event will benefit the Cardiac Rehabilitation Program and the Friends of the Cape Cod National Seashore.  Last year's 5K was a great success with 160 participants, many of whom had not previously participated in a 5K.
Mental and spiritual well-being is also part of HPHP. The seashore will offer yoga on the beach, creative nature journaling, photography and art hiking programs, and will work with staff and volunteers to educate walkers about how to tune out stress and soak in the restorative aspects of being outdoors.