Exhibition of Bayberry Quilters 2011 Challenge Quilts at Cape Cod National Seashore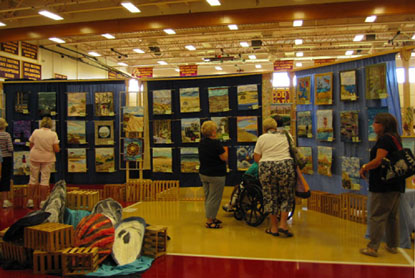 News Release Date:
September 19, 2011
Contact: Marianne McCaffery, 508-957-0710
A display of more than 50 small wall quilts created by members of the Bayberry Quilters of Cape Cod will be on display at the Salt Pond Visitor Center classroom for the month of October. The public is invited to attend an official opening and reception on Sunday, October 9, at 2:00 PM.
To commemorate its 50th anniversary, the Guild selected Cape Cod National Seashore to serve as inspiration for the "challenge," an annual feature of Bayberry's show held each August. A "challenge" is a quilting tradition which asks participants to adhere to a specific size, use a common subject for inspiration, and include a common, specific fabric every quilter must use in creating a quilt. Visitors to the show vote for their favorite resulting in a viewer's choice award.
Founded in 1981, the Bayberry Quilters of Cape Cod is a non-profit organization dedicated to "quilting and the education of its members and others in the art of quilting." The Guild boasts a large membership from all over the Cape, Massachusetts, and New England. Monthly meetings feature esteemed guest teachers lecturing and conducting workshops. The Guild sponsors several charitable activities generously supporting scholarship funds, local libraries, the New England Quilt Museum, and Cape Cod social service agencies.
Other exhibitions in the 50th Anniversary series included historic and aerial images of the National Seashore's natural and cultural scenes, staff, and partners; landscape art developed by students at Nauset Regional High School; and science. The final exhibition in this anniversary year slated for November and December will feature art and literature inspired by the resources and beauty of the National Seashore. Exhibitors will be the Provincetown Community Compact and the Outer Cape Artist in Residency Consortium, both of which coordinate artist-in-residence programs at the Dune Shacks of the Peaked Hill Bars Historic District.
If you go: Salt Pond Visitor Center is located at the intersection of Route 6 and Nauset Road in Eastham and is open daily from 9:00 AM to 4:30 PM.The center includes a lobby with expansive views of Salt Pond, Nauset Marsh, and the Atlantic; a museum featuring the park's natural and cultural stories; staff to assist with trip planning, and a store with books, maps, puzzles, games, t-shirts, and 50th anniversary commemorative items. There are short films shown throughout the day. The Buttonbush and Nauset Marsh Trails, and the Nauset Bike Trail are located nearby. For more information on Cape Cod National Seashore programs call 508-255-3421, or check the park's website, www.nps.gov/caco.
###
Last updated: February 26, 2015