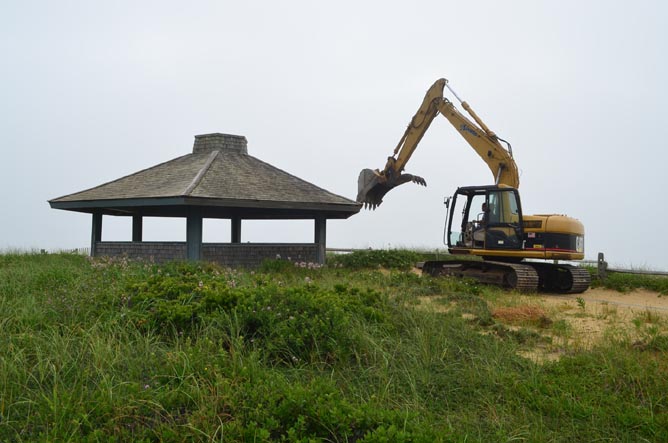 News Release Date:
July 23, 2013
Contact: Karst Hoogeboom, Chief of Facilities and Maintenance, 508-957-0740
Contact: Sue Moynihan, Chief of Interpretation and Cultural Resources Management, 508-957-0738
In 1903 Guglielmo Marconi made communication history by sending the first transatlantic wireless message to Great Britain from the cliffs of South Wellfleet. Over the decades, Cape Cod National Seashore has interpreted this significant story for visitors through exhibits and radio events, including some in the vicinity of the site from which that original message was sent. While some artifacts from the original station site remain, most have been lost over time as the shoreline has eroded. Exhibits and an interpretive shelter with a model of the historic station site were recently removed by Cape Cod National Seashore because they were perilously close to the eroding dune. The shelter was a mere 32 feet from the edge when it was demolished on July 23.

Superintendent George Price said, "It was time to remove this iconic exhibit about Marconi. The shelter and cement base could have gone over the coastal bluff if we experienced the same type of erosion as we did in last year's winter storms. If we had waited any longer, it would have been unsafe for workers to get in with heavy equipment."
National seashore staff considered relocating the shelter and model further inland, but this was structurally infeasible. In the future, the national seashore will install new interpretive exhibits near the parking area, safely away from the eroding dune. The site's overlook, with its stunning view of both the Atlantic Ocean and Cape Cod Bay, remains in place. Visitors are reminded to remain back from eroding dunes at the Marconi Site and elsewhere in the national seashore. A model in the park headquarters building depicts the layout of the original wireless station site. The building is open from 8:00 AM to 4:30 PM on weekdays. There is also a brochure about Marconi available at park headquarters, and additional information is posted on the park website, www.nps.gov/caco.
Price added, "Natural shoreline change and potential effects from global climate change and sea level rise are pressing issues at the national seashore. We need to learn how to adapt to the changing environment. A sustainable approach to the design of new facilities, exhibits, and parking areas will be needed. The recently-constructed Herring Cove Bathhouse complex and the alternatives discussed for the North Parking lot are examples of how we are designing for the future."
###

The great Outer Beach of Cape Cod is protected within Cape Cod National Seashore. Forty miles of pristine sandy beach, marshes, ponds, and uplands support diverse species. Lighthouses, cultural landscapes, and wild cranberry bogs offer a glimpse of Cape Cod's past and continuing ways of life. Swimming beaches and walking and biking trails beckon today's visitors.