Date:
December 22, 2010
Contact:
Sue Moynihan, Chief, Interpretation and Cultural Resources Management, 508-957-0738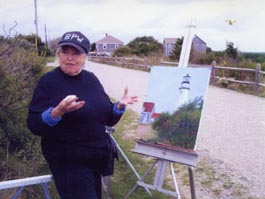 Some of America's most cherished landscapes are in National Parks: Yellowstone, the Great Smoky Mountains, Gettysburg, and the Everglades. All of these places hold special meaning in the hearts and minds of Americans. Cape Cod is among these magnificent landscapes. Beginning January 3 and running through February 27, 2011 the Eastham Painters' Guild will interpret the National Seashore's many landscapes through its exhibition, "Cape Cod National Seashore through the Eyes of the Artist." The exhibition is one of several throughout 2011 that will commemorate Cape Cod National Seashore's 50th anniversary. On August 7, 1961 President Kennedy signed legislation establishing the National Seashore. Several celebratory events are planned for the year.
In 2011, The Eastham Painters' Guild will celebrate 30 years of capturing the beauty of Cape Cod in paint. Some members took up painting when they realized they were surrounded by stunning landscapes illuminated by Cape Cod's famous light. Others moved to Eastham to paint full-time. All members enjoy capturing the beauty of this unique location in a brush full of paint. On Thursdays and Fridays throughout the summer, the Guild's 25 members host the largest outdoor fine arts gallery on Cape Cod, located on the grounds of Eastham's Schoolhouse Museum across from the Salt Pond Visitor Center. The Guild also provides 'en plein air' painting in the National Seashore on Thursdays during the summer, and invites visiting artists to join them.
Other exhibitions in the 50th Anniversary series include historic and aerial images of the National Seashore's natural and cultural scenes; landscape art developed by students at Nauset Regional High School; Wampanoag culture; science; and quilts, art, and literature inspired by the beauty of the National Seashore.
If you go: Salt Pond Visitor Center is located at the intersection of Route 6 and Nauset Road in Eastham and is open daily from 9:00 AM to 4:30 PM. The center includes a lobby with expansive views of Salt Pond, Nauset Marsh, and the Atlantic; a museum featuring the park's natural and cultural stories; staff to assist with trip planning, and a store with books, maps, puzzles, games, t-shirts, and 50th anniversary commemorative items. There are short films shown throughout the day. The Buttonbush and Nauset Marsh Trails, and the Nauset Bike Trail are located nearby. For more information on Cape Cod National Seashore programs call 508-255-3421, or check the park's website, www.nps.gov/caco.
###