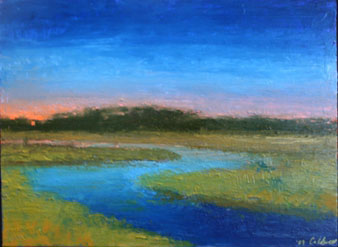 News Release Date:
March 28, 2013
Contact: Sue Haley, District Interpreter, 508-255-3421
The Luminist tradition landscape paintings and more realistic representations of local fish species from artist Craig Caldwell will be on display at the Salt Pond Visitor Center during the month of April. Mr. Caldwell is based on Cape Cod and has painted and taught art professionally for over 25 years. The work to be displayed emanated from the beauty of the natural world he's witnessed on Cape Cod and throughout the national seashore.
In most of Mr. Caldwell's work, literal representation of the landscapes are secondary to the interplay of the paint surface on the canvas, presenting whorls of paint and sculpted edges from a palette knife. They evoke moods and emotions through the interplay of color and texture.
In contrast to these landscape paintings, some more literal representations of local fish will also be on display, representing a passion beyond painting dear to Mr. Caldwell, that of catch and release fishing.
If you go: Salt Pond Visitor Center is located at the intersection of Route 6 and Nauset Road in Eastham and is open daily from 9:00 AM to 4:30 PM.The center includes a lobby with expansive views of Salt Pond, Nauset Marsh, and the Atlantic; a museum featuring the park's natural and cultural stories; staff to assist with trip planning; and a store with books, maps, puzzles, games, apparel, and more. There are short films shown throughout the day. The Buttonbush and Nauset Marsh Trails, and the Nauset Bike Trail are located nearby. For more information on Cape Cod National Seashore programs call 508-255-3421, or check the park's website, www.nps.gov/caco.
###