News Release
Concerts, history, and nature programs on tap at the National Seashore this summer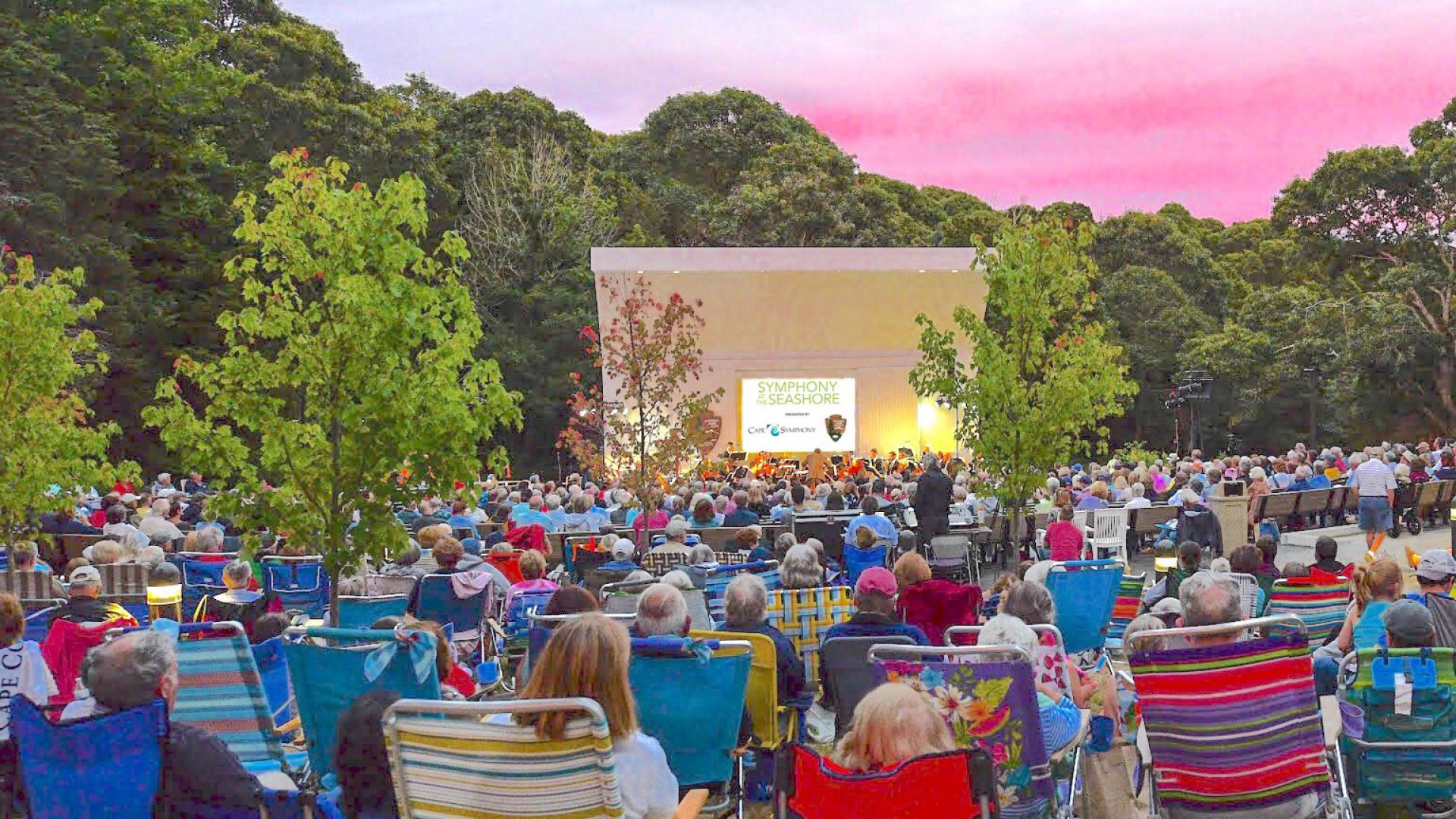 News Release Date:
June 26, 2023
Contact: Mike Raymonds, 508-255-3421, ext. 0
WELLFLEET, Mass.– End your day the perfect way, with music, presentations, and performance events at Salt Pond Visitor Center in Eastham. Events are held every Tuesday and Wednesday at 7 pm from June 27 through September 5 at the outdoor amphitheater on the shores of Salt Pond or in the indoor auditorium. In addition, Cape Symphony returns for Symphony at the Seashore on Thursday, August 24. Salt Pond Visitor Center is located at 50 Nauset Road, Eastham.

For outdoor programs, bench and lawn seating are available, picnicking is welcome, and bug spray is suggested. Indoor programs are held in the air-cooled auditorium, and doors open at 6:30 pm. Some events are geared toward families. In the event of rain, outdoor programs will be moved indoors, except the Payomet Circus and Symphony at the Seashore, which have rain dates.

Events are free and are sponsored by Friends of the Cape Cod National Seashore, with additional sponsorship by the Cape Cod Chamber Music Festival, Payomet Performing Arts Center, and Cape Symphony.

June 27: Outer Cape Cod Chorale and Chamber Singers Under the direction of Joe Dudzinski, this is acapella at its finest. From madrigals to folk to pop, this evening of song will lift you up. Indoor concert.

June 28: Underwater Archeology and the Whydah Underwater archeological explorer Barry Clifford will share the story of the wreck of the pirate ship Whydah, the process of recovering artifacts from the sea floor, and what they tell us. Indoor program.

July 4: NO PERFORMANCE

July 5: "Geography Gameshow" Neal Nichols, Jr. renders world and regional maps from memory to inspire learning. Indoor, family program.

July 11: Digney Fignus Band This Boston-based band will get you moving with thought-provoking songs grounded in the roots/Americana landscape. Outdoor concert.

July 12: "Patz-4" Four university students from Mexico are visiting Cape Cod this summer to draw ideas from a local environmental success story in hopes of saving the polluted lake that defines and draws its name from their hometown, Pátzcuaro. Indoor program.

July 18: Groovalottos This multi-Grammy nominated soul-funk jam band said to "play with their souls instead of their hands," turn every show into a party. Outdoor concert.

July 19: History of Land Preservation on Cape Cod Mark Robinson, Executive Director of The Compact of Cape Cod Conservation Trusts presents a chronological overview of attempts to "save the Cape," over the past 100 years. Indoor program.

July 25: Sinta Quartet This saxophone quartet's program is influenced by funk, folk, soul, and post-minimalism, highlighting a full palette of compositional and instrumental colors. Indoor concert, sponsored by Cape Cod Chamber Music Festival.

July 26: Jackson Gillman: Songs and Stories for a Small Planet A family-focused celebration of nature with an eye to where we fit in and how we can help sustain our world. Indoor, family program.

August 1: Cirque by the Sea Payomet circus performers return with an original, family-fun show which follows a young farmer and his dreams inspired by real-time farmers saving the planet one small, organic farm at a time. Outdoor program.

August 2: "An Island in Time" with Sharon Dunn Journey to Wellfleet's Bound Brook Island through antique maps, photographs and poems, and end with stories of 21st-century summer people and the challenges of a warming world. Indoor program.

August 8: Lindsay Foote This performer has made a career of crafting sincere music built around honest lyricism and vibrant arrangements steeped in award-winning folk traditions. Outdoor concert.

August 9: Unexpected Biodiversity Join Center for Coastal Studies' marine ecologist Agnes Mittermayr and learn about invertebrate biodiversity on the Lower Cape and how the physical world influences biological patterns. Indoor program.

August 15: Sugar Bucket Enjoy this Outer Cape traditional Bluegrass string band based featuring modern classics, New-grass, and original compositions. Outdoor concert.

August 16: Road to the Mayflower "In the Wake of the Mayflower" authors Karen Rinaldo and Kevin M. Doyle will talk about the Pilgrim's Road to the Mayflower in a unique style that combines visual and written history in avignette format. Indoor program.

August 22: Aysanabee - This multi-instrumentalist, producer and singer-songwriter is Oji-Cree, Sucker Clan of the Sandy Lake First Nation, a remote area in Northwestern Ontario. Solemn and soaring sounds are equal parts hypnotic and melodic. Sponsored by Payomet Performing Arts Center. Outdoor concert.

Thursday, August 24: SYMPHONY at the SEASHORE with Cape Symphony This outdoor music performance features accomplished local guest vocalists Mozelle Andrulot and Ella Mae Dixon. Enjoy American classics including "Fly Me to the Moon", "Fascinating Rhythm" and more. Shuttle service is provided to and from the event from the Little Creek Parking Area on Doane Road. Rain Date Friday, August 25. Additional sponsorship by Eastern National.

August 29: Kim Moberg Award wining singer/songwriter performs heartfelt vocals and compositions that tug at feelings of melancholy, heartbreak, healing and social consciousness. With guitarist Steve Gregory, owner and instructor at Score Music in Sandwich. Outdoor concert.

August 30: "In the Light of Hopper" Join Lower Cape TV for a panelist discussion of Edward Hopper and a view of the documentary, "In the Light of Hopper". Limited seating, registration is requested at www.artslight.org. Indoor program.

September 5: Anna May Anna has a style that honors creative flexibility and personal musical freedom, as well as the importance of technique & cultural awareness. Outdoor concert.
Last updated: June 25, 2023