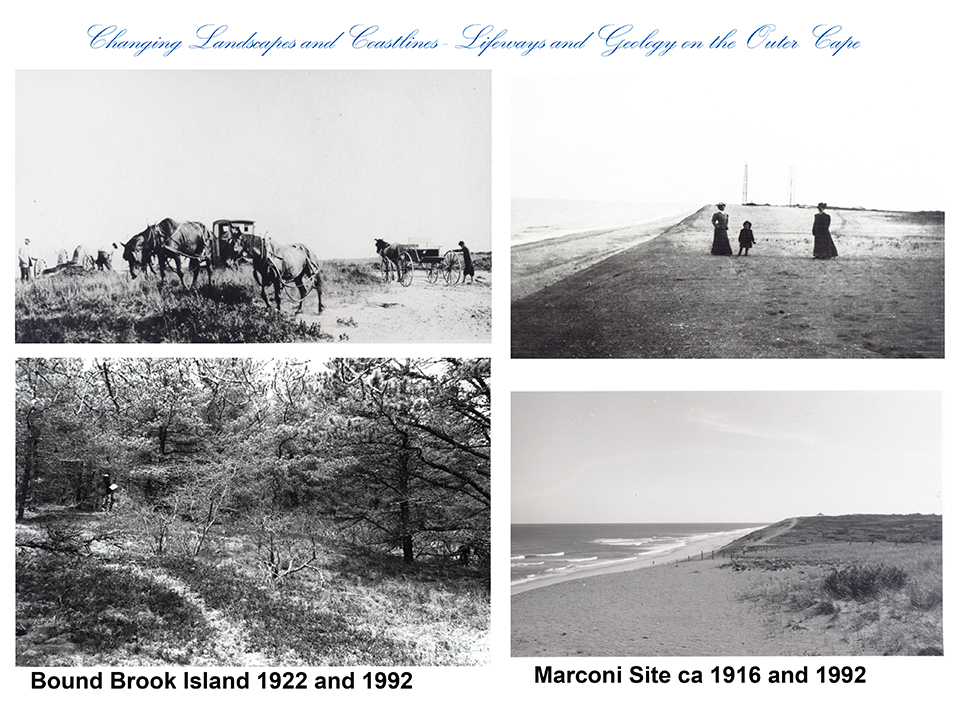 News Release Date:
July 21, 2017
Contact: Dani Cessna, South District Interpreter, 508-255-3421, ext. 0305
Come to Salt Pond Visitor Center in Eastham at 7 pm on Tuesday, August 8 to join Mark Adams, Cape Cod National Seashore GIS Specialist, for a visual journey through the Outer Cape's changing landscape.
Mark Adams has been the seashore's geographic information specialist since 1993, specializing in monitoring coastal change. He is also a writer and landscape painter living in Truro. During Mark's program, learn how we use observations—from historical maps and paintings, to GPS and satellite images, to document landscape history and understand future trends.  Gain insight into Mark's pursuit to answer landscape change questions, such as: How fast are shorelines retreating and growing?  How has habitat changed for wildlife in modern times? What are we doing to protect fragile wetlands and kettle ponds? How do we reconcile early landscape descriptions from colonial narratives, Thoreau's walks, painters' images, and nautical charts, with the Cape Cod we experience today? Will our shared vision of the nature of Cape Cod still be here for future generations?  
This program is part of the annual "Tuesday Nights at Salt Pond" series. Held weekly in July and August at 7 pm in the air-cooled comfort of the visitor center auditorium, programs focus on the diverse natural and cultural resources on the Outer Cape and are suitable for all ages. Programs are free of charge and accessible. The series is sponsored by Friends of the Cape Cod National Seashore.
IF YOU GO: Salt Pond Visitor Center is located at 50 Nauset Road at the intersection of Route 6 in Eastham and can be reached at 508-255-3421. The center is open daily from 9 am to 5 pm, with staff to assist with activity planning. Visit the museum, view a park film, enjoy panoramic views of Salt Pond and Nauset Marsh, and shop in the gift and bookstore featuring national seashore-related items. For more information about the seashore's programs, pick up a copy of "Park News" and the seasonal activity flyer at Salt Pond or Province Lands visitor centers, or visit the park website at www.nps.gov/capecod.