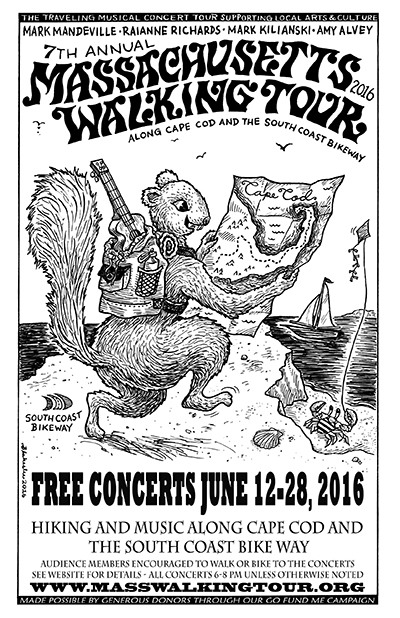 News Release Date:
June 6, 2016
Contact: Sue Moynihan, 508-957-0738
For the sixth summer in a row, the Massachusetts Walking tour will conduct a bipedal concert tour in support of arts and culture. Along the route, walkers and local musicians gather for community concerts to highlight artistic diversity and recreational land use.
This year's tour route stretches from Truro to Swansea between June 12 and 28. The musicians hike eight to thirteen miles each day, carrying their camping gear and musical instruments. The concerts are held near each night's camping stop. Outer Cape concerts are scheduled for the Highland House Museum in Truro on June 12;Wellfleet Public Library on June 13;and Cape Cod National Seashore on June 14 at 7 PM at Salt Pond Visitor Center in Eastham. The national seashore concert is free, open to the public, and hosted by Friends of the Cape Cod National Seashore as part of the National Park Service Centennial celebration.
"We're pleased to host this innovative, community-based performance," said Sue Moynihan, Chief of Interpretation and Cultural Resources Management. "Visual art, literature, and music have played key roles in popularizing parks and advocating for their protection, and the recreational aspect of this tour highlights the value of public lands for promoting health and fitness." The concert is one of many arts-focused Centennial events in the seashore this summer. Other activities include the current exhibition of art quilts at Salt Pond Visitor Center; a plein air art festival being held in July; performances by Wampanoag singers and local musicians; an evening with musicians from the Curtis Institute of Music featuring a commissioned piece of music inspired by the national seashore; and a concert with the Cape Symphony in August.
The walking tour invites the public to join them for legs of the hike. For more information about the Massachusetts Walking Tour, visit http://www.masswalkingtour.org/mission.html.