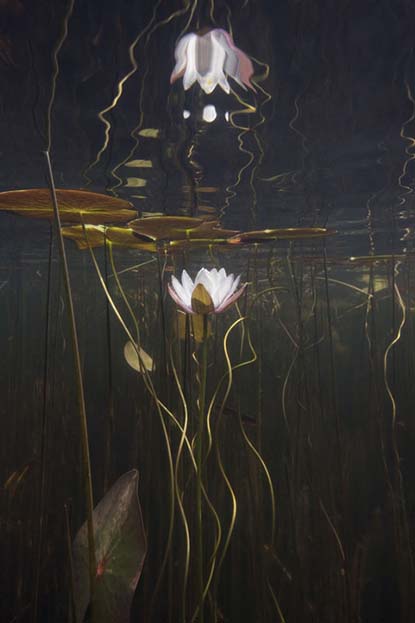 News Release Date:
May 17, 2014
Contact: Sue Haley, 508-255-3421
The Underwater Lily Series of William Scully's fine art photography blends the viewpoints of an artistic and scientific observer who brings to his local Cape outings the spirit and focus of an explorer. Mr. Scully's photographs will be on exhibit at the Salt Pond Visitor Center classroom in June.
<11.0pt line-height:150 new="" roman>As an avid SCUBA diver, and drawn to water and conditions with unusual light, Mr. Scully has travelled to oceans around the globe, with his DSLR camera in a plexiglass case. Even with these experiences, he finds the local kettle ponds on Cape Cod to be one of the best places for his underwater artistic compositions.11.0pt>
Mr. Scully has enjoyed recognition for his work by winning the non-professional "Nature Photographer of the Year" title of the International Photography Awards in 2011, and was nominated for a Lucie Award from the same organization. He is based in Jamaica Plain and Truro Massachusetts.
Because our unique pond landscapes are also the subject of years of monitoring by national seashore science staff, Mr. Scully and Cape Cod National Seashore mapping specialist. This one hour program will take place on June 21, at 2 PM, at the Salt Pond Visitor Center, Eastham, and is free.
Mark Adams has been the national seashore GIS specialist since 1992, working with the natural resources team to document coastal change, hydrology, vegetation, and wildlife. He is also a painter/video artist and has exhibited in local galleries. 
IF YOU GO: Salt Pond Visitor Center is located at the intersection of Route 6 and Nauset Road in Eastham, and can be contacted by calling 508-255-3421. The center is open daily from 9:00 AM to 4:30 PM and staff is available to assist with activity planning. Stop by and visit the museum, view a park film, enjoy panoramic views of Salt Pond and Nauset Marsh, and shop in the gift and bookstore featuring national seashore-related items. For more information about the seashore's programs, visit the park website at www.nps.gov/caco

###