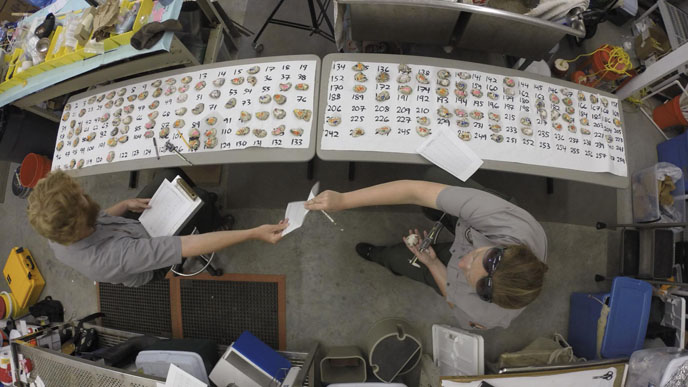 News Release Date:
August 14, 2014
Contact: Megan Tyrrell, 508-487-3262 ext. 0510
Contact: Christopher Green, 508-487-3262 ext. 0520
The Atlantic Research and Learning Center (ARLC), a component of the Cape Cod National Seashore, will host the fourth annual Science in the Seashore Symposium at the Salt Pond Visitor Center on August 28, from 1 to 4 PM. This popular program features a diverse group of scientists and scholars talking about the many natural and cultural research projects they are conducting within the national seashore.
There will be ten brief and engaging presentations. Visitors may expect to hear about diamondback terrapins in the Herring River estuary, invasive plants in the Cape Cod dune systems, salt marsh biogeochemistry and extreme precipitation, initial results of archeology investigations at the recently-acquired Baker-Biddle property, and more.
The ARLC is one of nineteen Research and Learning Centers (RLC) in the National Park Service. RLCs are places where science and education come together to preserve, protect, and encourage understanding of park resources. The ARLC's Science in the Seashore Symposium is a great opportunity for the public to learn about the science of the park straight from the people who are generating it.

The Science in the Seashore Symposium is free of charge and accessible. Financial support is provided by Friends of the Cape Cod National Seashore.
For more information visit: https://www.nps.gov/caco/naturescience/atlantic-research-center.htm
IF YOU GO: Salt Pond Visitor Center is located at the intersection of Route 6 and Nauset Road in Eastham and can be contacted by calling 508-255-3421. The center is open daily from 9 AM to 5 PM, with staff available to assist with activity planning. Visit the museum, view a park film, enjoy panoramic views of Salt Pond and Nauset Marsh, and shop in the gift and bookstore featuring national seashore-related items. For more information about the seashore's programs, visit the park website at www.nps.gov/caco.
###