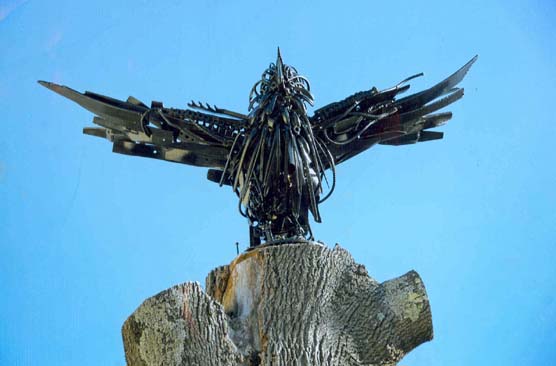 News Release Date:
March 22, 2012
Contact: Sue Haley, 508-255-3421 ext. 15
Stephen Thomas makes good use of scrap metal. Combining his academic background in the natural sciences and his talent for art, Mr. Thomas creates whimsical oversized sculptures of plants, animals, and landscapes found around Cape Cod. What makes his sculptures unique is that, upon close inspection, one will find it is comprised of all manner of recognizable scrap metal, including drill bits, faucet knobs, augers, and other waste metal. "You name it, if it's been made out of steel, it's probably in one of my sculptures," says Mr. Thomas. "One sculpture alone might have hundreds of different objects selectively placed and fused together to form the final piece."
Beyond adorning numerous store fronts and yards across Cape Cod, Mr. Thomas' sculptures have found their way off Cape to New York City and beyond, even overseas. Several individual sculptures will be on display in the exhibit room at the Salt Pond Visitor Center during the month of April.
If You Go:Salt Pond Visitor Center is located at the intersection of Route 6 and Nauset Road in Eastham and is open daily from 9:00 AM to 4:30 PM.The center includes a lobby with expansive views of Salt Pond, Nauset Marsh, and the Atlantic; a museum featuring the park's natural and cultural stories; staff to assist with trip planning; and a store with books, maps, puzzles, games, and t-shirts. There are short films shown throughout the day. The Buttonbush and Nauset Marsh Trails, and the Nauset Bike Trail are located nearby. For more information on Cape Cod National Seashore programs call 508-255-3421, or check the park's website, www.nps.gov/caco.
About the National Park Service. More than 20,000 National Park Service employees care for America's 395 national parks and work with communities across the nation to help preserve local history and create close-to-home recreational opportunities. Learn more at www.nps.gov.