Cape Cod National Seashore Through the Eyes of an Artist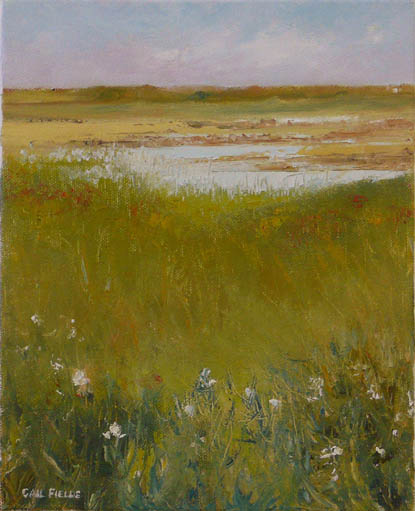 News Release Date:
December 4, 2009
Contact: Sue Haley, South District Interpreter, 508-255-3421
The landscapes and resources of Cape Cod National Seashore provide inspiration in many forms. Come to the Salt Pond Visitor Center this winter and spring to view works of several artists who have been so inspired and have captured the source of this inspiration with their art.
From December 3 until January 1, 2010 journey into the landscape of the national seashore through the eyes of Gail Fields. Her paintings capture the many moods of the dune, woodland, moor,and marsh landscapes.
Without any preconceived image in mind, Ms. Fields paints and images evolve. Living on the Cape for the past ten years she is continually inspired by the effects of the Cape light and the way sunlight, twilight, and moonlight embellishes the Cape Cod landscapes. The interplay of light, colors, and shadows on canvas produces images that, in Ms. Fields words, "invite viewers to feel the silent breezes that drift over the dunes and across the marshes, to hear the distant waves of the Atlantic beyond a distant dune, and to perhaps see the energy at play in these images." Ms. Fields looks forward to the little "accidents" that come about when her brush or palette knife inadvertently touches the canvas and knows not to touch them. She feels the outcome is a "gift."
Ms. Field is a member of the Cape Cod Art Association and Provincetown Art Association, and she is represented by galleries in both Dennis and Provincetown. Earlier this year her work entitled "GardenScapes and Landscapes" was featured in a solo exhibition at the Cape Cod Museum of Art in Dennis.
IF YOU GO: Salt Pond Visitor Center is located at Route 6 and Nauset Road in Eastham, and can be contacted by calling (508) 255-3421. The center is open from 9 AM to 4:30 PM and staff is available to assist with activity planning. There is a museum, bookstore, and orientation films are shown.
Last updated: February 26, 2015