Date:
February 2, 2010
Contact:
Jody Anastasio, Interpretive Ranger, 508-255-3421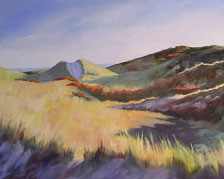 The landscapes and resources of Cape Cod National Seashore provide inspiration in many forms. Come to the Salt Pond Visitor Center this winter and spring to view works of several artists who have been so inspired and have captured the source of this inspiration with their art.
From January 31 – February 28, 2010, journey into the landscape of the national seashore through the eyes of Cathy Skowron. Ms. Skowron has been an artist and educator on the lower Cape since 1969, and her interest in and love of the natural landscape is reflected in her art. "When painting or teaching I like to keep in mind Robert Bresson's words 'Make visible what, without you, might perhaps have never been seen."
Ms. Skowron studied art in France and Italy, and on Cape Cod with Carol Whorf Westcott, Sal Del Deo, and Elizabeth Pratt. Her work was exhibited in both open and juried shows, and is in private collections in Canada, the United States and Europe. She is represented by Cortile Gallery in Provincetown. Ms. Skowron's professional associations include the Truro Group, the Arts Foundations of Cape Cod and the Provincetown Art Association and Museum.
On the following dates and times, you can meet the artist at the Salt Pond Visitor Center: Sunday, February 14th from 11 AM to 1 PM, and Saturday February 20th from 1 PM to 3 PM.
IF YOU GO:  Salt Pond Visitor Center is located at Route 6 and Nauset Road in Eastham, and can be contacted by calling (508) 255-3421.  The center is open from 9 AM to 4:30 PM and staff is available to assist with activity planning.  There is a museum, bookstore, and orientation films.
###