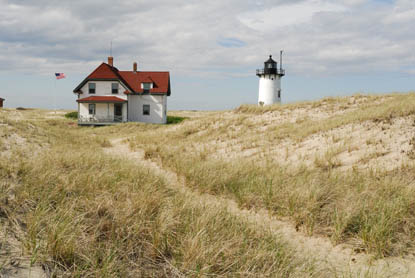 News Release Date:
January 5, 2010
Contact: Sue Haley, South District Interpretive Ranger, 508-255-3421
The landscapes and resources of Cape Cod National Seashore provide inspiration in many forms. Come to the Salt Pond Visitor Center this winter and spring to view works of several artists who have been so inspired and have captured the source of this inspiration with their art.
Through January 30, 2010, journey into the landscape of the National Seashore through the eyes of Mike Howe by viewing some of the photographs from his many years of exploring the Outer Cape. Mr. Howe has spent decades visiting and photographing the many landscapes and cultural resources of this area, and as he notes, "trying to capture its history, its incredible light, and its fragile landscape." He goes on to say, "Cape Cod has always been and continues to be a powerful source of inspiration."
Mr. Howe lives in the Springfield, Massachusetts area and is a member of the Pioneer Valley Photographic Artists and the Valley Photo Center.  His work is regularly on display throughout the Springfield area, and most recently was exhibited at the Chicopee City Hall and before that at the City Stage in downtown Springfield.
IF YOU GO:  Salt Pond Visitor Center is located at Route 6 and Nauset Road in Eastham, and can be contacted by calling (508) 255-3421.  The center is open from 9 AM to 4:30 PM and staff is available to assist with activity planning.  There is a museum, bookstore, and orientation films.
###