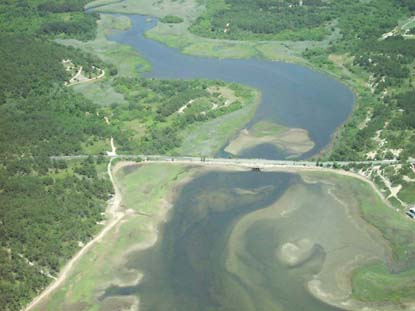 News Release Date:
September 20, 2013
Contact: Sue Haley, District Interpreter
The first program in the six-week series Beyond the Beach presented by Cape Cod National Seashore will take place on October 1 at 6:30 PM at the Salt Pond Visitor Center in Eastham.
Return of the Tides – the Restoration of the Herring River, a Look Back and Ahead will focus on <150> is a six-week series of presentations focused on the national seashore's diverse resources and programs, ranging from animal migrations and climate change impacts to historic and pre-historic resources, to technology associated with tracking coastal change and seismic research and education. All programs are free and wheelchair-accessible. The series will culminate on November 5 with a presentation by Cape Cod National Seashore Superintendent, George Price with State of the Seashore: Successes and Challenges of 2013, and a Look Ahead to 2014.150><150>150>
If You Go: Salt Pond Visitor Center is located at the intersection of Route 6 and Nauset Road in Eastham. For more information, call (508) 255-3421 or visit www.nps.gov/caco.
###