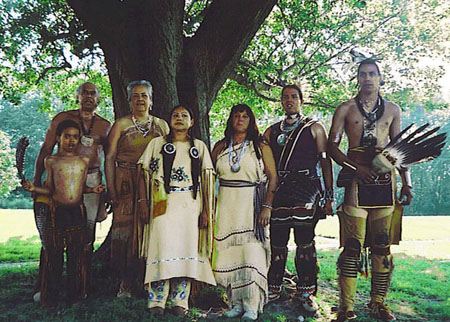 News Release Date:
May 3, 2011
Contact: Sue Moynihan, Chief Interpretation and Cultural Resources Management, 508-957-0738
"Our land and our culture are the reasons I live." This sentiment by Annawon Weeden, Mashpee Wampanoag, sets the stage for a day of celebration as Cape Cod National Seashore staff and members of the Mashpee and Aquinnah communities dedicate new permanent exhibits at Salt Pond Visitor Center. Weeden constructed the wetu which is the centerpiece of a new museum section featuring Wampanoag culture and tradition. The dedication of the museum exhibit, "People of the First Light," and lobby exhibit, "Cape Cod: A Great Arm in the Sea" will be held at 11:00 AM on Saturday, May 14.
In addition, Wampanoag artists, singers, and dancers will be featured program presenters during the day. From 10:00 AM to 12:30 PM, Elizabeth James-Perry will demonstrate traditional Eastern Woodlands weaving techniques of twining and finger weaving.  Jonathan Perry will provide a traditional Wampanoag carving demonstration. The artists, who are members of the Aquinnah community, consulted and created works for the new exhibit.
At 1:00 PM the Wampanoag Nation Singers and Dancers will present an interactive performance program. This group of Mashpee and Aquinnah Wampanoag community members has impressed and educated numerous school groups and community organizations during performances across New England. The group has also performed in Hawaii and internationally.
At 2:30 PM, archeologists and community members who remember the Carns Site excavation will gather for "A Carns Conversation." The public is invited to participate in the sharing of recollections about this major excavation at Coast Guard Beach in Eastham in the early 1990s.
All activities are free, open to the public, and wheelchair accessible. Sponsorship is provided by Eastern National, the national seashore's education partner that operates bookstores at the two national seashore visitor centers.
If you go: Salt Pond Visitor Center is located at the intersection of Route 6 and Nauset Road in Eastham and is open daily from 9:00 AM to 4:30 PM. The center includes a lobby with expansive views of Salt Pond, Nauset Marsh, and the Atlantic; a museum featuring the park's natural and cultural stories; staff to assist with trip planning, and a store with books, maps, puzzles, games, t-shirts, and 50th anniversary commemorative items. There are short films shown throughout the day. The Buttonbush and Nauset Marsh Trails, and the Nauset Bike Trail are located nearby. For more information on Cape Cod National Seashore programs call 508-255-3421, or check the park's website, www.nps.gov/caco. Follow us on Twitter @CapeCodNPS.
 ###