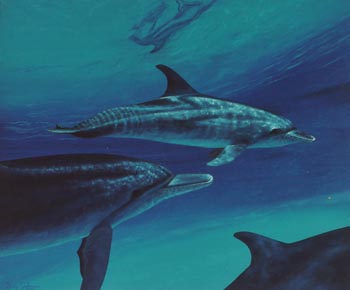 News Release Date:
May 4, 2010
Contact: Sue Haley, Interpretive Ranger, 508-255-3421
Looking into one of local artist Greg Johnson's paintings is like gazing into the sea: vast deep blues, abundant life, and shimmering light.  That world comes alive at Salt Pond Visitor Center in Eastham during the month of May, when Johnson's work will be on exhibit as part of the seashore's artist series, Perspectives: Seeing Cape Cod National Seashore Through Art.
Johnson, who counts the aquatic muralist Wyland among his inspirations, works in large format acrylics.  The size of his paintings allows him to fully capture the large scale of the ocean, including dolphins, whales, and other marine life at play, but also provides for the smaller details, such as the play of light on the water.
Recently, Johnson has been earning notoriety as a muralist, and residents and visitors may have seen his murals on the Orleans post office building.  Self-described as part of the Cape's "local color," he has worked for decades as a lifeguard on Nauset Beach, a job that has provided inspiration and motivation for his painting.  According to Johnson, his aquatic art represents "spirituality, peace, and freedom."
IF YOU GO:  Salt Pond Visitor Center is located at Route 6 and Nauset Road in Eastham, and can be contacted by calling (508) 255-3421.  The center is open from 9 AM to 4:30 PM and staff is available to assist with activity planning.  The center is home to a museum, an auditorium showing park films, and bookstore featuring books, maps, and puzzles.  For more information about the seashore's programs, visit the park website at www.nps.gov/caco.
###