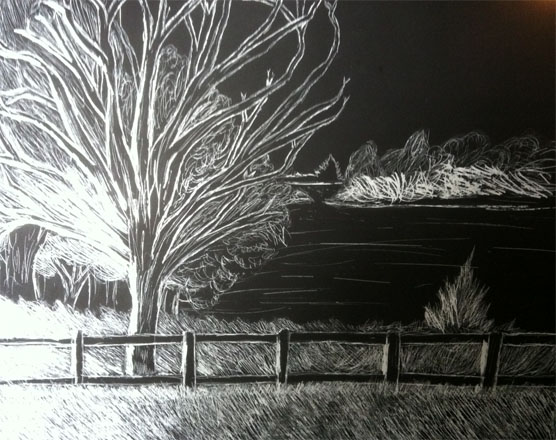 News Release Date:
March 18, 2011
Contact: Barbara Dougan, 508-255-3421 x 16
During the month of April, 2011 an exhibition featuring art work from the Nauset Regional High School Honors Portfolio class will be on display at Cape Cod National Seashore's Salt Pond Visitor Center in Eastham. The exhibit will include a collection showcasing acrylic paintings and sketchbook work completed after a visit to the national seashore visitor center and the Captain Penniman House. The honors portfolio students had the opportunity to work on exterior landscapes and interior studies. Art teacher Ginny Ogden said, "Many of these students don't live in the Nauset district and really appreciated being able to see and study such beautiful landscapes in our own backyard." Works from last year's portfolio class exhibit, "The View from Here" will also be on display. These works feature land and seascapes inspired by artwork in Provincetown Art Association Museum's permanent collection and visiting artist Liz Carney.
The exhibition is one of several throughout 2011 that will commemorate Cape Cod National Seashore's 50th anniversary. On August 7, 1961 President Kennedy signed legislation establishing the national seashore. Several celebratory events are planned for the year.
Other exhibitions in the series will include historic and aerial images of the national seashore's natural and cultural scenes; national seashore-inspired quilts; Wampanoag people; science, and art and literature inspired by the beauty of the national seashore.
 If you go: Salt Pond Visitor Center is located at the intersection of Route 6 and Nauset Road in Eastham and is open daily from 9:00 AM to 4:30 PM. The center includes a lobby with expansive views of Salt Pond, Nauset Marsh, and the Atlantic; a museum featuring the park's natural and cultural stories; staff to assist with trip planning; and a store with books, maps, puzzles, games, t-shirts, and 50th anniversary commemorative items. There are short films shown throughout the day. The Buttonbush and Nauset Marsh Trails, and the Nauset Bike Trail are located nearby. For more information on Cape Cod National Seashore programs call 508-255-3421, or check the park's website, www.nps.gov/caco.
                                                                    ###