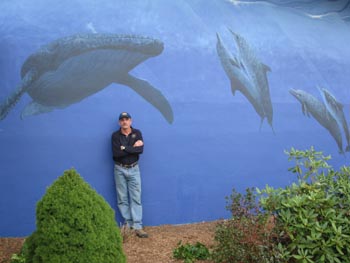 News Release Date:
January 31, 2016
Contact: Dani Crawford, 508-255-3421 x 0305
For the month of February, Cape Cod National Seashore will exhibit acrylic paintings from artist Greg Johnson as part of its Perspectives: Seeing Cape Cod National Seashore through Art series.The pieces included in the exhibit immerse the viewer into the water with the seashore's most charismatic fauna-whales and dolphins.For Greg, the aquatic life he paints represents spirituality, peace, and freedom.
Greg comes from a long line of artists.He studied art at Ohio Wesleyan and the University of New Hampshire, and is self-taught as a painter.His work is displayed in galleries, private homes, libraries, banks, coffee shops, and local business offices.Most recently, Greg has opened a gallery and studio in East Orleans.
IF YOU GO: Salt Pond Visitor Center is located at 50 Nauset Road, Eastham, at the intersection with Route 6, and can be contacted by calling 508-255-3421. The center is open daily from 9 AM to 4:30 PM, withstaff to assist with activity planning. Visit the museum, view a park film, enjoy panoramic views of Salt Pond and Nauset Marsh, and shop in the gift and bookstore featuring national seashore-related items. For more information about the seashore's programs, visit the park website at www.nps.gov/caco.