Native Plant Species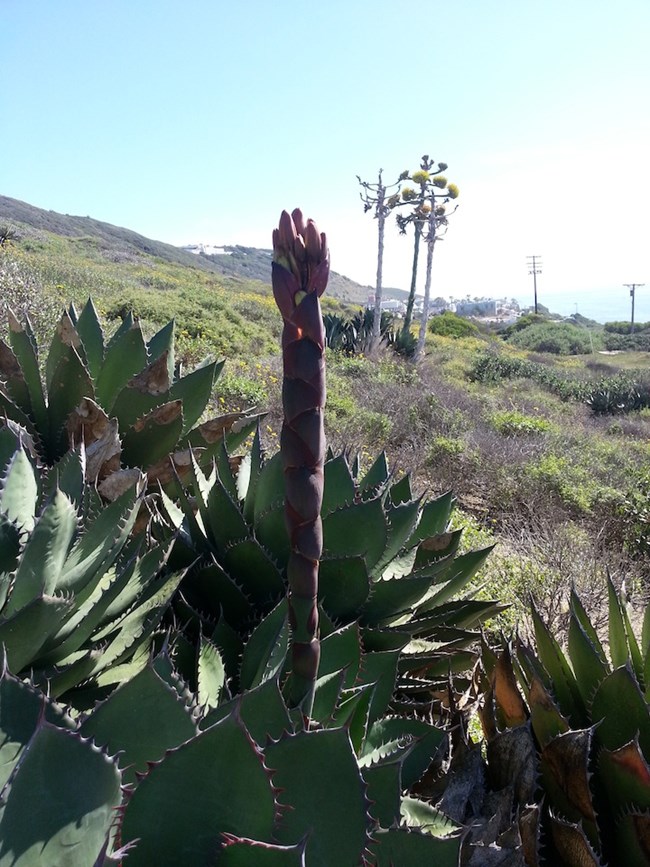 Agave shawii
Shaw's agave is a very rare plant locally. The U.S. population has historically only occurred in the extreme south of California. Cabrillo National Monument and the surrounding Navy property of the Point Loma peninsula are currently host to the largest populations of Shaw's agave in the entire United States. This agave species only occurs coastally where it can take advantage of buffered temperatures and fog moisture. It is found in larger numbers along the coast of Baja California but there are few areas along the Baja coast that are protected from development. Our current restoration efforts for this species include pollination experiments, soil measurements, and greenhouse propagation.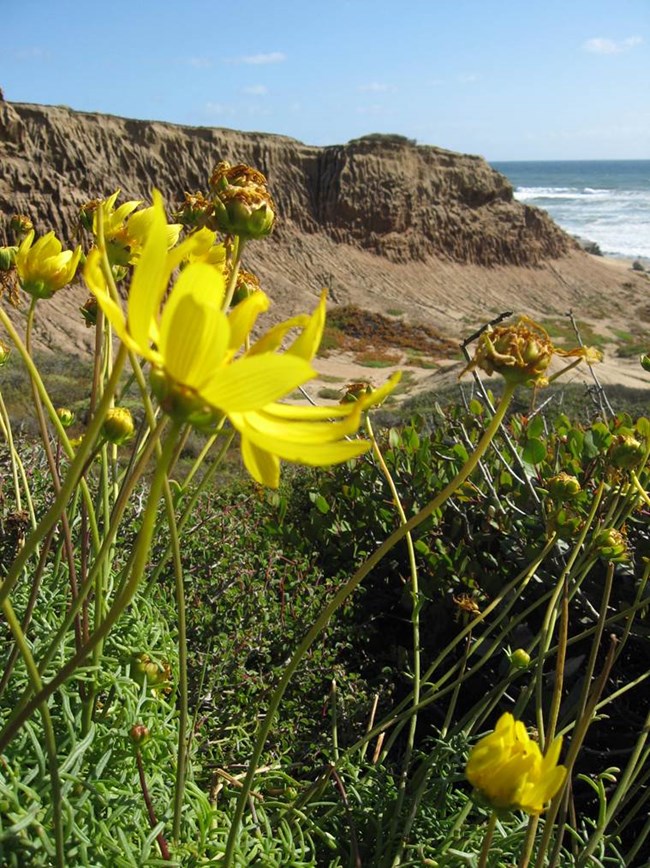 Leptosyne maritima
Sea Dahlia is another rare California plant that is found throughout the park. It is most commonly found along the tidepool trails but can also be found in the shaded understory near the Old Lighthouse. Like many of the plants at Cabrillo National Monument, Sea Dahlia are threatened due to the development of our rare and unique coastal sage scrub habitat. The very large yellow blooms of this plant are most common in the spring.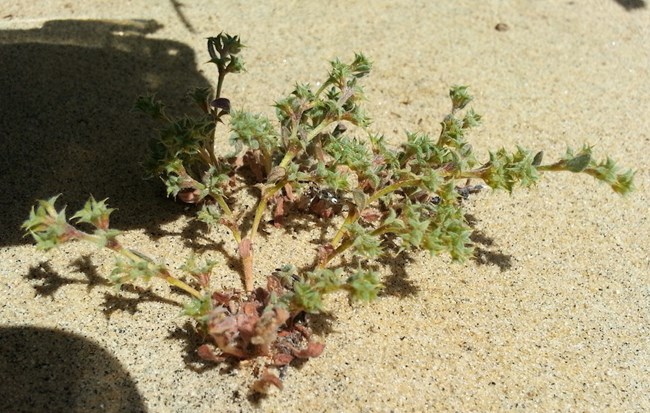 Chorizanthe orcuttiana
San Diego spineflower or Orcutt's spineflower is a federally listed endangered species that is endemic to San Diego County. This species was thought to have been extinct until it was found on Point Loma a few years ago. There are now a few small populations known throughout San Diego and researchers are working to plant seeds in areas of the park that have suitable soil properties and plants that commonly occur with the San Diego spineflower.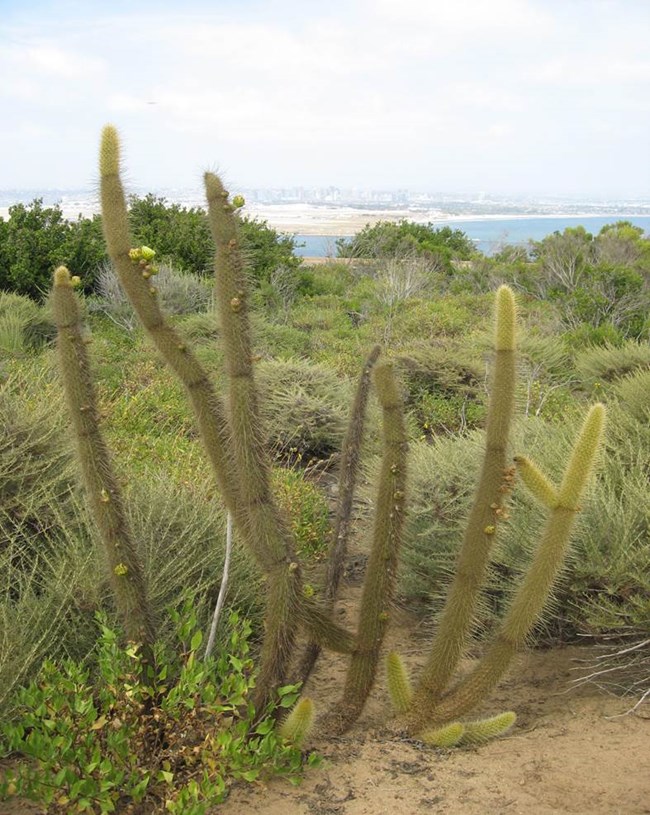 Bergerocactus emoryi
Golden Club Cactus is another species that is very rare and threatened locally but occurs in abundance south of the border in Baja California. The cactus gets its name from the fuzzy golden spines (which are actually highly modified leaves) covering the tall cylindrical stems. Cabrillo National Monument has one of the largest known populations of this rare species. You can see it as you look down the slopes off the Wedding Bluffs on the west side of the Old Lighthouse.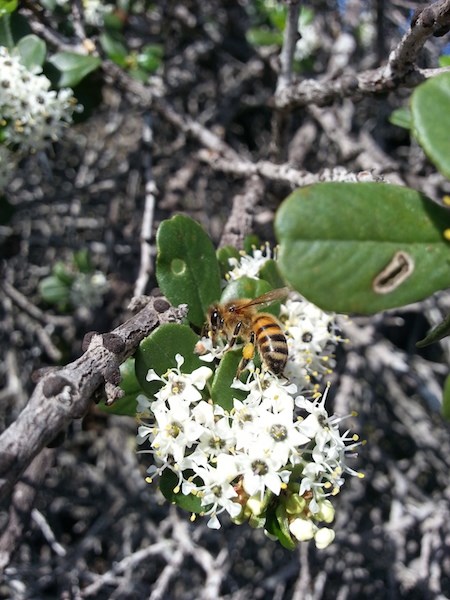 Ceanothus verrucosus
The Coast Lilac or Warty Stem Lilac, named due to the bumpy stipules along the stem, is another one of our rare species that is highly dependent on coastal climates. In winter and early spring the Coast Lilac puts out many beautiful and fragrant small white flowers with purple nectaries. Native bee species are drawn to these blooms in large numbers. The Coast Lilac's reproductive success is largely dependent on natural wildfire patterns. Park researchers are looking at how reducing wildfires (any natural occurring wildfires would likely be put out before spreading on the point) may be affecting the future of our rare and local Ceanothus. The good news is that these species are very long lived (several hundred years) and so may still be around for some time while restoration efforts are put in place.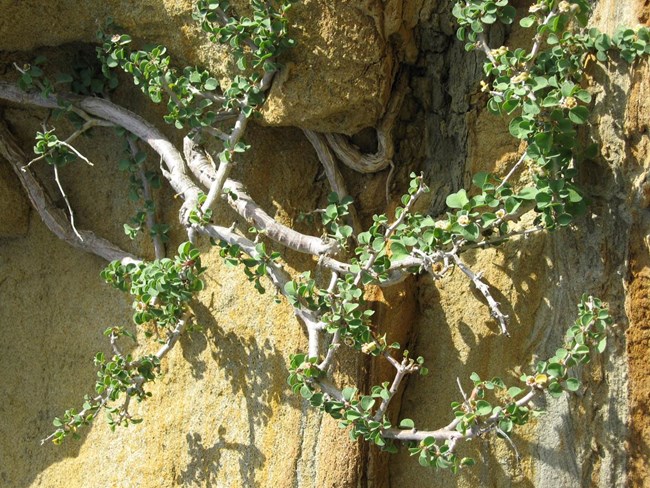 Euphorbia misera
Cliff Spurge is a locally rare and endangered succulent-type species. The distribution of this species is very small and mostly localized to coastal San Diego. However, here at the park you will find it in almost all locations. All the parts of this plant will produce a milky secretion when damaged that can cause rashes if it comes in direct contact with skin. Cliff Spurge produces very small flowering structures that are quite pretty when you look at them closely. It also has one of the largest blooming seasons of all the plants at Cabrillo National Monument, with blooms rapidly following most rain events.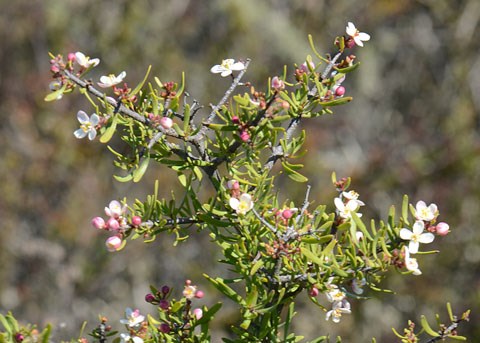 Cneoridium dumosum
Spice Bush or Bush Rue is a mostly San Diego endemic found slightly south of the border. It is also the only native plant in the citrus family. It blooms mainly in the spring and has small white flowers with four petals that look similar to orange blossoms. The small fruits (~5mm diameter) look like tiny unripe oranges and eventually become hard and red. This is another plant you want to keep away from exposed skin. It contains oils on the leaves that react upon sun exposure, a phenomenon known as phytophotodermatitis, that can result in unpleasant rashes and blisters.
Last updated: September 10, 2018