Marine Mammals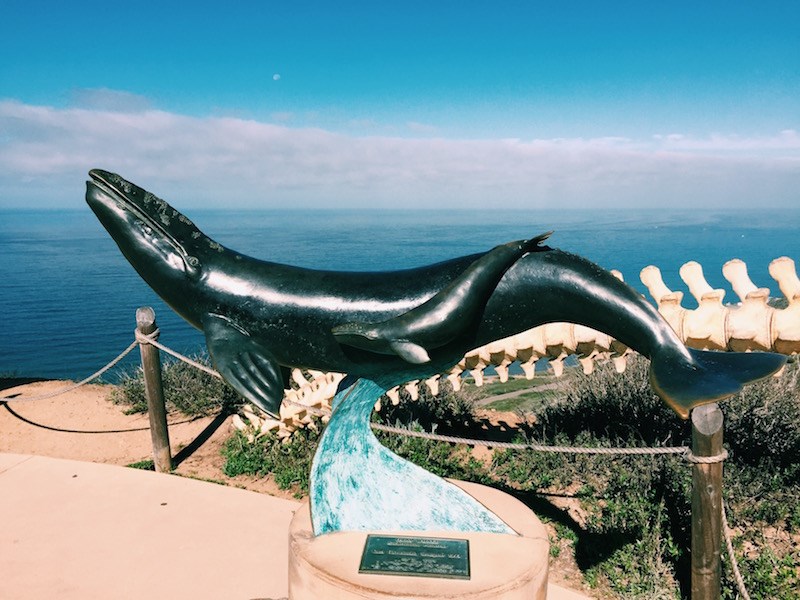 An assortment of marine mammals such as dolphins and pinnepeds (seals and sea lions) can be seen from the cliffs of Cabrillo National Monument. The occasional seal or sea lion might even be caught sunbathing on a rock ledge or looking for food around the shallow tidepools. Never approach these wild animals. Respect them and maintain a cautious distance. All marine mammals are protected under Federal law.
By far the largest mammals in the Point Loma area are the Pacific gray whales. At 45 feet long and 33 tons, these magnificent creatures can be seen off our coast between December and March during their epic annual migrations. The whales spend summers feeding in the cool northern waters of the Chukchi and Bering seas. In early autumn they head south along the west coast for Mexico, a 5,000-mile trip one way (the longest migration of any mammal on earth).
A gray whale will continue this pattern for 40 to 60 years. Historically, their predictability made them easy targets for hunters, who harvested the animals nearly to extinction in the 19th century. Gray whales have been protected from exploitation by the International Whaling Commission since 1946. They have made a remarkable comeback, and current populations are considered close to their estimated pre-exploitation numbers.
Last updated: January 4, 2016