Climate Science Pollinator Trunk Overview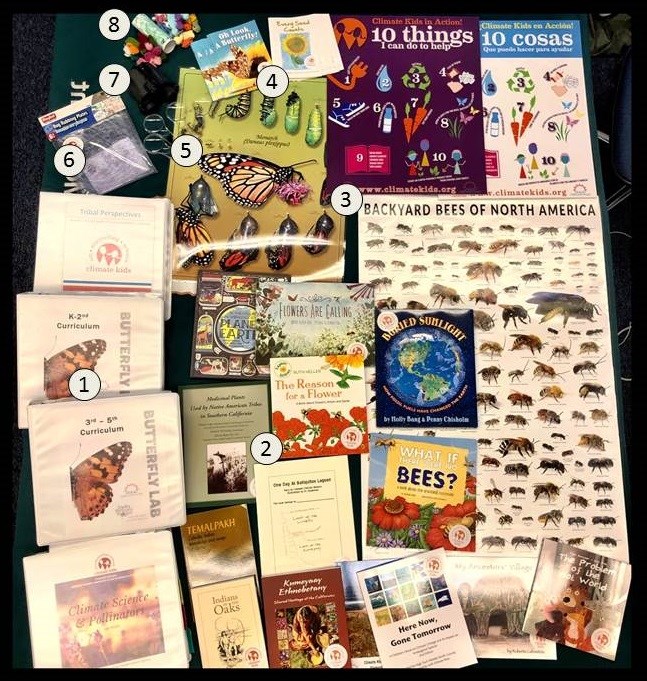 NPS Photo/Andrew Rosales: an overview of some of the materials found inside the Pollinators Traveling Trunk.

1. Curriculum binders: The Climate Science & Pollinator Traveling Trunk is structured to be taught in four main parts: a) Climate Change Primer, b) Regional Impacts Module, c) Pollinator Module, and d) Tribal perspectives. These resources contain background information, lesson plans, activities, hands-on-science, storytelling, and art. 

2. Books: There are 14 books within the trunk covering pollinators, plants, Kumeyaay culture, and climate change. 

3. Posters: Pollinator posters and 10 things I can do to help climate posters. 

4. Guided Reading sets: Two sets of six books that can be used in guide reading settings. 

5. Magnifying glasses: Set of 20 magnifying glasses for making observations. 

6. Insect rubbing plates. 

7. Binoculars: Set of four binoculars. 

8. Pollinator finger puppets. 

Note: This is not a comprehensive list of everything inside the trunk, but an overview.

*A special thank-you to The Climate Science Alliance for curating this trunk for Cabrillo National Monument.

Last updated: November 27, 2019