At Cabrillo National Monument, our volunteers do a lot of good for our park. You might see them assisting visitors, leading snake talks or Science Explorer's Club booths in the breezeway, or giving tours of our park's exhibits. Our greenhouse volunteers are a team that helps restore the plants at Cabrillo.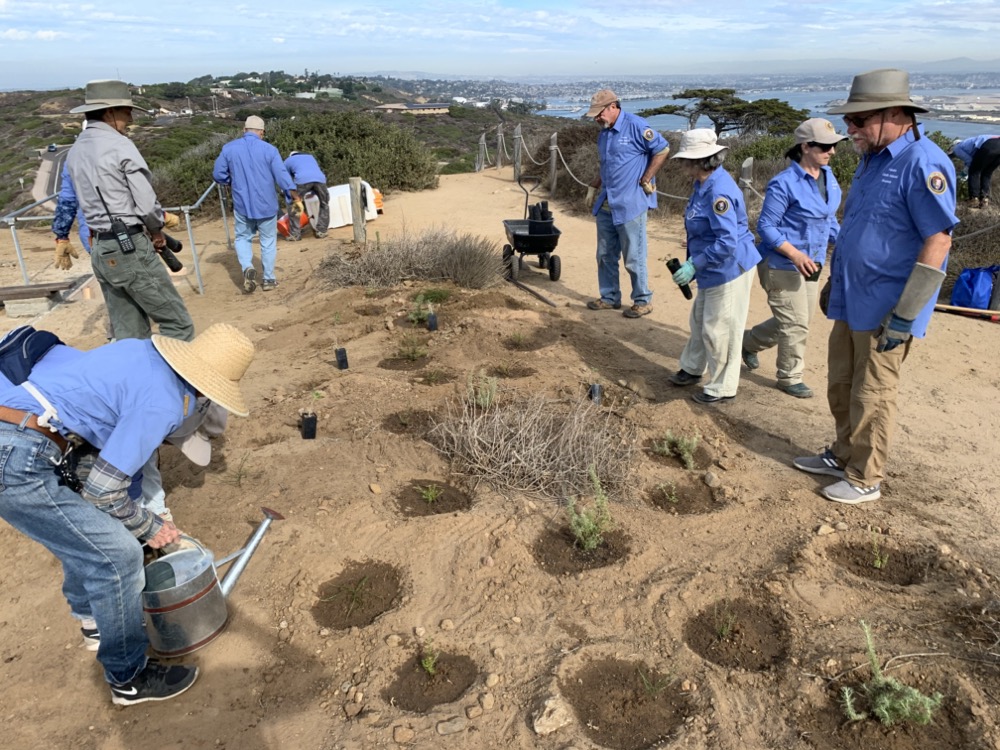 NPS Photo - Greenhouse volunteers planting native plants at Whale Watch Overlook.

Greenhouse volunteers collect seeds, germinate plants, clear invasive plant species, and replace them with native species. Greenhouse volunteers spend their own time and manual labor to help out at the park, and that labor is intensive; the plant restoration process is not as simple as you may think.

First, greenhouse volunteers need to clear areas of invasive plant species before they plant. This is so vital to the plant restoration process that there is an entire volunteer group dedicated solely to removing invasive species. These brave soldiers on the frontier are known as "Weed Warriors". Invasive species are non native organisms (living things) that are brought to an environment that disrupt the natural ecosystem. Non-native plants tend to thrive and reproduce quickly. They overpower the native plants and gradually take over the areas where native plants used to flourish. This affects biodiversity, or "the variety of life in a particular habitat or ecosystem." A few species of invasive plants that Weed Warriors are constantly battling are: Foxtail (Bromus madritensis), Sweetclover (Melilotus indicus), Slender leaf Iceplant (Mesembryanthemum nodiflorum), and Goldentop/Toothbrush Grass (Lamarckia aurea).

Next, greenhouse volunteers must collect seeds from native plants around the park and sort them by species. Seeds are collected in manila envelopes and the date collected, batch number, and abbreviation of the Latin name of the plant are then recorded on the envelopes. Some seeds come in pods or fruit and thus need to be removed and cleaned before they can be planted. This process is meticulous and time consuming. Greenhouse volunteers collect thousands of seeds each season and only a few hundred plants reach maturity.

Since each species of plant at Cabrillo has different requirements for it to germinate in nature, volunteers must replicate those requirements in the Greenhouse. Some plants must be burned to germinate, while others need to be removed from dense, sticky seed pods, or shut and suffocated in the dark to recreate leaf litter. After that, greenhouse volunteers need to sort through viable and nonviable seeds. Viable seeds are seeds that can germinate (sprout) and reach maturity, and non viable seeds are seeds that cannot. Non-viable seeds are then thrown away and viable seeds are put away to plant.  Next, greenhouse volunteers must prep seed flats with the right amount of soil, peat moss, fertilizer, and filler to germinate the seeds.

After the seeds have germinated and moved to bigger pots, greenhouse volunteers need to prepare the areas of the park they will be planting in. This includes removing other invasive species, digging and watering holes, and clearing rocks. Digging holes is the most labor intensive stage of plant restoration. The sandy, native soil can get packed tightly and cemented with large rocks. This makes it very difficult to dig holes that are deep enough to plant in. Finally, the native plants are moved to the prepared planting areas of the park and are watered regularly until they reach maturity.

All in all, Greenhouse volunteers put forth valuable time and effort to help maintain and uphold the National Park Service's mission:  to protect and preserve our parks and the ecosystems within them.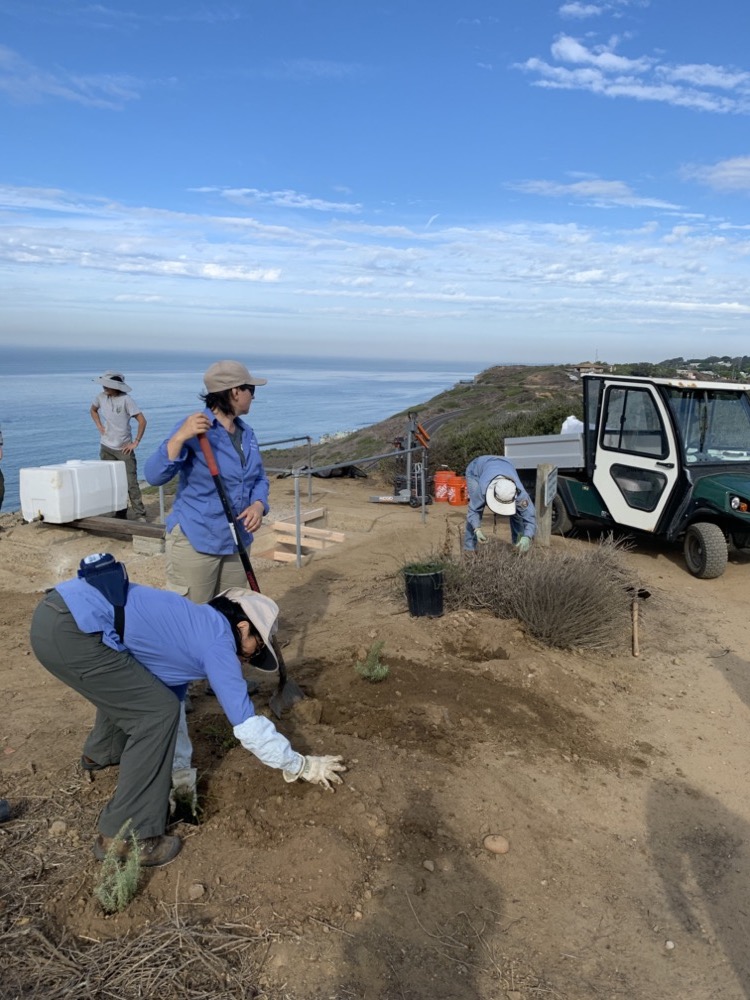 NPS Photo - Greenhouse volunteers planting native plants at Whale Watch Overlook.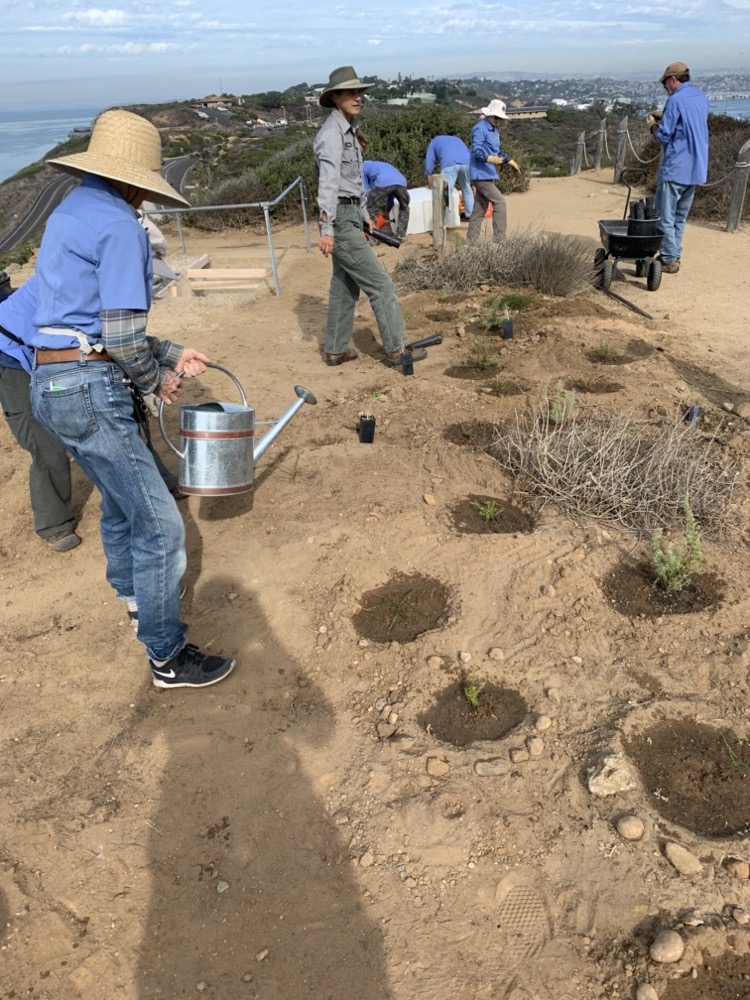 NPS Photo - Greenhouse volunteers planting native plants at Whale Watch Overlook.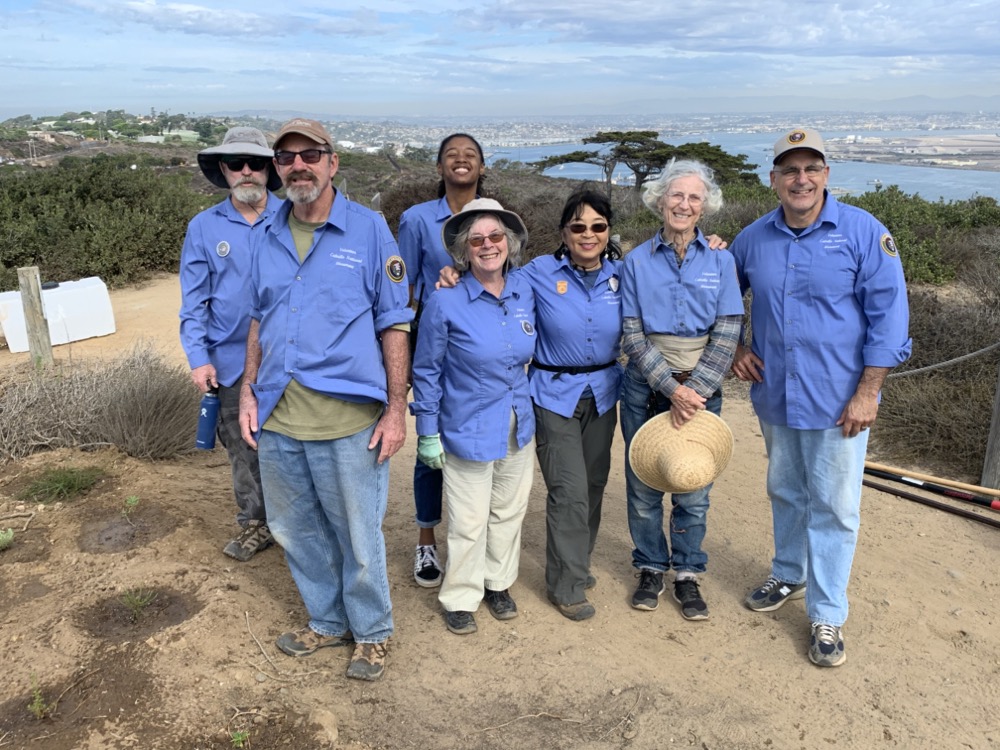 NPS Photo - Greenhouse volunteers smile at the camera for a group picture after working together with weed warriors on a large planting project.

Sources: 
Invasive species names: 
https://www.calflora.org
Native species names:
https://www.nps.gov/cabr/learn/plant-field-guide.htm
Invasive species definition:
https://www.britannica.com/science/invasive-species