Cabrillo Field Notes is full of stories about the work being done in and around Cabrillo National Monument, but we've never talked about how you, our readers and members of the community, can get involved! From Natural Resources to Facilities to Interpretation, volunteers are involved in almost every aspect of the park. If you love working outside, interacting with the public, and are looking for ways to be more involved in your community, then becoming a volunteer at Cabrillo may be a good fit for you! Check out some of the current opportunities available.
Science Explorer's Club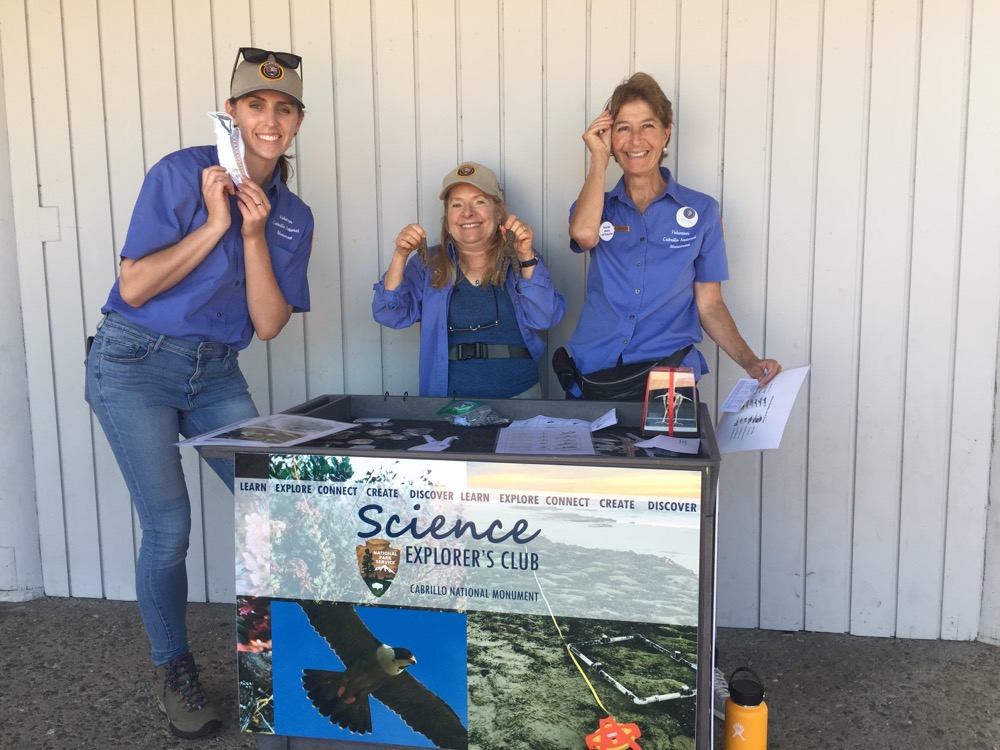 NPS Photo/McKenna Pace – three Science Explorer's Club volunteers pose for the camera with the Explorer's Club cart and the day's activity.
Given the park's namesake and the can't-miss Old Point Loma Lighthouse, it's easy to see that Cabrillo National Monument visitors become easily acquainted to the park's historical and cultural resources. However, many people don't realize that the park is also a living laboratory full of a diverse array of plants and animals, and biologists have been studying them for decades. Hence, the Science Explorer's Club was created to introduce visitors to the science conducted at the park through hands-on activities. Volunteers facilitate these activities, helping visitors make scientific observations, collect data, and learn more about the world around them. Topics include tidepool monitoring, bird surveys, herpetofauna (snakes and lizards) monitoring, nature journaling, and more! 
If you love science and want to share your love and knowledge with the world, then the Science Explorer's Club wants you! All training will be provided. Shifts are available every day of the week, and schedules are flexible.
Tidepool Protection Education & Restoration Program (TPERP)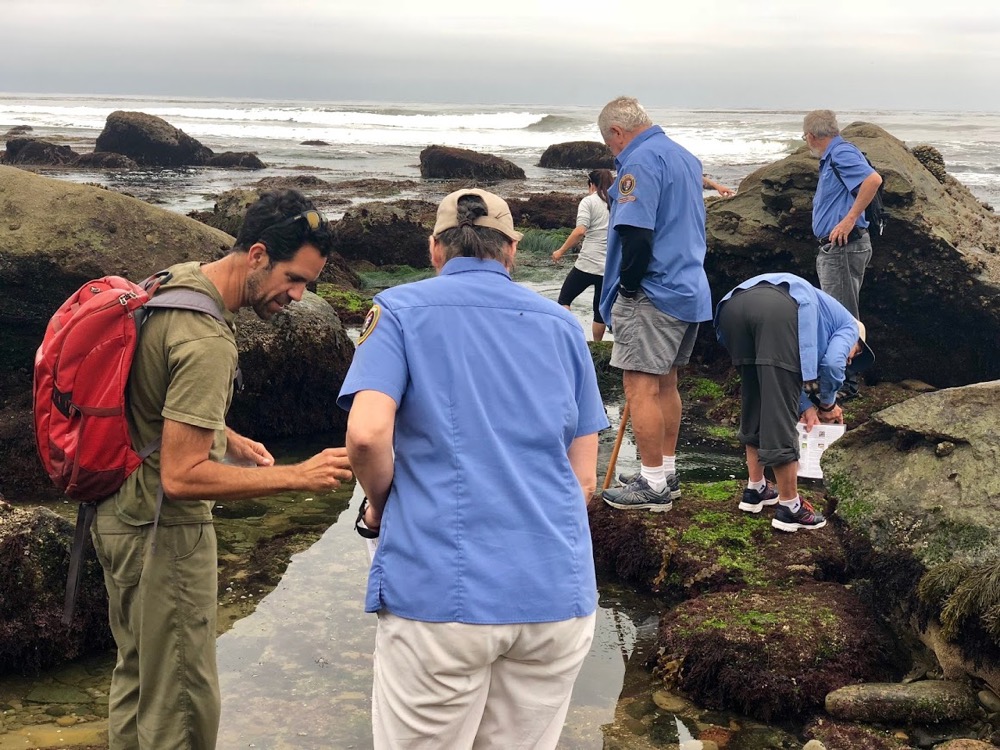 NPS Photo/Nicole Ornelas – a group of tidepool volunteers (TPERP) explore the tidepools.
The Tidepool Protection Education & Restoration Program (TPERP) was created to help protect our Rocky Intertidal ecosystem and educate the more than 200,000 annual visitors who enjoy the area. TPERP volunteers walk around during low tide, hike the tidepool trail, and staff the education table, helping provide visitors with information and enforcing regulations. As it is through education that the tidepools are protected from human impacts, these volunteers are instrumental in restoring and protecting this sensitive habitat. 
If you are interested in working outdoors, learning about life in the tidepools, and educating park visitors, this may be a good fit for you! All training will be provided. Shifts are available every day of the week, with an extra need during low tides and on the weekends.
Weed Warriors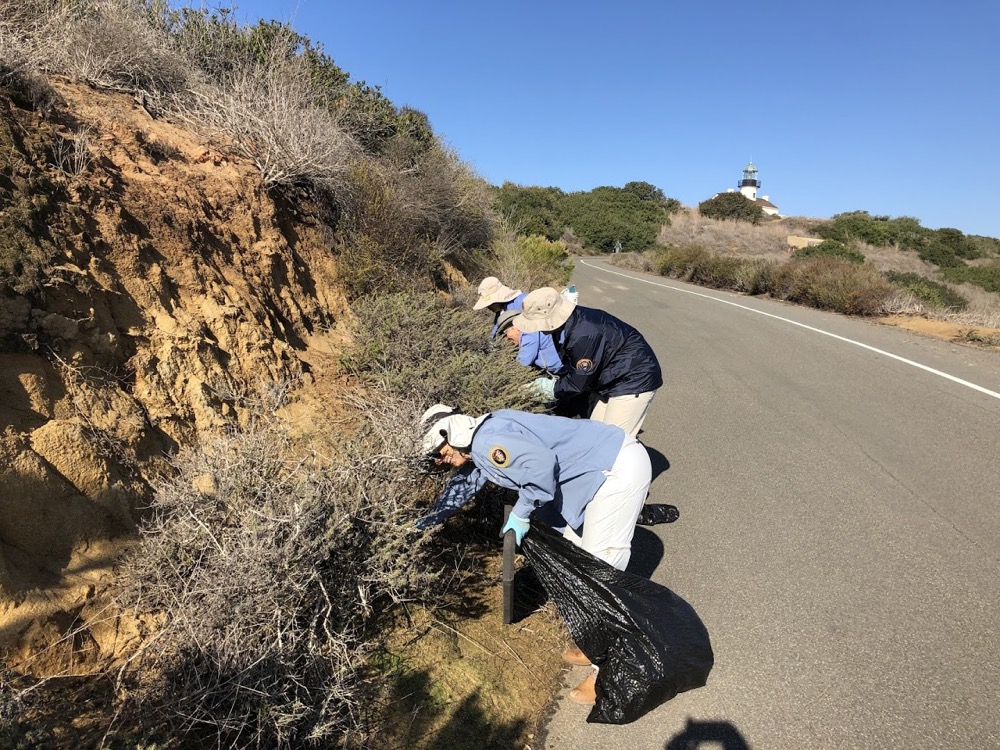 NPS Photo/Andrew Rosales – a group of Weed Warriors working on the Bayside Trail.
The Weed Warriors are a dedicated group of volunteers who are helping to remove invasive non-native plants from Cabrillo National Monument. The removal of invasive plants not only helps with native habitat restoration and the preservation of ecosystems, but also with fire suppression and other threats related to climate change. The group is also involved in locating and collecting data about non-native species. These volunteers help the park achieve its goal of being weed-free and play an important role in assisting park staff with restoration efforts.
The work involves bending and stooping in native habitat. Knowledge of native and invasive plants is helpful but not necessary, and skills on plant identification and proper removal techniques will be taught. The group meets every Tuesday morning and alternating Fridays and Saturdays.
Facilities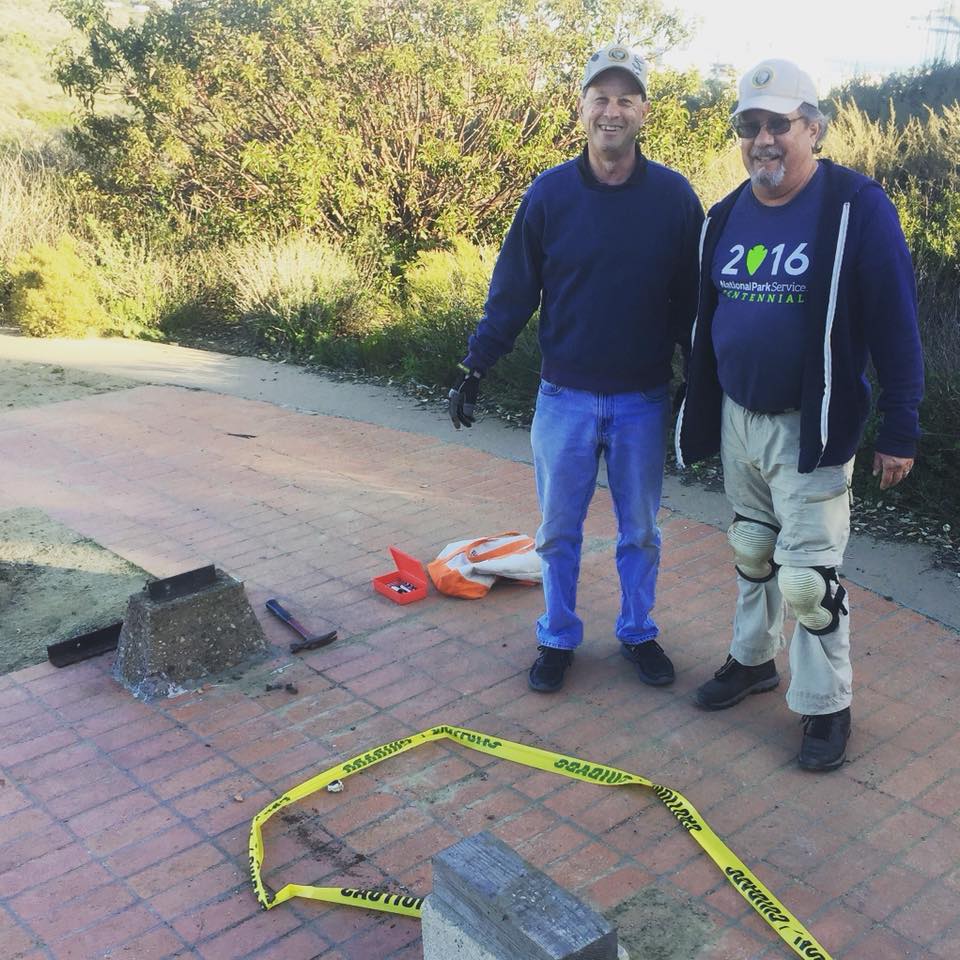 NPS Photo – these two volunteers recently helped fix the benches at Ballast View, making them safer for our visitors to use.
The Cabrillo National Monument Facilities & Maintenance team has a long list of projects to get done and definitely not enough time in the day do to it! They need volunteers who can help them in maintaining the park's facilities and trails, especially on the weekends. Your basic duties will include the application of any of the basic trade skills such as painting, carpentry, landscaping, custodial, plumbing, electric, automotive, and general "handyman" skills.
If you enjoy working outside, performing manual labor, and are committed to keeping this park beautiful for all who visit, this is a great opportunity for you! Most shifts begin before the park opens, but schedules can be flexible.
Native Plant Restoration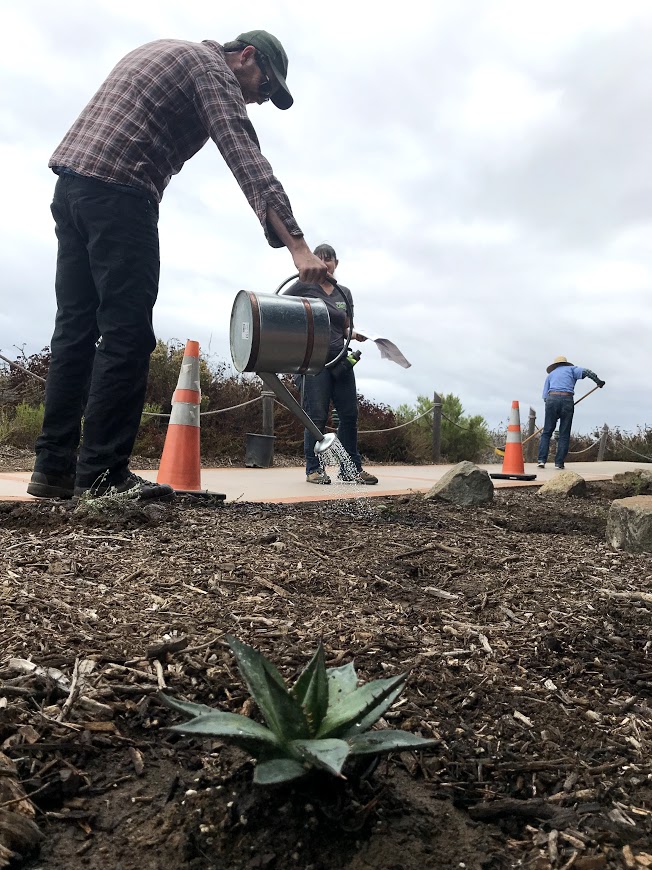 NPS Photo/Nicole Ornelas – a volunteer waters a newly-planted area behind the Visitor Center.
The native plant gardens around the Visitor Center are one of the only areas in the park where the plants are watered, and they could use some love! We are looking for volunteers who can come to the park on a regular basis and water different areas. These volunteers can also help plant native plants throughout the park on an as-needed basis. 
Native plant knowledge is a plus, but not required. Timing is flexible, but a volunteer that can commit to a regular schedule is preferred. If you want a relaxing opportunity in an outdoor setting, this is a great fit!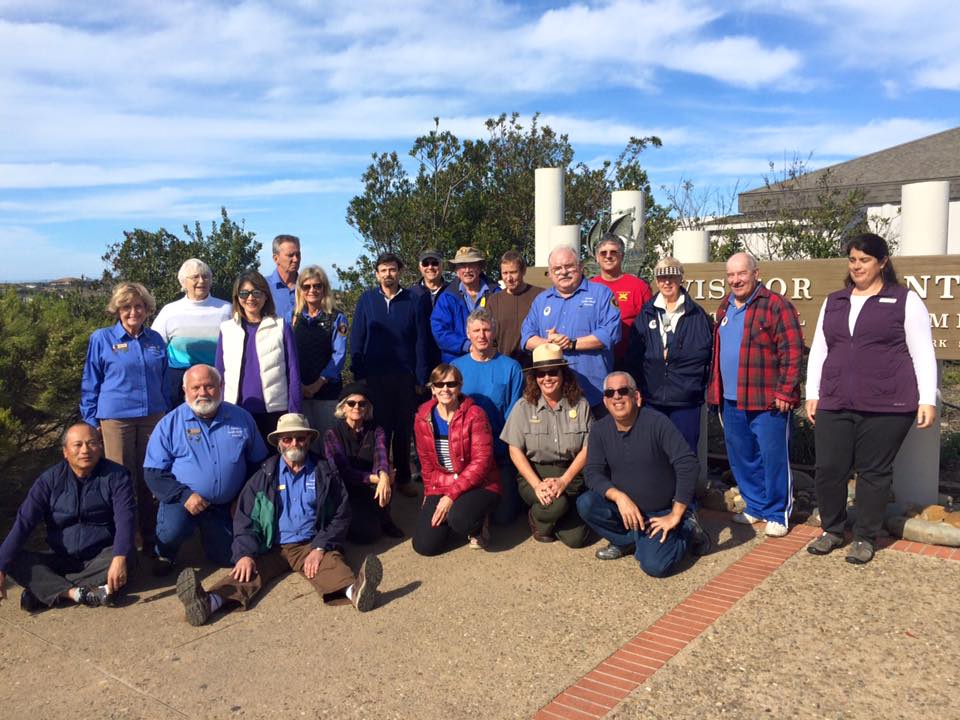 NPS Photo – a group of Volunteers in Parks (VIPs) smile for the camera near the Visitor Center at Cabrillo National Monument.
Of course, there are plenty more volunteer opportunities at Cabrillo. Staffing the Visitor Center, living history presentations, or simply walking around and talking to people are some popular options. Whether it involves natural resources or something else entirely, we appreciate the work of our more than 200 active volunteers and can always use the help! To learn more about these opportunities, visit
www.volunteer.gov
and use "Cabrillo" as a search, or contact our Volunteer Coordinators, at
cabr_volunteers@nps.gov
.