"Beep…beep…beep"
Wielding a rather large antenna connected to a small, radio-like box, researcher Roman Nava listens closely to the faint pings emitted from the receiver in his hand. The young herpetologist maneuvers the metal wand back and forth tracking the sound – the closer together the beeps, the closer we are getting.    
"She's this way," Roman breaks the silence as he tromps down the hillside into the coastal sage. I decide to watch from the safety of the ridge.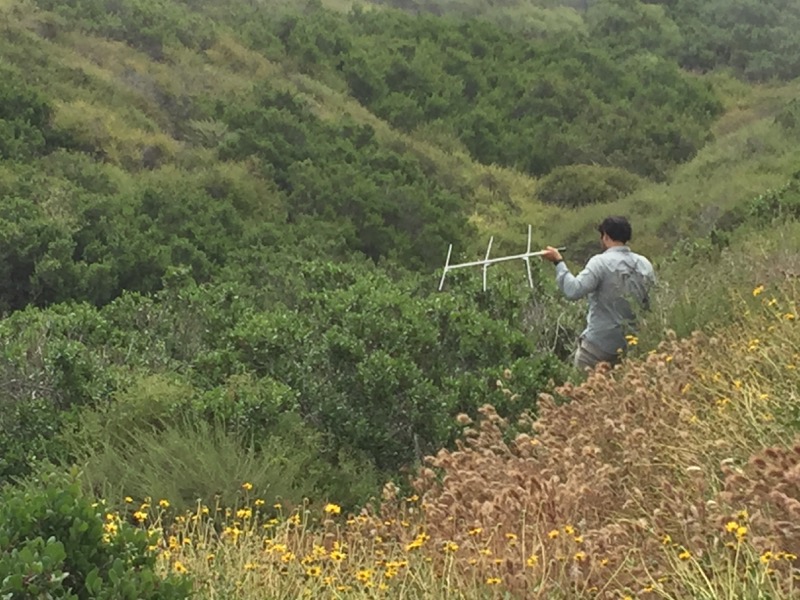 A Masters student in the Department of Biology at San Diego State University (SDSU), Roman works in the lab of Population Ecologist Dr. Rulon Clark.  One of the main goals of this lab group is to understand how animal populations are connected and restructured as an effect of human habitat fragmentation. In Roman's case he focuses on one of Cabrillo' s top predators – the Southern Pacific Rattlesnake (
Crotalus oreganus helleri
).  
For over half an hour Roman uses radio telemetry to hone in on the transmitter he has been following for the past couple of weeks. The Clark lab recently captured, tagged, and released three Southern Pacific Rattlesnakes at Cabrillo and they are currently tracking their movements throughout the park. This snake in particular appears to have travelled across the road and down a quarter-mile of steep embankment.  
Human-induced habitat fragmentation can have significant effects on animals such as these rattlesnakes. Roads and buildings create formidable boundaries and inhibit their ability to move safely to important places of food and shelter. As a pseudo-island, Cabrillo represents one of three habitat types that Roman is currently investigating.  He is especially interested in how the behavior of the snakes might be influenced by smaller or larger home ranges. Perhaps the snakes become more defensive because they are being forced together?  This could potentially lead to significant shifts in the population dynamics of the species and how they interact within the ecosystem.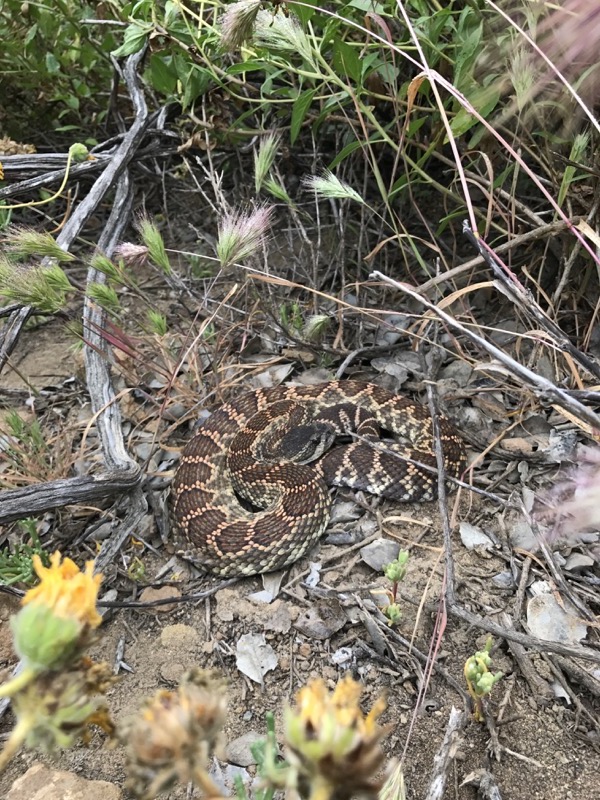 From across the valley Roman shouts, "I found her," as he waves back at me. I smile at the significant accomplishment and the thought of being able to gain so much information from following beeps with a weird metal antenna. Through this research and other projects occurring within the park, we hope to gather new insights to better inform management practices for the species and habitats Cabrillo National Monument and the National Park Service are committed to protecting.  
Wildlife Safety: These wildlife biologists are trained professionals and are permitted by the National Park Service to conduct this work. No snakes are harmed in this research. If you are fortunate enough to come across a Southern Pacific Rattlesnake while exploring on trails at Cabrillo National Monument, please maintain a respectful distance and notify a Ranger immediately should visitor or snake safety be in questions.