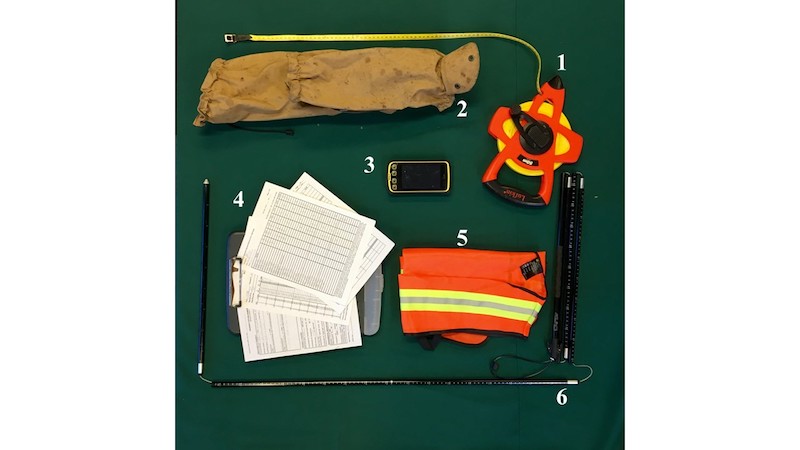 The monitoring of the natural resources here at Cabrillo National Monument (CABR) is an ongoing affair. From the coastal intertidal, herpetology and bird surveys, to the plant communities within the boundaries of CABR. Terrestrial vegetation monitoring takes place each Spring here at Cabrillo National Monument. In order to monitor the plant communities of CABR, monitoring plots at 72 unique locations have been created in various locations throughout the park to represent the varied plant communities that call the Park home. These plots are 30m Line-Point Transects placed between two numbered rebar spikes.
Rangers use the point-intercept method to identify species, substrate, and plant height along the transect line. Along the 30m transect line, species are noted at every 30cm, as well as the substrate (rock, soil, leaf litter) and the maximum height of the species at each of the 100 points. Also, neighboring species within a 5m boundary on either side of the transect tape are also noted for a measurement of species richness.
In order to take these measurements, Rangers use a number of tools. The GPS device helps in locating the individual sites in the more remote areas of the Park (Number 3). To access those remote sites, the Rangers wear Gators to protect their lower legs from cacti and snake-bite while hiking to these locations (Number 2). The bright vests are used to let the Park visitors know the individuals they are viewing off-trail are Park employees conducting work for the Park (Number 5).
The large tape is attached at one end of the transect point and unrolled and connected to the other end of the 30m transect line (Number 1). For noting the height, substrate, and species found at each 30cm point, the avalanche pole is ideal due to the height marks that line the side of the pole that allow the Rangers to record the height of each species (Number 6).
Finally, all of this data is collected on a series sheets used by the Rangers to input into the Long-Term data files (Number 4). These include transect location and description, line-point species list per 30cm points, vegetation species richness, and shrub density within the 1m x 5m subplots.
This information helps inform the Natural Resources Division on changes occurring over time within the plant communities; new species found within the park, invasive species found, and species that are succumbing to environmental stressors that impact plants here at Cabrillo National Monument.
When you visit Cabrillo National Monument in the Spring and see the bright vests in the field, you can share your knowledge of the important job the Rangers are doing to monitor CABR's terrestrial vegetation. This will insure this island of native plant communities stay intact for the future generations to enjoy while walking through the Cabrillo National Monument's grounds.