Cabrillo biologists and resource volunteers have amassed some pretty interesting gadgets for monitoring the different ecosystems at the park. With winter shorebird monitoring in full swing, this edition of "Tools of the Trade" highlights the implements used for a successful birding endeavor.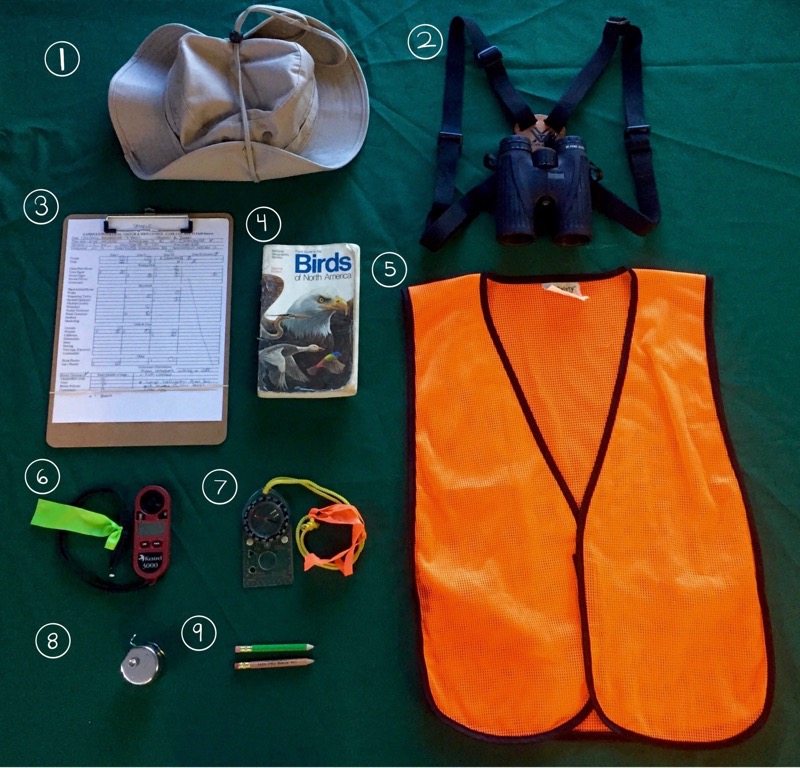 1)
Floppy Hat:
Even in the winter, San Diego can experience bright, sunny days. Protection against the suns harmful rays is a must for even the most experienced of birders.
2)
Binoculars (with Harness):
Binoculars are a birders most important tool! They allow observations from long distances as to not disturb the birds in their natural habitats. Our monitors use their binoculars with a harness to ease the transition from observing to recording data.
3)
Data Sheet:
This is where all the counts of people and birds are recorded along with environmental variables such as temperature, wind speed, date, tidal height, etc. For our shorebird monitoring, information is collected over 5 sites, for 15 minutes at each site. All birds with their feet on the ground (not swimming or flying) at the time of recording are tabulated. 
4)
Field Guide:
Is that a Great Blue Heron or a Brown Pelican fishing on the tidal flat? Field Guides are like Google on the go and help us identify who is who during field surveys. Download your own personal Birds of Cabrillo Field Guide
here
.
5)
Safety Vest:
Safety is the #1 Rule for all Cabrillo Rangers! The orange reflective glow of the safety vests keeps us aware of the location of all of our biologists and aides as they venture throughout the park. Should we need to spot them quickly, they can easily be detected by their bright vests with a quick glance over the terrain.
6)
Kestrel:
When monitoring for birds, it is important to know how fast the wind is moving. This is a device equipped with a small fan that, when held in the direction of the wind, can monitor average and top wind speeds.
7)
Compass:
Not only is the speed of wind an important factor to record, but also the direction. Attached to the bottom of the compass (and the kestrel) is a small length of marker tape to assist in pinpointing the wind direction.
8)
Counter:
The Cabrillo Rocky Intertidal hosts over 200,000 human guests annually. Thus it is important to keep track of how many people are present during monitoring times to quantify human/wildlife interactions. Shorebird monitors count people in the zones they are working in and only if their feet are touching the ground. On a high visitation day, this can be the hardest part of the job.  
9) Pencils: No matter what you are collecting data for, any good biologists knows, you never bring just one!
 
---
Special thanks to Cabrillo VIPs and Shorebird Monitors Pam Zuckerman and Paula Wasserman for their assistance in compiling this post.