As fall develops, the changing weather affects many of the different animal species found here at Cabrillo National Monument (CNM). Migratory birds are following their food source to the warmer south, and autumn moisture brings out our salamanders. The rest of CNM's herptile (reptile and amphibian) populations are also affected by cooler temperatures – the California Kingsnake (
Lampropeltis californiae
) prefers colder weather and can be seen foraging in the daytime this time of year. This non-venomous snake can grow to 4 feet in length but is most commonly seen in the 2.5 – 3.5 ft. range. The species comes in a diversity of colors and patterns, especially in the black and white or brown and cream variety. They can have bands around their bodies, or longitudinal stripes. Some odd snakes (aberrant morphs) can even exhibit patterns like dots, zippers, or bars. Whatever the pattern or color, their scales are smooth and glossy, a characteristic noted in their scientific name; "Lampropeltis" means "shiny shield" in Greek, a reference to their lustrous hide.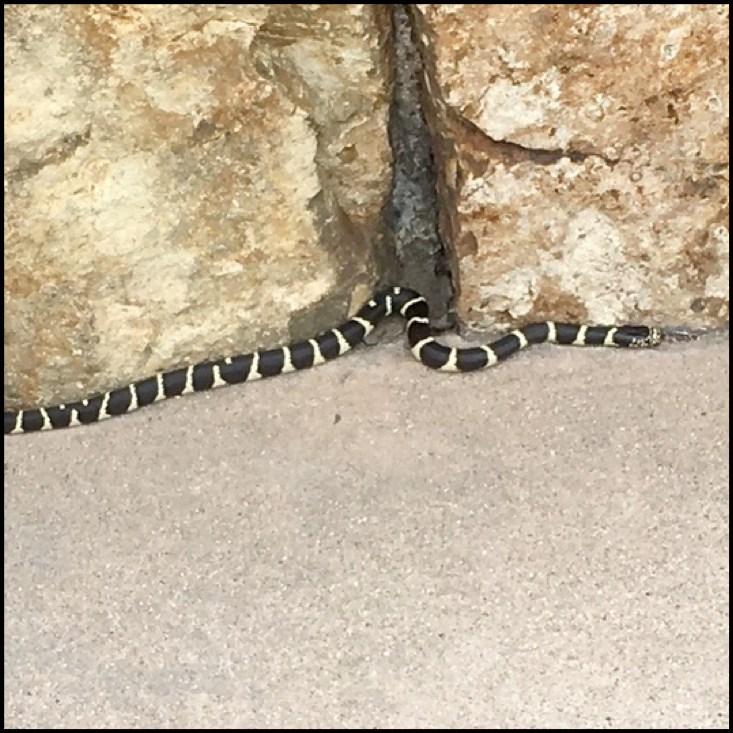 NPS Photo - A common black and white morph of the California Kingsnake.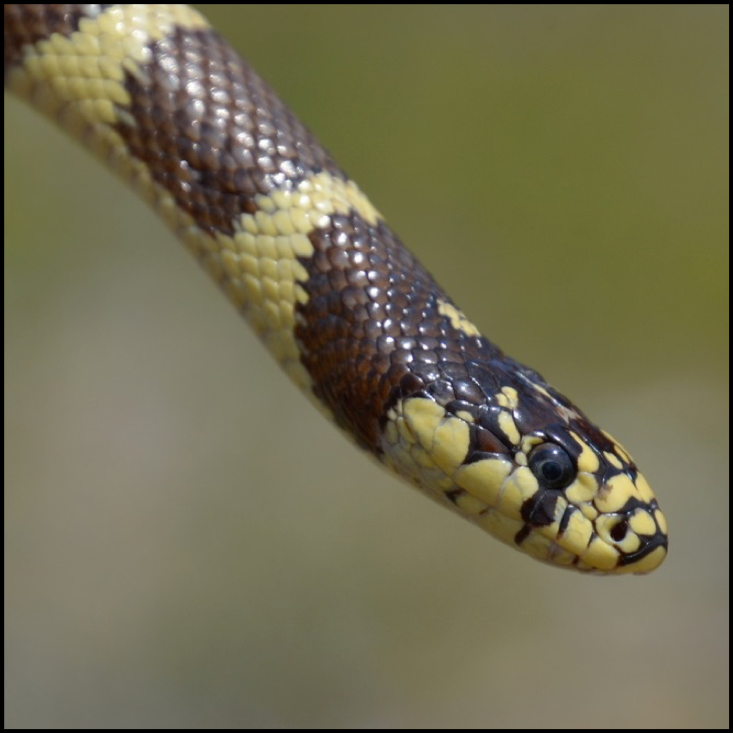 NPS Photo – A closeup of a brown and cream morph of the California Kingsnake.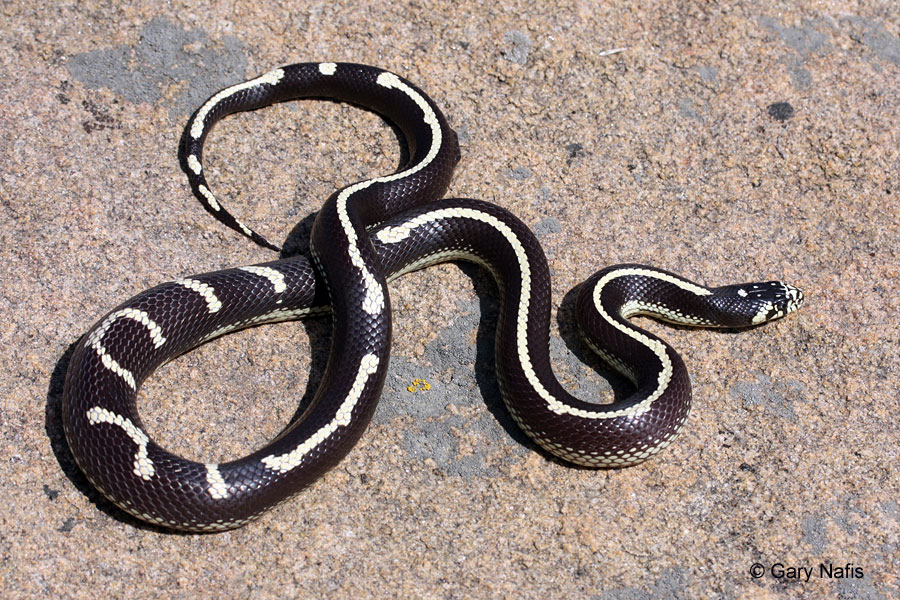 Photo courtesy of Gary Nafis on Californiaherps.com – This oddly patterned (aberrant morph) kingsnake sports white longitudinal stripes that break up into dashes.
California Kingsnakes can be found in a large variety of habitats throughout most of California and much of the southwest, including Baja California, Mexico. One of the reasons for this wide distribution is their ability to eat a variety of prey – these powerful constrictors dine upon small mammals, lizards, amphibians (frogs and salamanders), birds, and even large invertebrates, such as insects. Their most remarkable type of prey, however, is other snakes! California Kingsnakes are "kings" because they hunt and devour various snake species, including other kingsnakes and even rattlesnakes – they are immune to rattlesnake venom!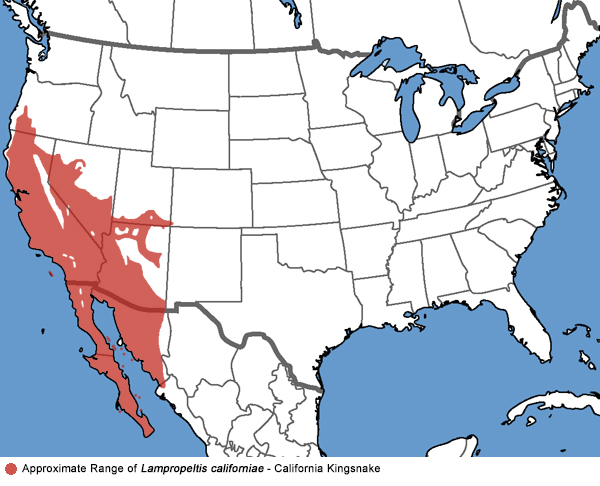 Map courtesy of California Herps – An approximate range map for the California Kingsnake.
NPS Photo/McKenna Pace - Our Resident California Kingsnake, Boros, positioning himself to devour a rat whole.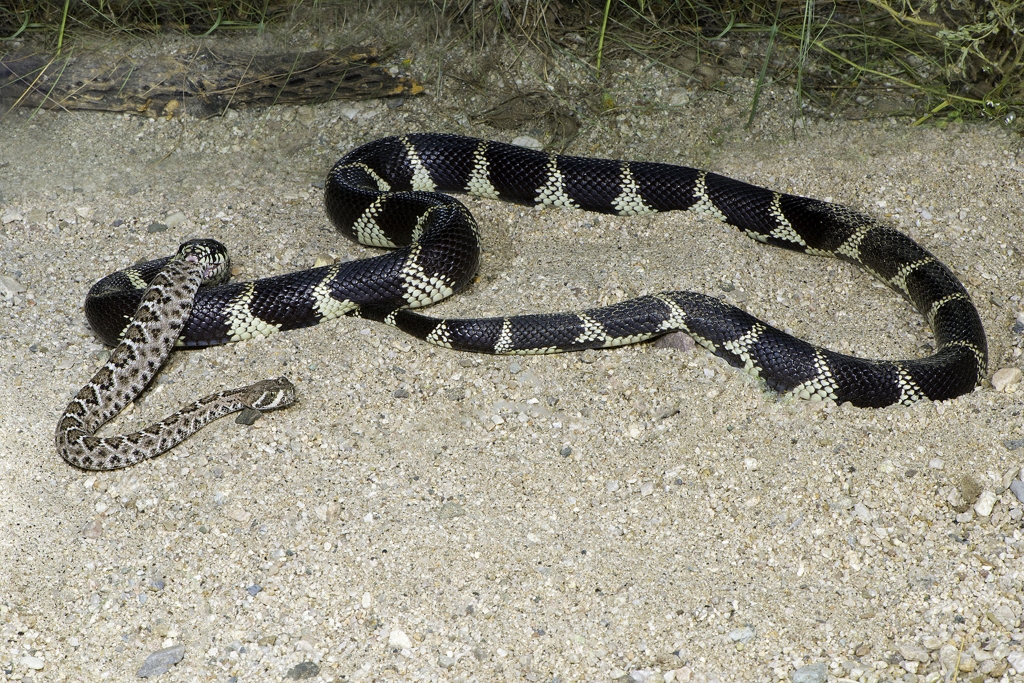 Photo courtesy of Jerry Schudda on focusingonwildlife.com – A kingsnake eating the back end of a Diamond-back Rattlesnake. Eventually the entire rattlesnake will be swallowed whole.
Every Thursday afternoon our Science Education Department brings out one of our four resident snakes for a snake "meet and greet": two of these snakes are California Kingsnakes. A frequent question from visitors is if rattlesnake antivenom was developed by studying California Kingsnakes. The short answer is no – antivenom is traditionally created by milking (harvesting) venom from a spider, snake, or insect. A small amount of the gathered toxin is then injected into domestic animals such as horses, goats, or cattle. This non-lethal amount of venom triggers an autoimmune response from the mammal, releasing antibodies which are then harvested, purified, and made into an antivenom serum.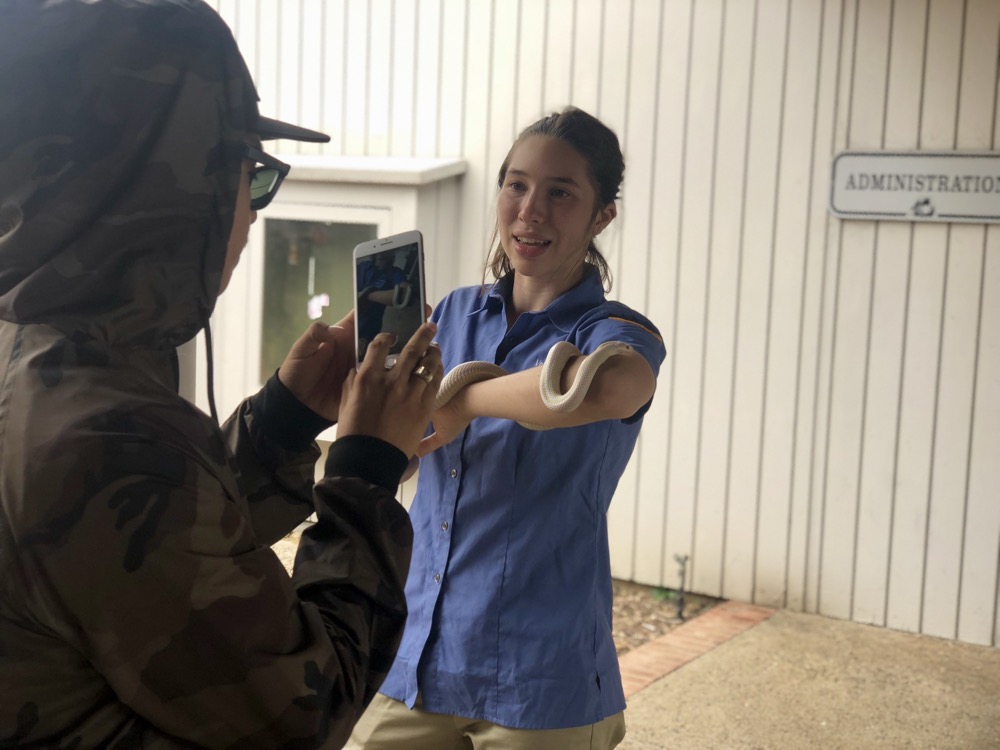 NPS Photo/Nicole Ornelas – Volunteer Isabella features Summer, one of our resident California Kingsnakes, during a snake meet-and-greet.
Though California Kingsnakes are not directly involved in the synthesis of antivenom, they are a subject of research for venom immunity in general – this species has helped scientists understand how venom works, which is invaluable for the treatment of rattlesnake bites. So, if you're lucky enough to spot a California Kingsnake, be sure to thank him (or her) for eating all the pests that destroy your yard, for keeping dangerous snakes at bay, and for furthering our understanding of venomous snake bites!
References
Herptiles at Cabrillo National Monument:
https://www.nps.gov/cabr/learn/nature/reptiles-and-amphibians.htm
More About California Kingsnakes:
http://www.californiaherps.com/snakes/pages/l.californiae.html
More About Kingsnakes in General:
https://www.livescience.com/53890-kingsnake.html
More About Venom and Antivenom:
https://www.nps.gov/cabr/blogs/venomous-versus-poisonous-same-thing-right-wrong.htm
https://www.si.edu/spotlight/antibody-initiative/antivenom