There are many animals that live in and around Cabrillo National Monument (CNM), including land animals such as small mammals, birds, or reptiles, and tidepool invertebrates (animals without a spinal column). But those aren't the only animals CNM has to offer! There are a handful of marine mammals that forage off our rocky coastline. One such group of mammals are "Pinnipeds," Latin for "fin or flipper footed," a reference to their front and back flippers. Two species of pinniped that regularly visit the Monument are the California Sea Lion (
Zalophus californianus
) and the Harbor Seal (
Phoca vitulina
) – but which animal is which?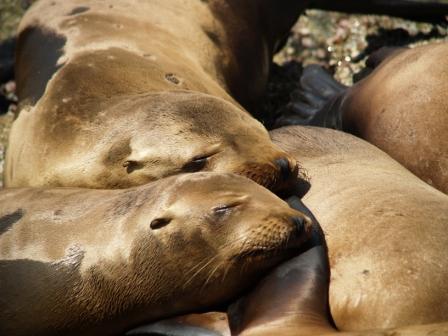 Photo courtesy of the Marine Mammal Center – California Sea Lions (Zalophus californianus) sunning themselves out of the water.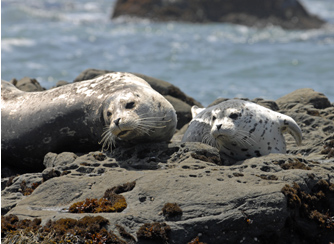 Photo courtesy of the Marine Mammal Center – Two Harbor Seals (Phoca vitulina) resting on a beach.
One easy way to differentiate the two species is by sound. Is the animal making a loud barking noise? If yes, then it's most likely a California Sea Lion! Sea Lions have ear flaps, primarily use their front-body (head, neck, shoulders, chest, and front flippers) to swim, and can rotate their flippers to "walk" on land. Because of their ability to use their flippers on land, they often haul themselves out of the water and onto various structures such as buoys, docks/piers, and sometimes even up onto the back of fishing boats. 
 Harbor Seals, on the other hand, are relatively quiet and spend more of their time out at sea than Sea Lions do. These Pinnipeds don't have ear flaps and swim primarily with their back-body (lower back, hips, and rear flippers). Though graceful in the water, they move clumsily on land because they can't rotate their flippers like the Sea Lions can. Instead, they must undulate (flop or wiggle) along on their bellies.
There are other characteristics that differentiate California Sea Lions from Harbor Seals. The general appearance of California Sea Lions is tan to dark brown. Males of this species can reach up to 800 pounds and can be differentiated from females by the large bump on their forehead called a sagittal crest. Conversely, Harbor Seals are speckled or spotted and generally a lot lighter than California Sea Lions, from white to a light gray or brown. They do not have earflaps, just an earhole, and are smaller than California Sea Lions, weighing in at around 300 pounds.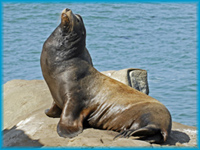 Photo courtesy of the Marine Mammal Center – A male California Sea Lion (Zalophus californianus) stands upright on some rocks.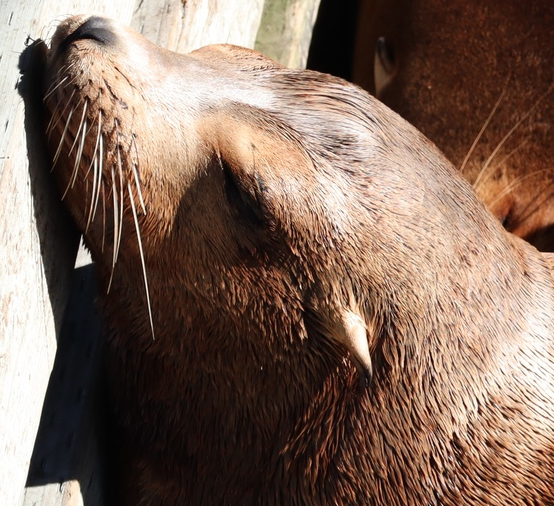 Photo courtesy of reno4913 at iNaturalist.org – The external (outside) ear flap of a California Sea Lion (Zalophus californianus).
The behavior of the two pinniped species differs as well. California Sea Lions are very playful and generally hang out in large groups, whereas Harbor Seals tend to be more solitary (except when they've hauled-out onto the beach at the Children's Cove in La Jolla – one of the only places they can haul out in all of San Diego County!). Here at CNM, Harbor Seals can generally be seen foraging off the west coast of the peninsula by the tidepools. They like to forage in the subtidal and intertidal zones, which are close to the shore.
The next time you're at Cabrillo National Monument listen closely for the barks of the California Sea Lion, or search for the spotted coat of the Harbor Seal off the coastline – I bet you'll be able to tell the difference between them now!
References
More About Pinnipeds:
http://www.marinemammalcenter.org/education/marine-mammal-information/pinnipeds/
https://www.britannica.com/animal/pinniped