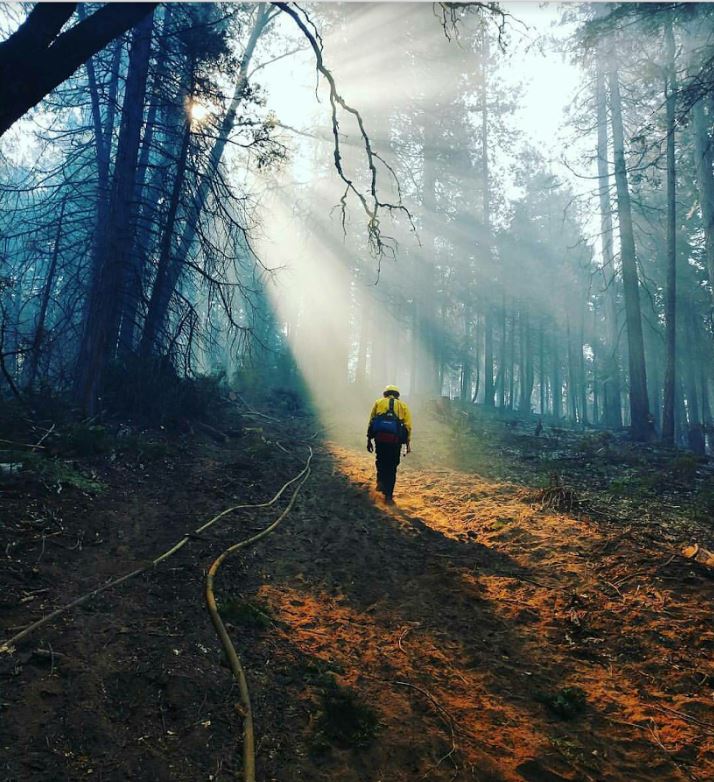 NPS/Mark Garrett - Adam Taylor walks handline to assess impacts.
 
Imagine if you will:
In the Los Padres National Forest, a wildfire is spreading rapidly. A dozer is putting in fireline, flanking the fire, but ahead is a sacred Native American site. If a dozer pushes over this site, this precious resource will be damaged forever, and expose artifacts to potential looters.
 
Up in Crater Lake National Park, a fire spreads in wilderness. A team of hotshots are felling trees in an area where spotted owls are known to nest. Spotted owls nest almost exclusively in large trees that require hundreds of years of growth. Taking down a large tree might be the end of a nest that has been utilized successfully by the owls for years.
 
A type-2 crew has just arrived from another fire across the state. They had been camping in an area that is full of brome, a very invasive species. They check into fire camp and are getting ready to go on the fireline in the morning – while thousands of brome seeds are stuck to their gear including tires and hoses, and even on their clothes – especially their pants and boots. They are in Yosemite National Park and the area is pristine, with no invasive species present.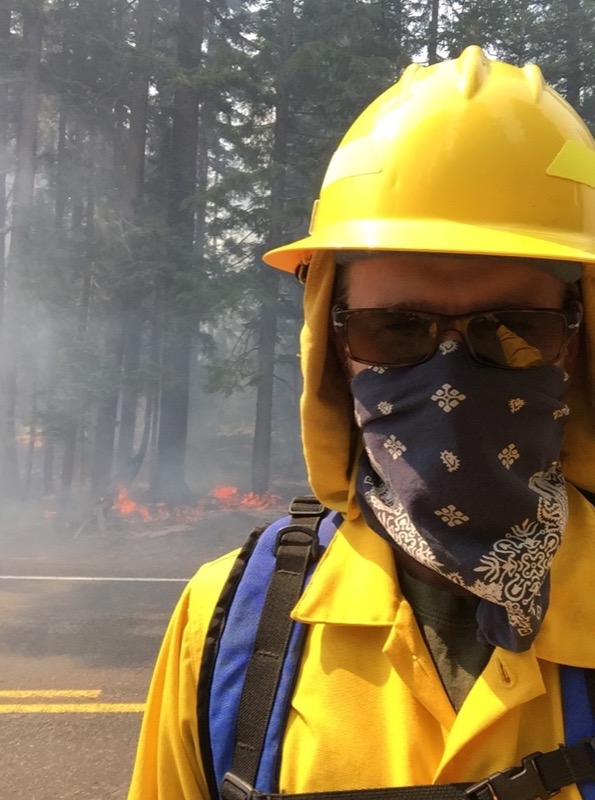 NPS/Austin Parker - On patrol
 
These are all nightmare scenarios for land management agencies when a wildfire is in the area. While protecting life and property are the priorities of firefighting, protecting resources also ranks very high. But it is difficult for firefighting crews to know ALL the resource concerns of an area, especially if they come from another area, whether across state or across the country. Luckily, there is a special role on wildfires that addresses these issues; it is the role of the Resource Advisor, or "READ." READs come from a variety of backgrounds and specialties, most commonly archaeologists, wildlife biologists, and botanists. The READs report to a "Lead READ," who is usually a local resource manager and will brief the other READs on the resource concerns in a particular area where fire suppression activities and sensitive resources might meet. Through training and physical fitness requirements, READs can go out on the fireline with crews to be available when an issue comes up. They help guide or "advise" crews on appropriate actions that can fulfill all goals when it comes to suppressing the wildfire. They alert the dozers on the presence of sensitive archaeological resources and therefore cut line around the resource; they remind the fallers not to cut down large trees if possible to avoid impacting spotted owl sites; and they even set up special weed wash stations, to wash fire engines before entering a new area to help avoid spreading weeds.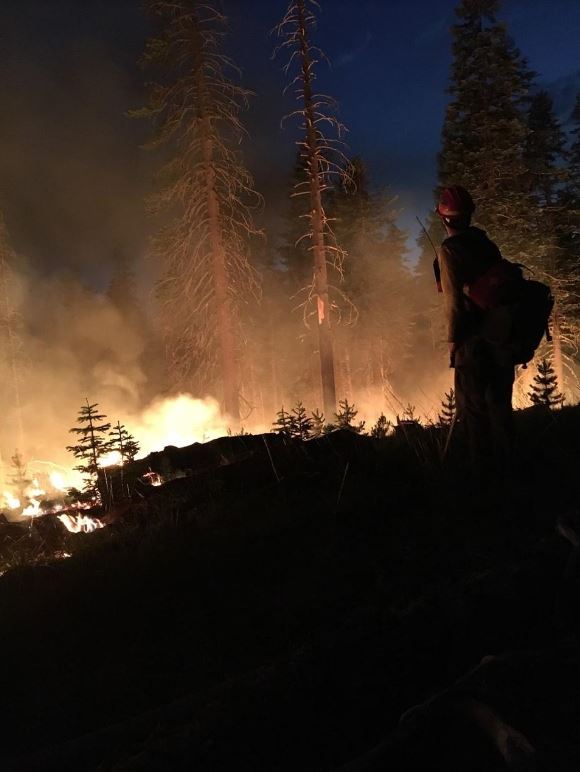 NPS/Austin Parker - Yes, the READs actually do see fire - Austin Parker on the scene .
Cabrillo National Monument supports its Natural Resources Management and Science staff in the Resource Advisor program, which has been greatly needed this year as the country saw an early Preparedness Level 5, which means fire suppression personnel and other resources are stretched very thin. Between the three line-qualified READs at Cabrillo, six full fire assignments were completed throughout California and Oregon.
Botanist Adam Taylor says this of his experience "We got things buttoned up, tied in, and made sure staging activities were done away from the active fireline."
"I built a latrine!" says Austin Parker, Wildlife Biologist.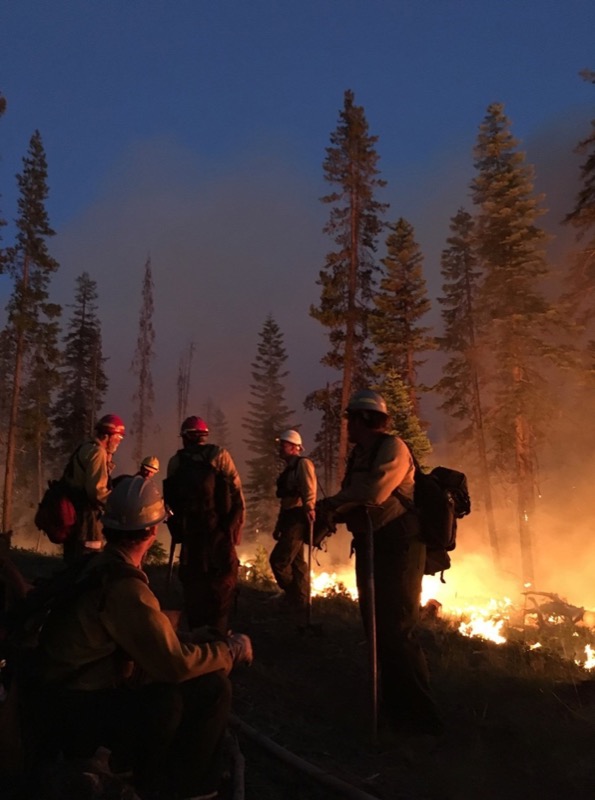 NPS/Austin Parker - A group of firefighters have a safety meeting.