We have planted hundreds of native species surrounding the Visitor Center at Cabrillo National Monument within the last month. Here are a few highlighted species that you may plant at home or in your surrounding neighborhood. Visit your local nursery to find species like these and many more.
Remember native plants have adapted to our climate and will thrive on their own given the right conditions. All of these plants should have plenty of sun, well-drained soil and space to grow.
10 Reasons why you should plant native species--
Attracts native pollinators (Butterflies, moths, hummingbirds, etc.)

Water conservation

Low maintenance (Does not need extra fertilizer or irrigation)

Conservation of local flora

Improve soil conditions

Reduce urban runoff

Increase local wildlife

Garden longevity

Educational opportunities

Beautification of landscape
All photos are from our recent plant project at the Visitor Center and are juvenile species. Be mindful of height restrictions before you plant them in your yard.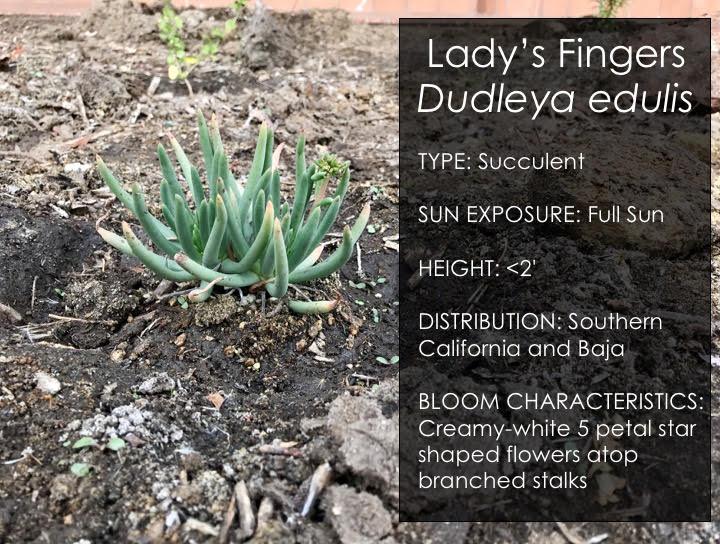 Text in Picture: Lady's Fingers
Dudleya edulis
TYPE: Succulent
SUN EXPOSURE: Full Sun
HEIGHT: <2'
DISTRIBUTION: Southern California and Baja
BLOOM CHARACTERISTICS: Creamy-white 5 petal star shaped flowers atop branched stalks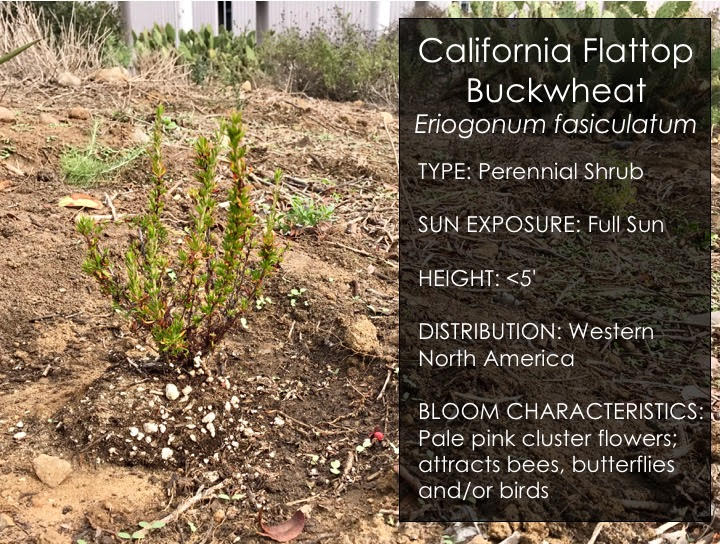 Text in Picture: California Flattop Buckwheat
Eriogonum fasiculatum
TYPE: Perennial Shrub
SUN EXPOSURE: Full Sun
HEIGHT: <5'
DISTRIBUTION: Western North America
BLOOM CHARACTERISTICS: Pale pink cluster flowers; attracts bees, butterflies and/or birds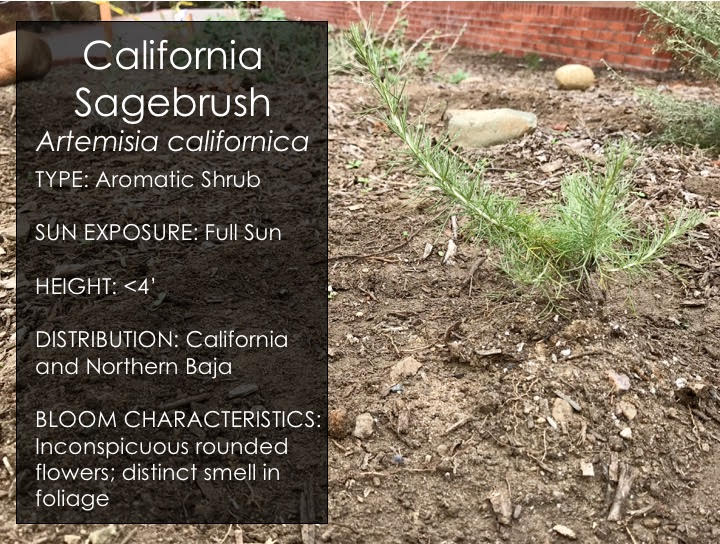 Text in Picture: California Sagebrush
Artemisia californica
TYPE: Aromatic Shrub
SUN EXPOSURE: Full Sun
HEIGHT: <4'
DISTRIBUTION: California and Northern Baja
BLOOM CHARACTERISTICS: Inconspicuous rounded flowers; distinct smell in foliage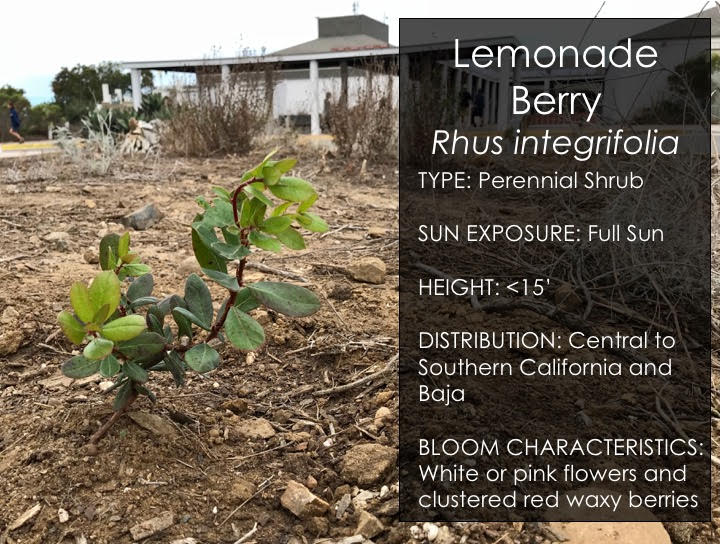 Text in Picture: Lemonade Berry
Rhus integrifolia
TYPE: Perennial Shrub
SUN EXPOSURE: Full Sun
HEIGHT: <15'
DISTRIBUTION: Central to Southern California and Baja
BLOOM CHARACTERISTICS: White or pink flowers and clustered red waxy berries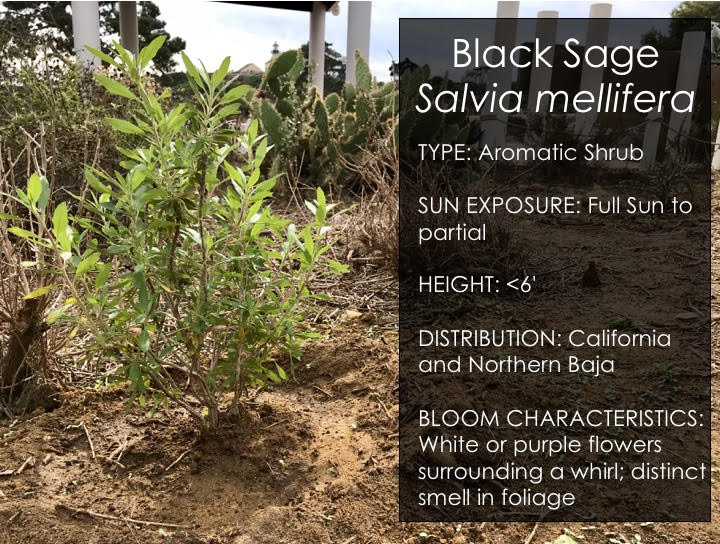 Text in Picture: Black Sage
Salvia mellifera
TYPE: Aromatic Shrub
SUN EXPOSURE: Full Sun to partial
HEIGHT: <6'
DISTRIBUTION: California and Northern Baja
BLOOM CHARACTERISTICS: White or purple flowers surrounding a whirl; distinct smell in foliage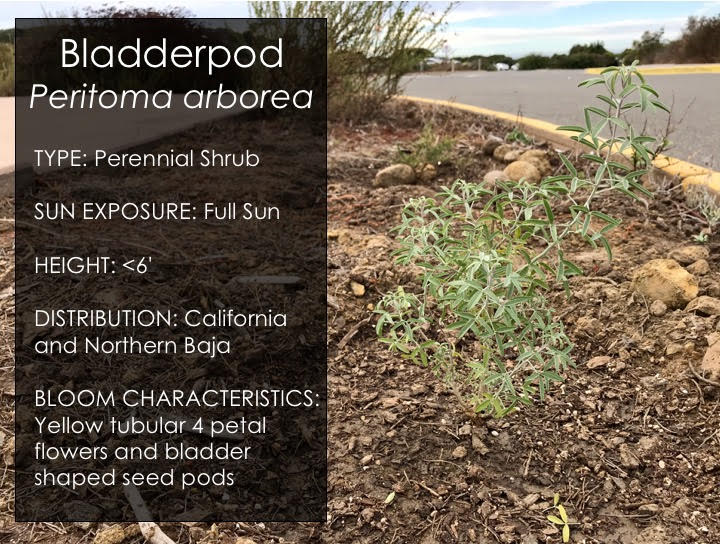 Text in Picture: Bladderpod
Peritoma arborea
TYPE: Perennial Shrub
SUN EXPOSURE: Full Sun
HEIGHT: <6'
DISTRIBUTION: California and Northern Baja
BLOOM CHARACTERISTICS: Yellow tubular 4 petal flowers and bladder shaped seed pods