If you have a free moment in San Diego, you may enjoy heading out to Cabrillo National Monument and checking out the vast array of native plants that call this place home. Take a walk down the Bayside Trail and you may spot some of the sweet-smelling Black Sage or head up to the lighthouse to check to see if the Bush Sunflower is in bloom.
However, within the park boundaries, we have some non-native ornamental species amongst us, including our pine trees and several hedges. These species were planted several decades ago without full consideration of maintaining the native landscape. These species are not labeled as invasive because they remain localized in growth and have little impact on the surrounding ecosystem. In most cases, as seen with our trees, Cabrillo's Natural Resources department allows these few intruders to remain.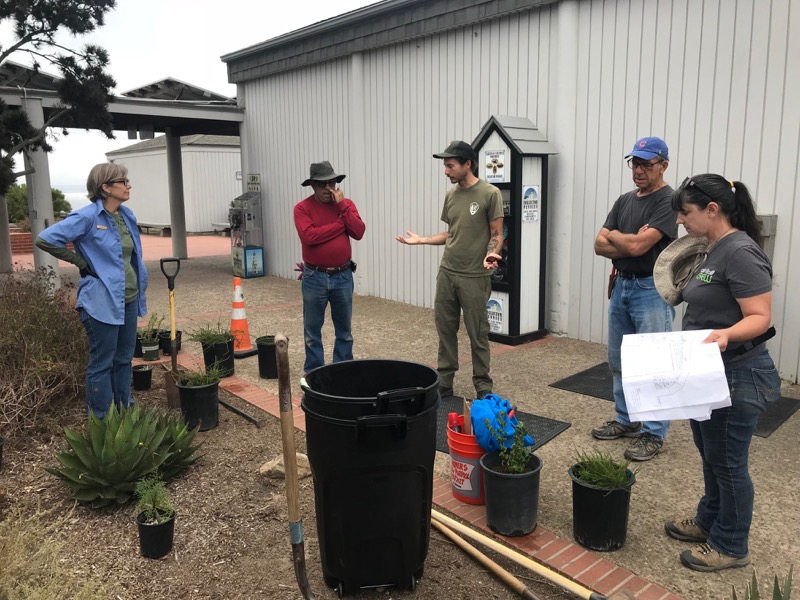 NPS/Nicole Ornelas, Caption: Our vegetation team scopes out the landscape restoration In the front plant beds.
With that said, we are excited to announce that Cabrillo National Monument recently received a $5,000 Community Grant from the American Society of Landscape Architects, San Diego Chapter, in collaboration with the San Diego Native Plant Society to expand our native landscape. The ASLA Community Grant was established in 1997 as a result of the chapter's commitment to the local community. The grant is awarded to deserving community groups pursuing the cultural, aesthetic, and educational enhancement of their local environment. With these funds, the native landscape surrounding the CNM Visitor Center, and 15 outdoor areas in the vicinity, will be completely renovated to enhance the biodiversity of this area. This Community Grant will impact a total of 5,990 square feet and completely restore 4,392 square feet of disturbed landscape. Thus, after months of planning, propagating, and organizing, the Plant Party begins!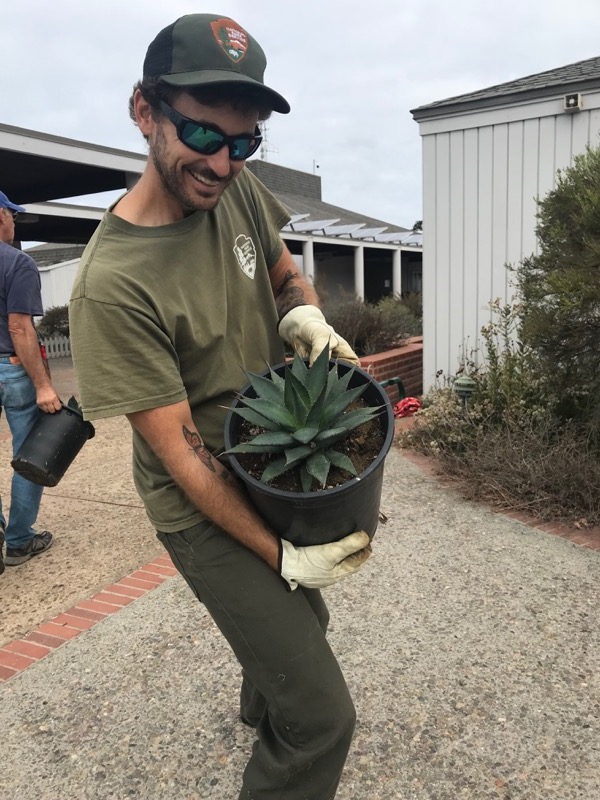 NPS/Nicole Ornelas, Caption: Ranger Adam Taylor shows off a Shaw's Agave grown up in the Cabrillo National Monument greenhouse.
During early November 2017, volunteers and staff from Cabrillo National Monument and Native Garden Committee of the California Native Plant Society, San Diego Chapter, removed non-native plant species and planted hundreds of native species, see Native Species List below. Removal of many ornamental species that surrounded the CNM Visitor Center was conducted in order to increase that native biodiversity of the area.
Approximately 95% of the native plant species in this project came directly from our NPS greenhouse through the hard work and dedication of Greenhouse manager Lorraine Kelly and our CNM volunteers. Kelly, with the support of Ranger Adam Taylor and Chief Keith Lombardo, is responsible for nearly 1,000 native plants that have been restored within the boundaries of Cabrillo National Monument in the last year.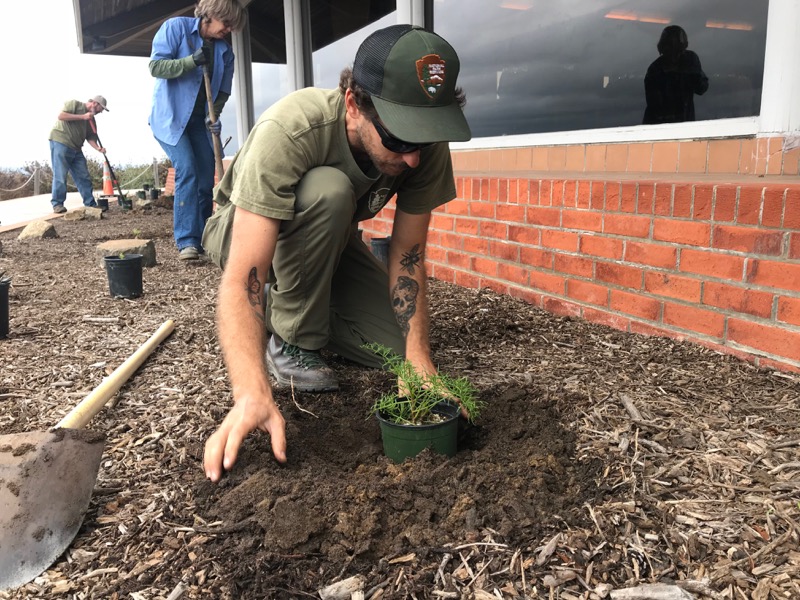 NPS/Nicole Ornelas, Caption: Ranger Adam Taylor strategically places a new native plant into the ground.
A big thanks to Joel Kalmonson and Al Fields who are responsible for laying the ground work on this project. Thank you to our navy partners and our greenhouse staff: Greg Sharpe, Elly Hoff, Heidi Acosta and Patricia Simpson. Non-native removal and overall vision of this project was conducted by Greg Rubin from the California Native Plant Society and Kay Stewart is the landscape architect in charge of this project.
Come to Cabrillo National Monument soon to see the impact of this Plant Party. Because this is a party that will not stop, it only grows and grows.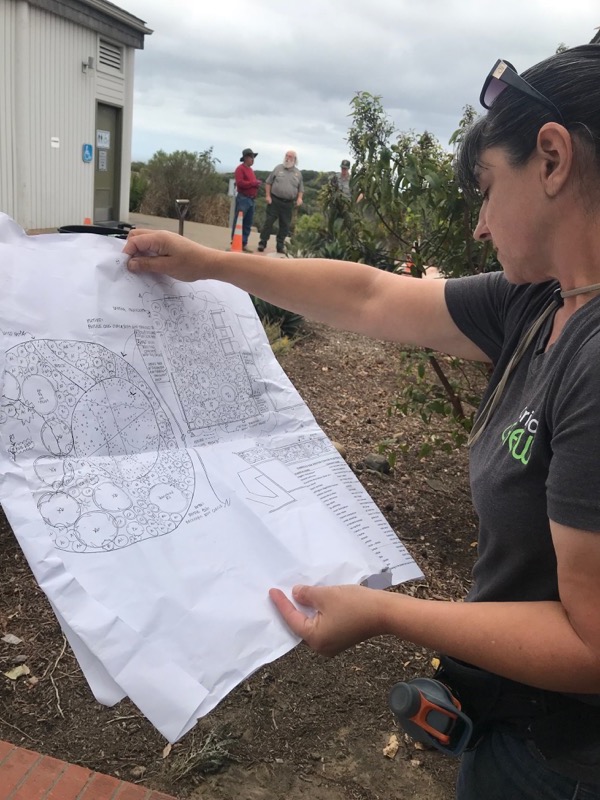 NPS/Nicole Ornelas, Caption: VIP Patricia Simpson reviews the landscape plans for where to put her next plant.
Native List:
Astragalus trichocarpus
Artemesia californica
Adenostoma fasciculatum
Agave shawii
Bahiopsis laciniata
Corythrogyne filaginifolia incanum
Cneoridium dumosum
Cylindropuntia prolifera
Ceanothus verrucosus
Dudleya edulis
Encelia california
Eriogonum fasciculatum
Euphorbia misera
Heliotropum curassavicum
Heteromeles arbutifolia
Isocoma menziesii sedoides
Leptosyne maritima
Mirabilis laevis v. californica
Malosma laurina
Opuntia littoralis
Peritoma arborea
Prunus ilicifolia v. ilicifolia
Quercus dumosa
Rhus integrifolia
Salvia mellifera
Xylococcus bicolor
Yucca schidigera