I am writing today to share a brief timeline of Peregrine Falcon monitoring activities during the 2018 breeding season.  Starting in late February, volunteers and natural resources staff at Cabrillo National Monument have kept tabs on our remarkable aerialists through visual observation and telescopic photography.  Renowned for their speed and hunting skill, Peregrines are the fastest animal in the world, capable of reaching speeds of 200 miles per hour or more when diving down on unsuspecting prey.  They are attentive parents with the father providing food to the mother throughout a month of incubating eggs and another six or more weeks until the nestlings learn to fly.  They are also highly protective parents, willing to chase and attack any birds or other predators foolish enough to pass too close to their nest ledge.  Our current pair have successfully reared four fledglings each of the last two years.  
Breeding Season and Monitoring
Our Peregrine Falcon monitoring activities start in late winter, typically in February, and timed with the start of coastal Peregrine Falcon breeding season.  By observing and recording their behavior, we can infer when eggs are laid and estimate a hatching date approximately 29-31 days later.  Our goal is to determine the hatch date as closely as possible and start a countdown for the best time to band the new chicks - ideally 20 days or so after hatching.  This is when they can safely be handled but aren't too mobile or tempted to jump or accidentally fall off their nest ledge high up on a cliff.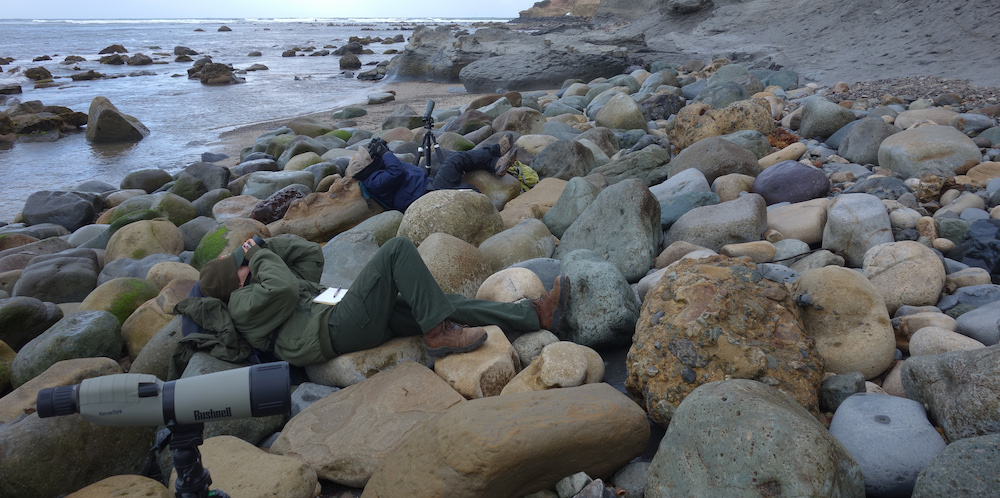 NPS Photo/Don Endicott - Nest monitoring at low or minus tide
A falcon nestling is referred to as an eyas, pronounced "eye-us".   Learning to fly is called fledging and our juvenile youngsters may be called fledglings and then juveniles until around age 10 months.  Between 10 and 12 months, they transition to adult plumage after which they are eventually considered adults, typically at 13 months.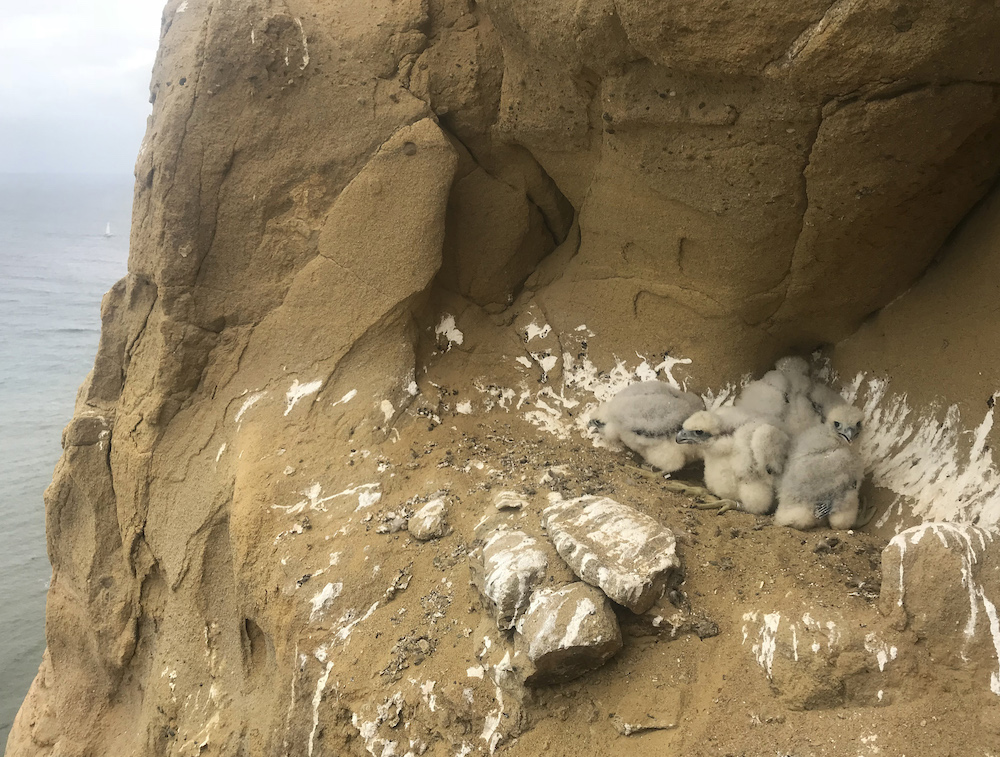 NPS Photo/Diego Johnson - Four Peregrine chicks at their nest ledge, May 2018
2015-2016 Seasons
Our adult pair in 2015 and 2016 were female 82/Z and male 98/M.  These numbers refer to numbered "color" leg bands attached to their legs for visual identification at a distance.  The Cabrillo falcons also have silver Federal leg bands with serial numbers issued and managed by the U.S. Geological Survey (USGS).  It is possible the same male was here in 2014 and earlier but his band wasn't attached until during a live capture following nesting that year.  It is estimated 98/M was born in 2010 or earlier and 82/Z hatched in 2013 or earlier.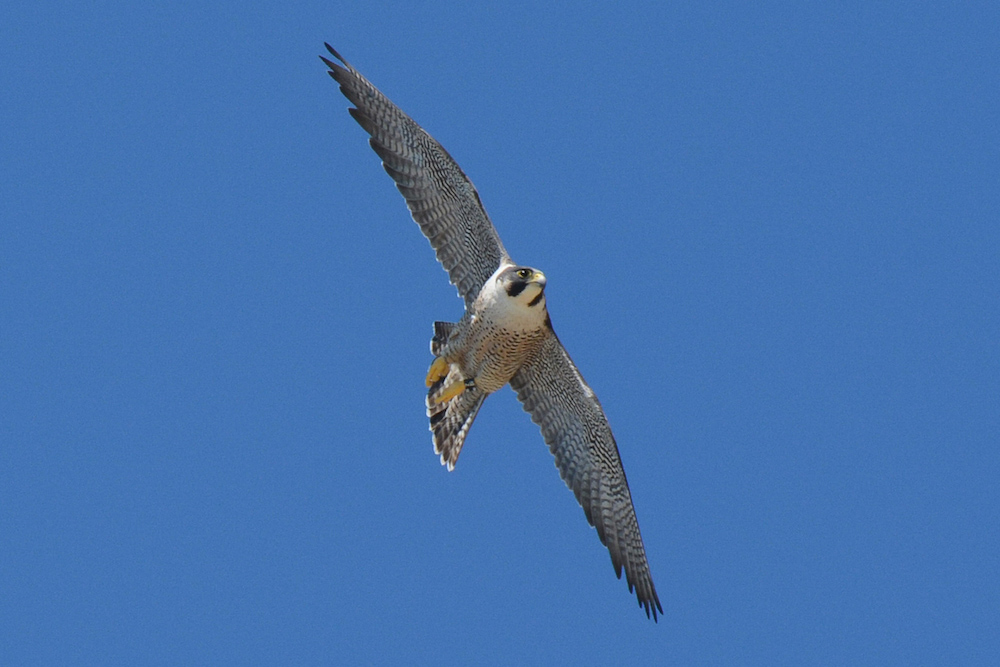 NPS Photo/Don Endicott - Adult female Peregrine 82/Z with leg band visible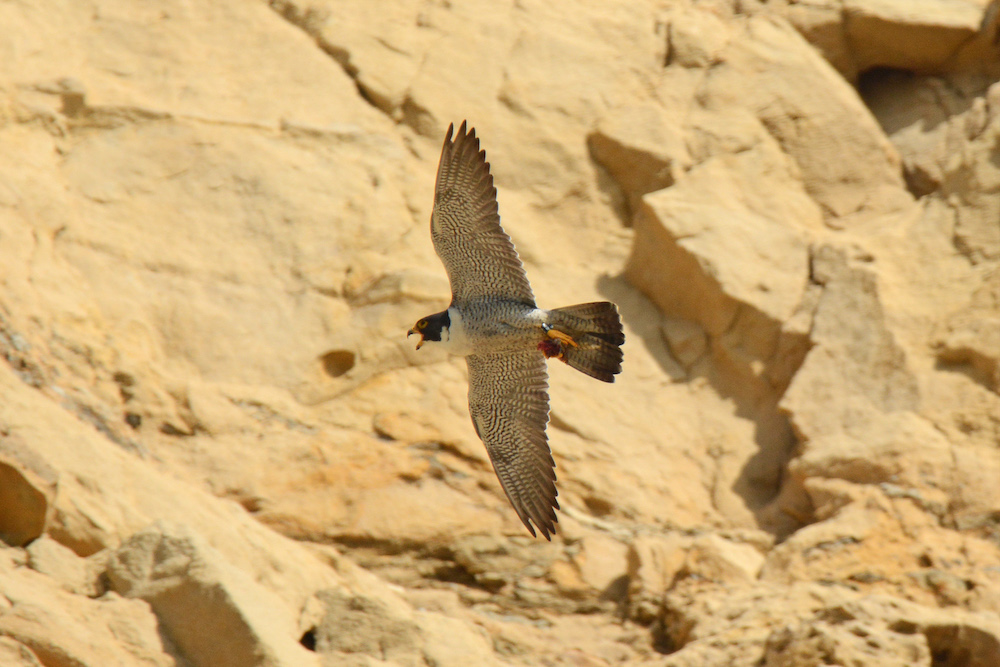 NPS Photo/Don Endicott - Adult male Peregrine 98/M with leg band visible
Female 82/Z was a very good mother and together this pair successfully raised three fledglings in 2014 and four in 2015.  A four minute documentary Park video of this pair is
available
.
In 2016 we monitored the adult pair and watched their chicks grow up, fledge and eventually disperse but no banding was performed due to schedule conflicts for the US Fish & Wildlife Service raptor biologist.  It was a thrill to watch the male return with prey he had caught - his primary duty after the eggs are laid - and deliver it to the female, often in midair exchanges.  They also tag teamed at times to scramble from the cliffs and chase down shorebirds or migrating passerines to catch, kill, and deliver to their ever hungry nestlings.  Once the nestlings fledged, the real aerial circus began with three or four fledglings and the two adults often in the air at the same time as the youngster exercise their developing flight skills and more importantly, learn to hunt for themselves.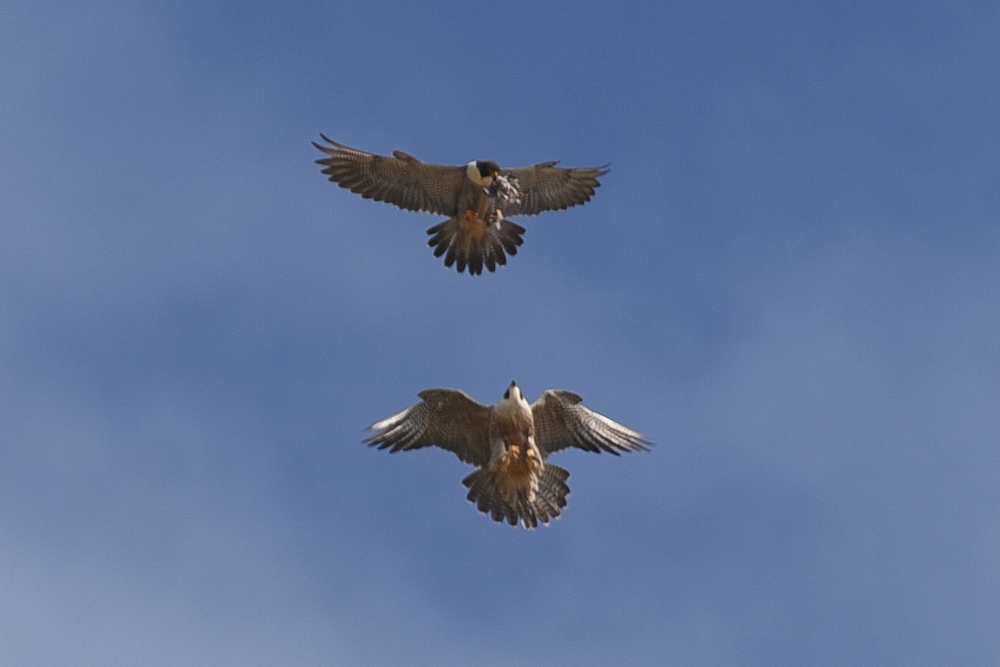 NPS Photo/Don Endicott - Midair prey exchange between adults 98/M (top) and 82/Z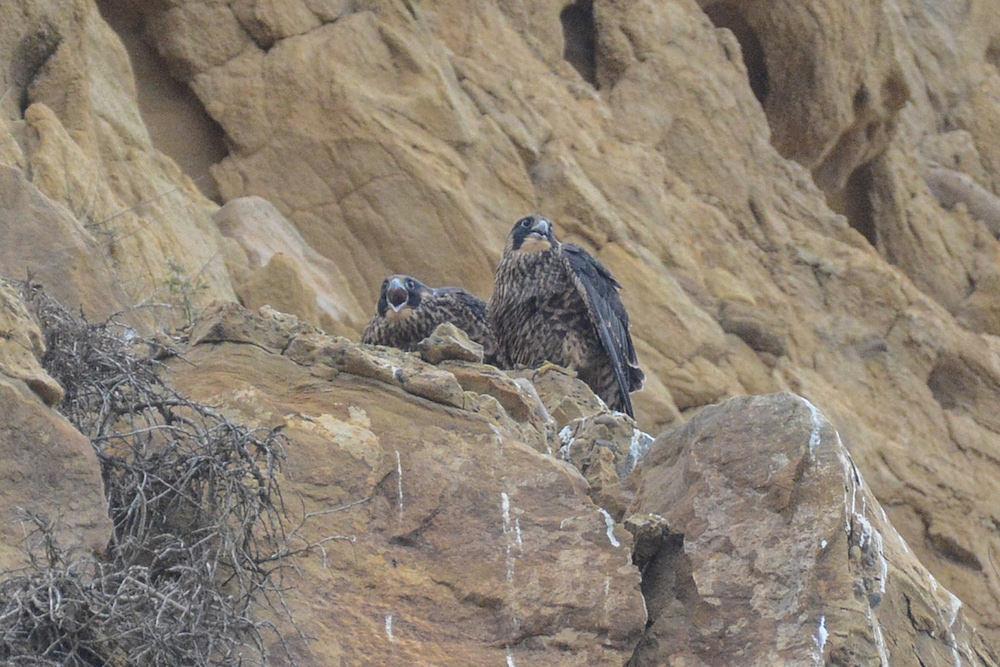 NPS Photo/Don Endicott -
Two juveniles calling out to be fed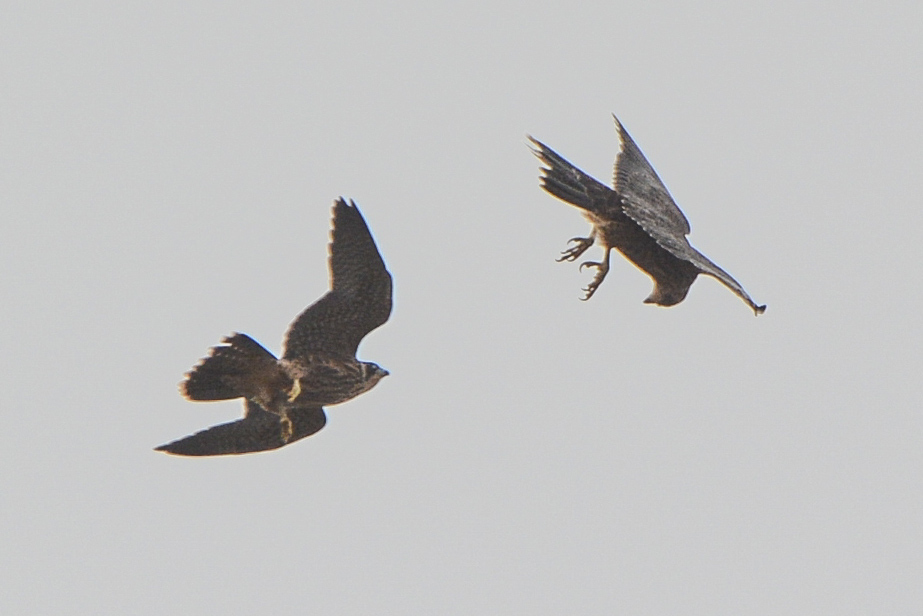 NPS Photo/Don Endicott -
Two juveniles during flight play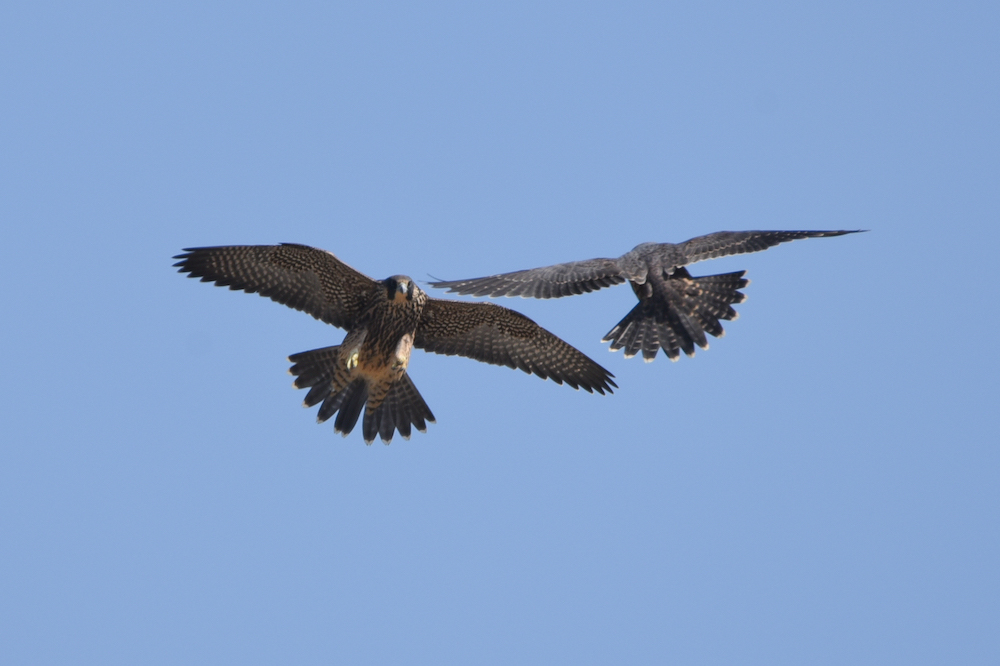 NPS Photo/Don Endicott -
Two fledglings during flight play
2017 Season
In 2017, a new mother was on the scene sporting band 70/AD.  A relatively young bird, records show she hatched in 2013.  We do not know what happened to our male's first mate, female 82/Z, who seemed in prime health the last time seen, including after her youngsters learned to hunt on their own and dispersed to find new home territories.  Peregrines frequently mate for life so it is possible an accident occurred to 82/Z during the intervening months.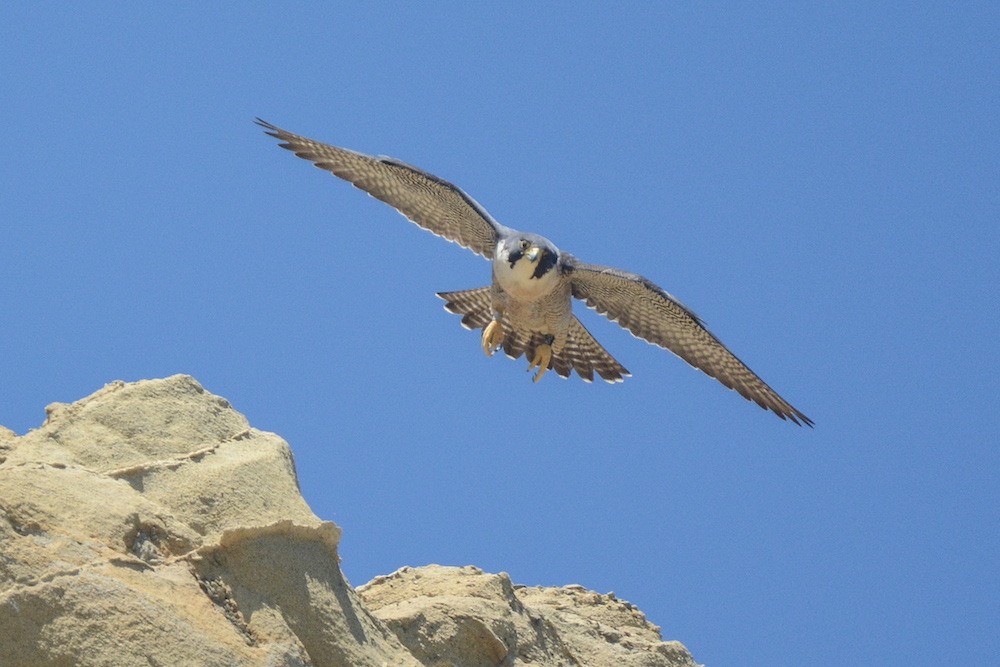 NPS Photo/Don Endicott -
Introducing female 70/AD
Male 98/M and his new mate had formed a bond by the time we started observing courtship behavior in February 2017.  Our records show eggs were most likely laid between March 13 and March 15 and we estimated they would hatch between April 14 and 15.  On May 5, four youngsters, two females and two males were banded by US Fish & Wildlife Service biologist and Peregrine expert Dr. Joel "jeep" Pagel assisted by climbing biologist Diego Johnson.  In the weeks following banding, we caught glimpses of the youngsters from far below as their feathers developed, they awkwardly exercised growing wings, and they moved back and forth, often with wings flapping awkwardly, and always seemingly hungry and anxious for the next feeding.  Feeding duties were shared by mom and dad.  Then as before, we observed early flights and acrobatic play among the siblings.  Although nearly adult size, the juveniles can be distinguished by their brown plumage and longitudinally streaked breasts.  They will eventually transition to the dark gray backs and wings and white, horizontally barred breasts at around 10 to 12 months of age.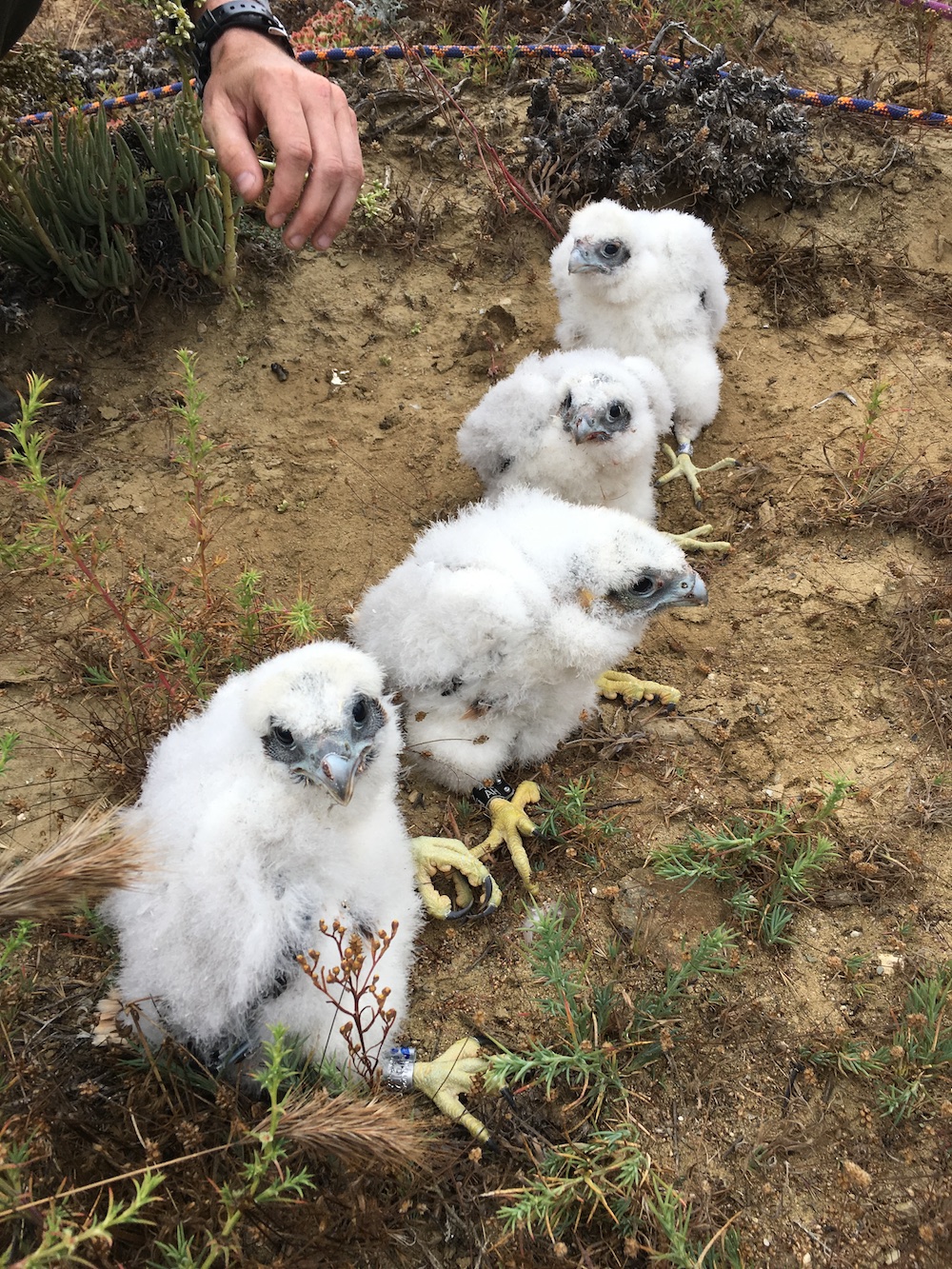 NPS Photo/Patricia Simpson - Cabrillo lineup, 5 May 2017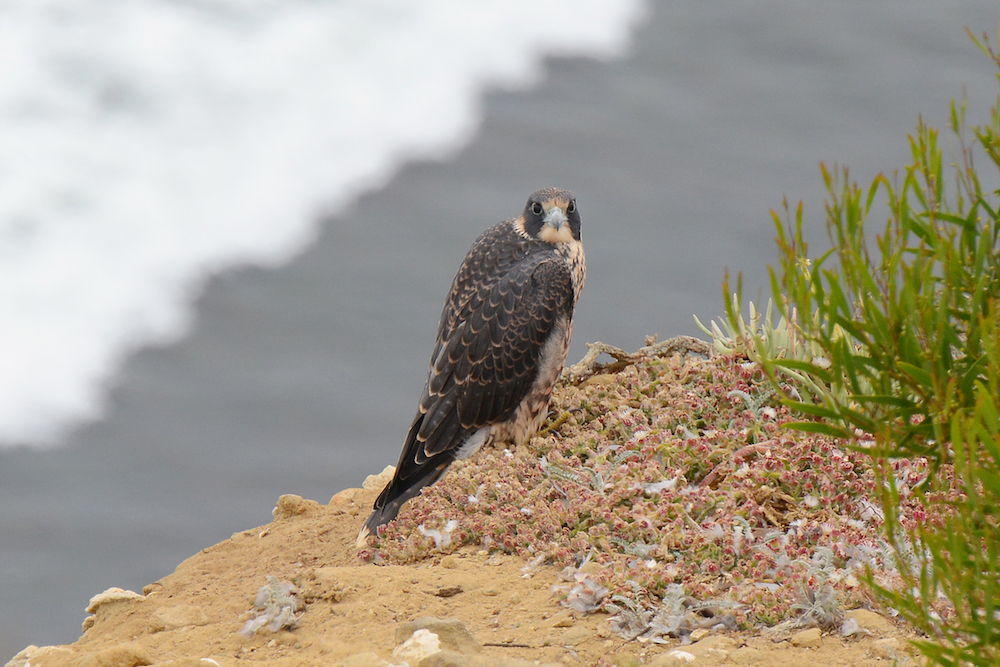 NPS Photo/Don Endicott -
One of the 2017 juveniles at two months of age
2018 Season
The 2018 breeding season closely matched 2017 and the adult pair's behaviors suggested at least one egg was laid during the weekend of March 10-11 of this year.  That date would put hatching around April 10 and they would be about 20 days old on April 30 or May 1, the preferred age for banding.
Early morning on Monday, April 30 was chosen as banding day, taking advantage of a low tide that allowed access to the observation point to assist the climbing biologist – Diego Johnson – to rappel down to the nest ledge.  Once again we discovered our faithful couple were rearing four healthy new youngsters, ages 18-21 days old.  As in 2017, there were two females and two males.
The following timeline and photo gallery shares some of the key events.  We look forward to seeing our latest youngsters zipping around Cabrillo as they, too, grow and develop into the fastest animals in the world.
26 February 2018
First look of the season.  The same Peregrine breeding pair - female (70/AD) and male (98/M) - were confirmed.  On this date, a cached Rock Dove (domestic pigeon) was retrieved by the female and carried to a feeding site on a mid-level rock saddle.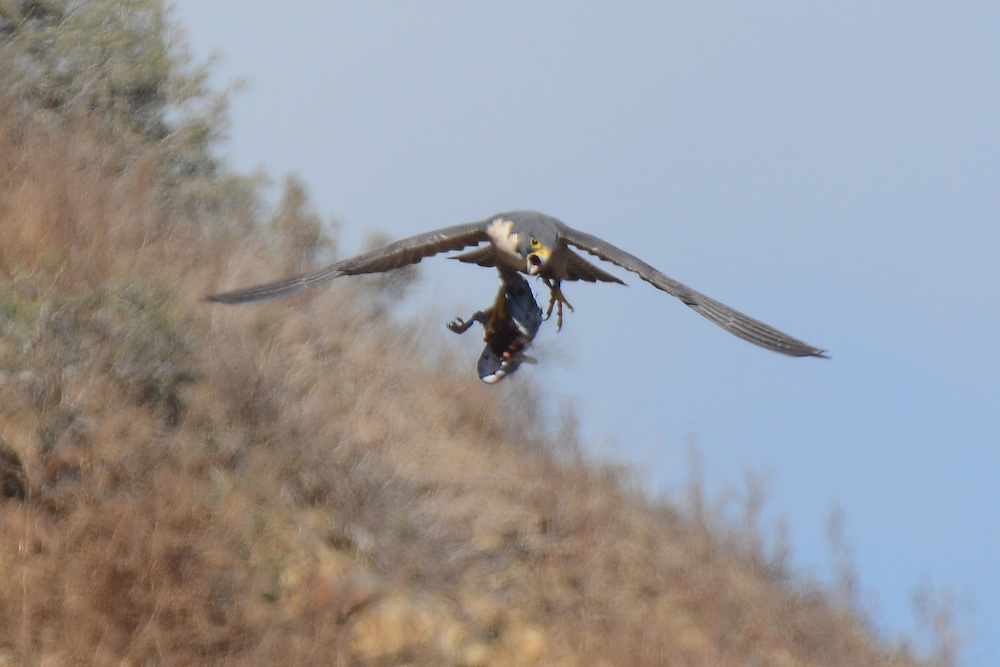 NPS Photo/Don Endicott -
Female carrying cached prey to her own shrill soundtrack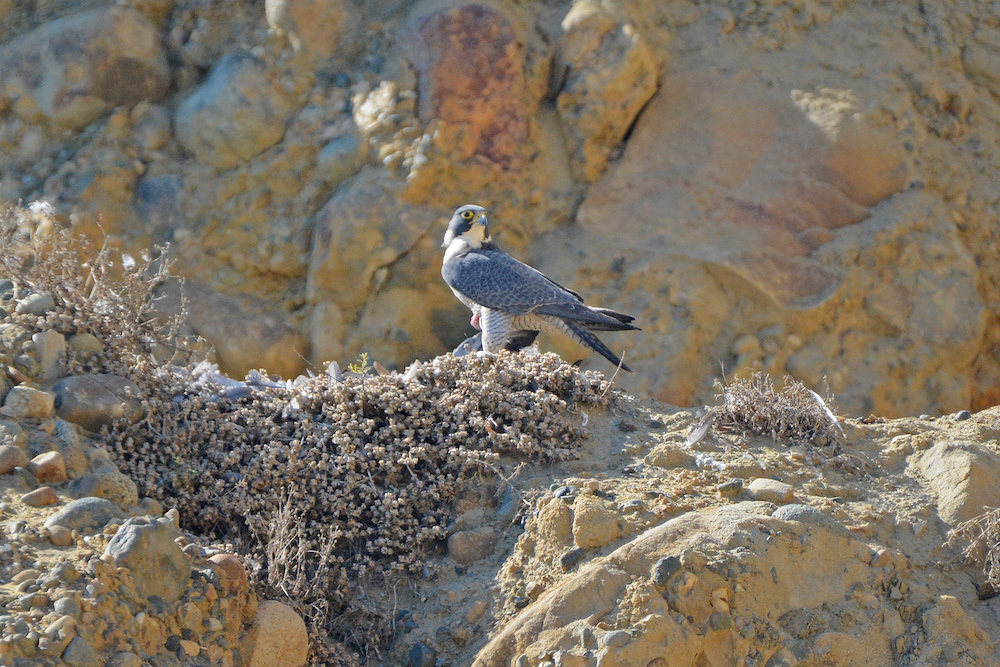 NPS Photo/Don Endicott -
Female dining on her favorite fare - Rock Dove (aka Domestic Pigeon)
Video of the feeding shown in the previous image can be viewed
here
.
1 March 2018
Late afternoon viewing timed with minus tide for monitoring point access.  More use of alcove by female.  Short interval with both adults at same location while vocalizing to each other.  First observed instance of female presenting herself to male in receptive mating pose.
4 March 2018
Late afternoon viewing timed with minus tide for monitoring point access.  Discovered an extra tiercel (male) perched at top of cliff.  On closer inspection, it was a juvenile.  The adult female seemed to tolerate it and it hung around perched on top of the cliff for nearly 40 minutes before the adult male returned.  Highlight of this session was a mating event - promising signs for another productive season.
8 March 2018
Wildlife monitoring typically features long periods of little or no action, often without your subjects even in view. Then those special moments occur that are truly indescribable. For the first hour, I did not see or hear either one of the pair. Then shortly after 9 am, the male flew into view high overhead near the cliff top over 300 feet. He flew one quick pass back and forth then circled for a touch-and-go with his mate. They were over 250 feet above me and at least 100 yards away. After three years watching this site, I was able to recognize what was transpiring and able to snatch my camera from the tripod and photograph the male's approach, his landing, and the mating sequence. Mating was less than 10 seconds before he launched and flew off out of sight. After watching him disappear, the female did not stick around very long either. How fortunate to be there at the right time and with this wonderful morning lighting.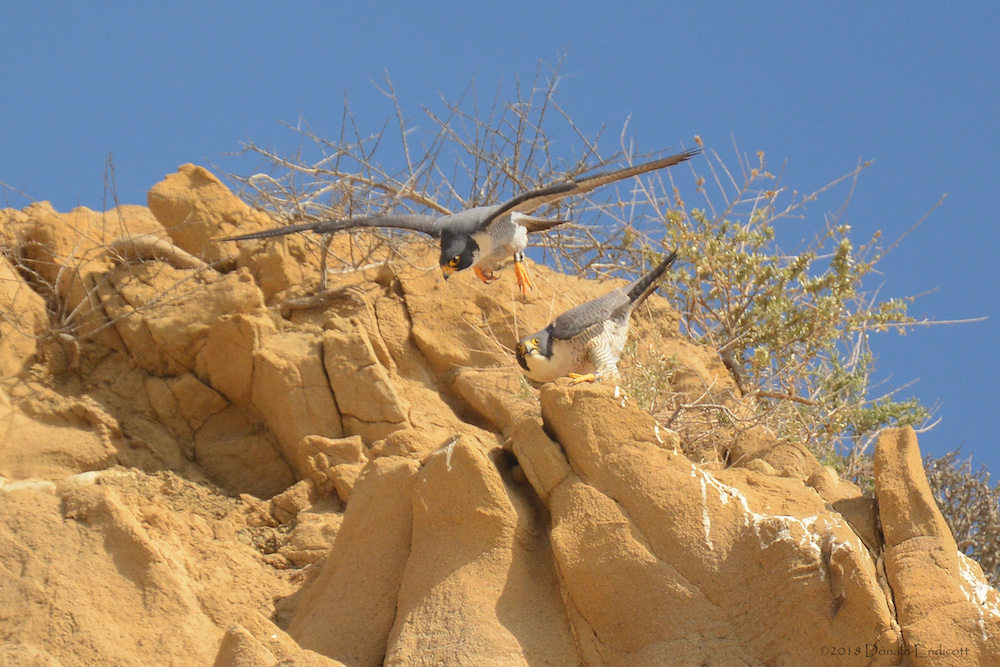 NPS Photo/Don Endicott -
Adult male departing female after mating
11 March 2018
H is for hormones.  Another exceptional Peregrine monitoring session.  After a typically quiet first half hour, the female kicked things off by vocalizing loudly and changing to a different perch.  The male, previously out of sight, quickly returned to mate.  Later on, after he had disappeared into a clifftop alcove, the female flew over to a bluff with cached prey, retrieved it, and conspicuously carried it while flying back and forth in front of the cliff.  Too hard to resist, the male was soon back in the air with her again. They met for a faux mid-air prey exchange.  This is a ritual behavior associated with breeding during which the male gives the prey to her as proof he will be a good provider while she is on the nest for two months after laying eggs.  Today she was self-gifting, something I haven't seen before.  After the female landed at a different perch and called out, the male was there in a flash.
Quite an adrenaline rush while observing and recording so many comings and goings in my field logbook and through the lens.  After three seasons at this site and making sure to wear the same hat and clothing, I presume they are becoming somewhat accustomed to my presence and not bothered by the fellow with the strange duds and accessories down below.  With eyesight capable of identifying prey up to a mile away, I'm sure they have no difficulty seeing every detail associated with my presence.  Should see soon which hideaway they have selected for their nest selection.  Then the clock starts for determining date of egg laying, inferring time of hatching and early growth, and witnessing the debut of the new fledglings.
22 April 2018
Five hours on site this morning for a final check to confirm chicks are present and verify they are indeed at the inferred nest ledge.  During this period the male dove on warbler but it evaded him low on the cliff face.  Later, the female flew out from the ledge and the pair were momentarily flying together.  She popped out from the nest ledge a couple more times, retrieving what appeared to be recently cached prey, ate a bit, then returned to the nest where only her back was occasionally visible.  She is definitely feeding chicks when she returns.  Countdown to banding begins, probably a week from now.
30 April 2018
Banding day.  Enjoyed an opportunity to support banding early this morning.  Four younglings - two females, two males.  Another healthy brood from this pair.  They now sport silver Federal numeric bands and white on black colored leg bands that can be identified from a distance.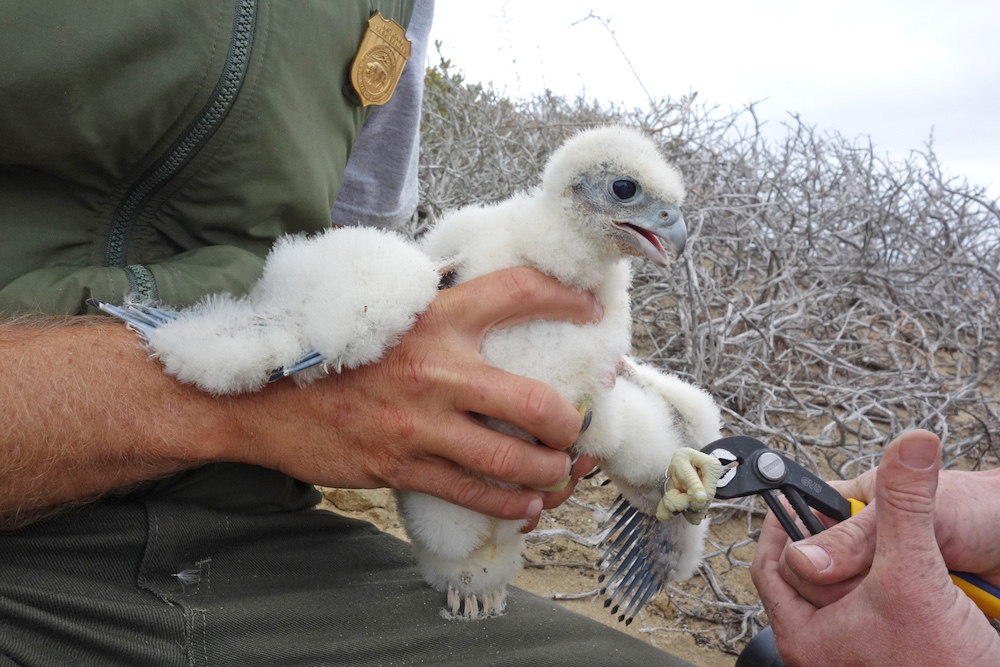 NPS Photo/Don Endicott -
Male receiving his new bling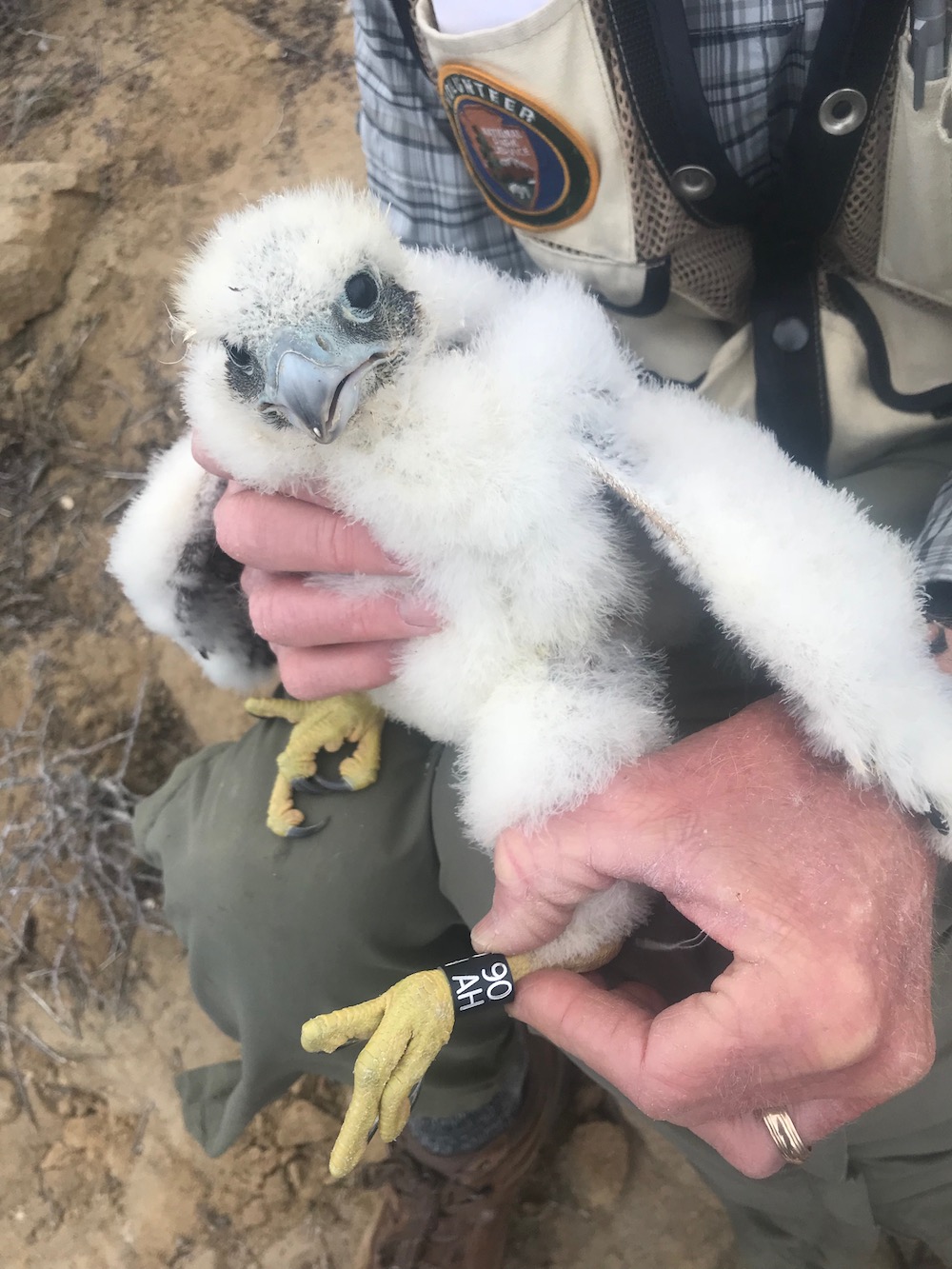 NPS Photo/Diego Johnson -
Female 90/AH following her christening ceremony
Based on measurements taken during banding, estimated ages of the chicks were 20-21 days for one female and one male and 18-19 days for the other female and male.  They now sport their uniquely assigned silver serial numbered bands and white on black visual identification bands.  Our new class of 2018 from oldest to youngest:  female 90/AH, male 39/AK, female 83/AH, male 27/AK.  The considerable size differential between the females and males that will last throughout their lifetimes is readily apparent.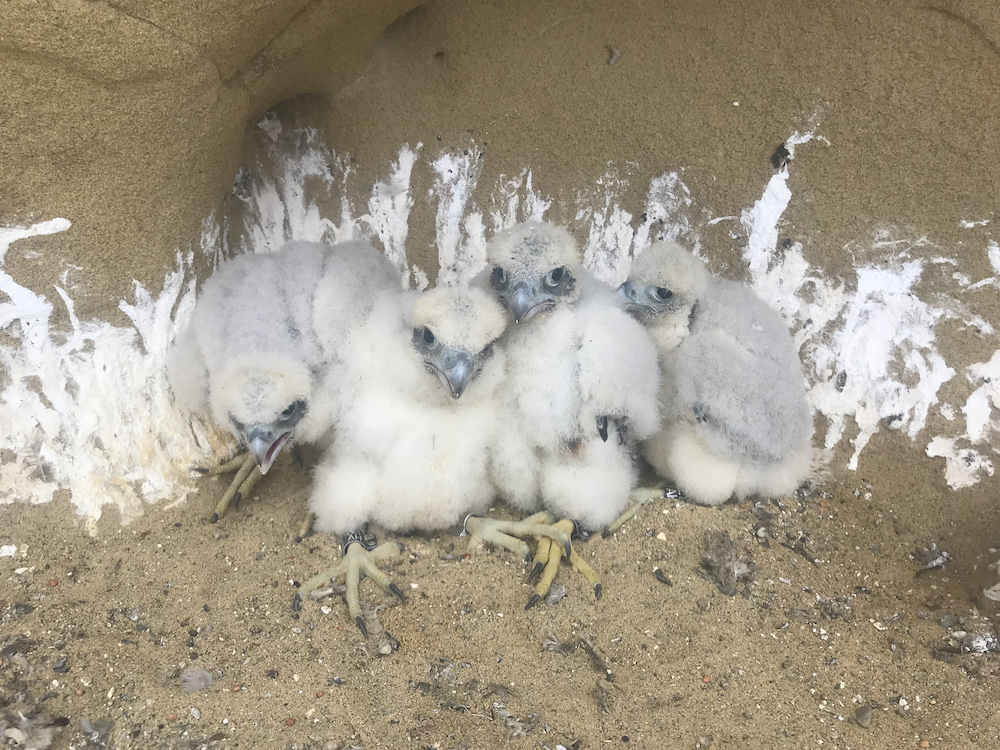 NPS Photo/Diego Johnson -
Four Peregrine chicks back home after banding
We are all looking forward to monitoring their pre-fledging development when their bodies and wings and feathers all fill in and their instincts to fly create comical early hop flights visible from below.  Soon enough they will take to the air when anyone visiting the Monument might be lucky enough to see one or more of our recent graduates zipping just out from the whale viewing path or while they perch on one of the radio towers visible from the lighthouse or Bayside Trail.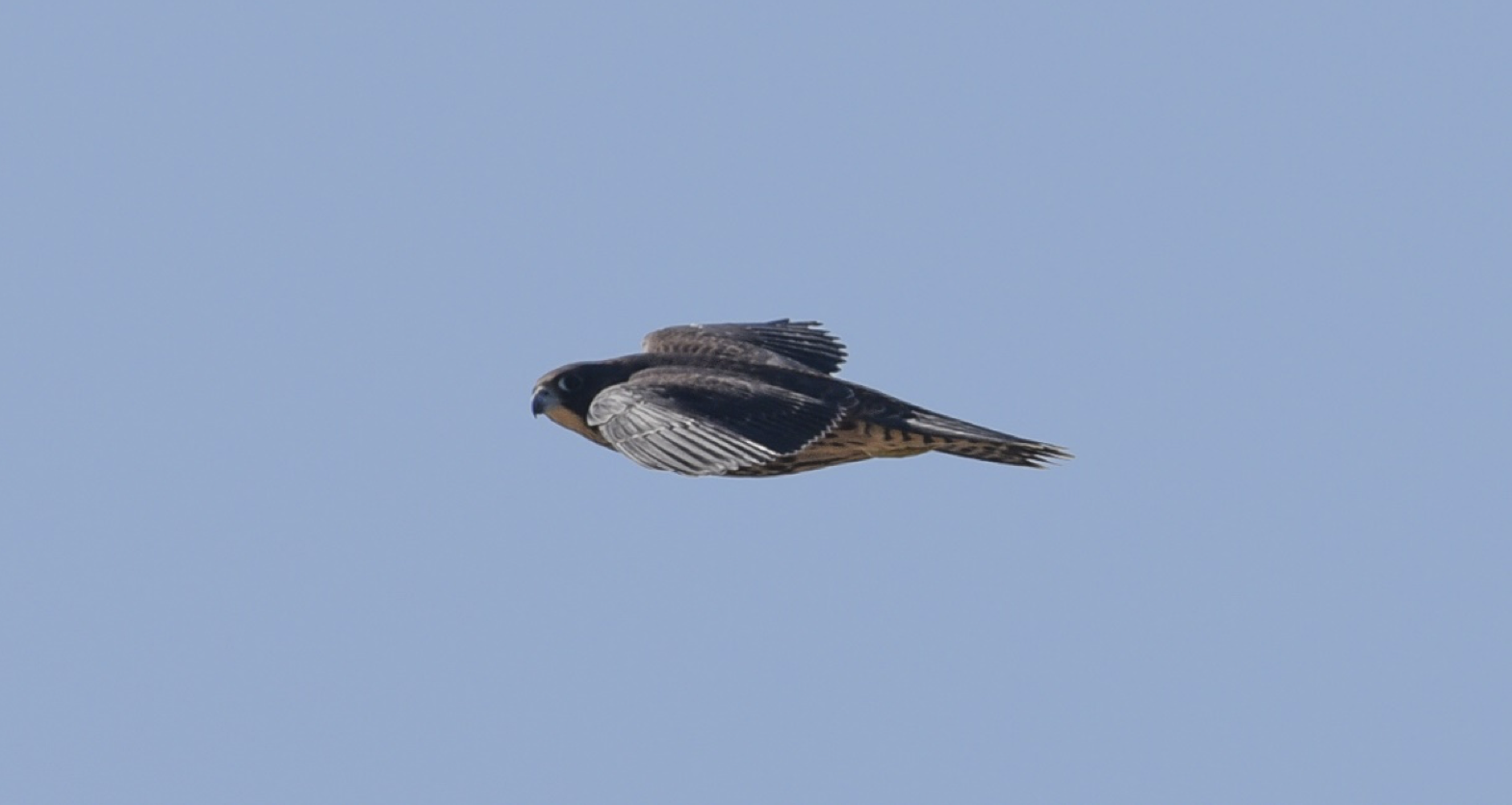 NPS Photo/Don Endicott -
One of the juveniles during a mid-June 2016 flyby
If you are visiting the Monument in early June, take some time to check out one of the viewpoints such as the migrating whale watching area just south of Old Point Loma Lighthouse.  You, too, may get a chance to experience the thrill of seeing one or more of our amazing young Falco
peregrinus
in action.