Imagine sitting in your high school chemistry class – the current topic is acids and bases. After learning about the pH scale, titrations and buffers for over two weeks, you finally ask the teacher, "Why do we care about this stuff?" San Pasqual High School teacher, Jared Hoyt, answers that question by using his passion for teaching to connect his students to the relevancy behind the bonds and atoms.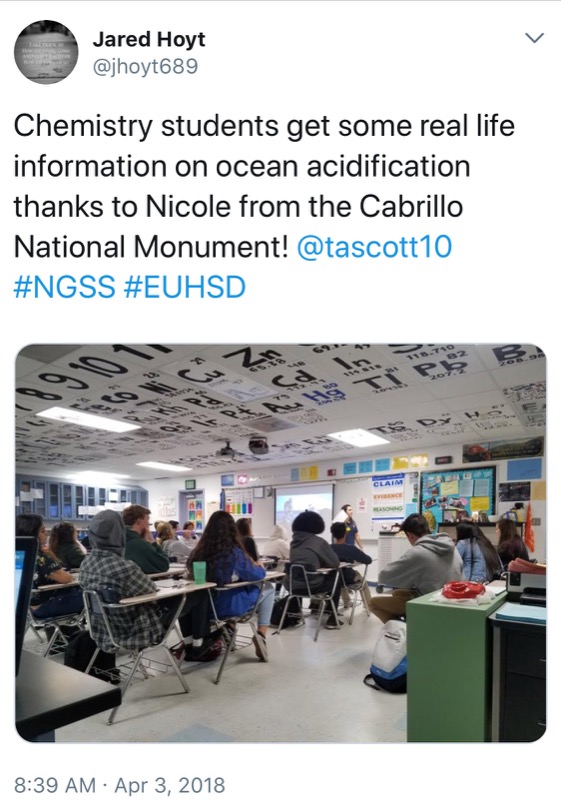 Twitter: @jhoyt689 – San Pasqual High School: Hoyt's chemistry class learn how and why scientists gather data for the National Park Service on Ocean Acidification. 
After connecting with National Park Service staff at Cabrillo National Monument, Hoyt requested a visit to San Pasqual High School's chemistry division. Within an hour class, students were able to review ocean chemistry, how pH can tell a big story for shell-based organisms in the Rocky Intertidal, and how National Park Service scientists gain insight through long term monitoring. 
To recap their learnings, each student was able to view this short film that demonstrates how animals deal with the stress of the intertidal -
Drawing Connections
and make a commitment on how they themselves will personally choose to make a difference in our community's conservation efforts. 
Now, I urge you to use your knowledge (that maybe you learned in your high school chemistry class) and make a change in your life that we will have a positive impact in the future. Can you do it? I know some Golden Eagles who sure can.   
For more details on Ocean Acidification Monitoring at Cabrillo National Monument please refer to
Special Edition: Ocean Acidification in National Parks