Every Thursday around 1:30 pm, a member of Cabrillo National Monument's Natural Resources Department leads a snake talk with one of our four ambassador snakes – a "snake meet – n – greet," if you will. We have two California Kingsnakes (
Lampropeltis californiae
), a San Diego Gopher Snake (
Pituophis catenifer annectens
), and a Rosy Boa Constrictor (
Lichanura trivirgata
). All three of these species are found locally, yet all three are quite different from one another in size, behavior, pattern, and color. These differences reflect the adaptations that species evolve to fill their ecological niches. For instance, Rosy Boas are not very fast until they strike their prey because they are ambush predators – they sit and wait under a rock for a small mammal to move in close enough to catch. San Diego Gopher Snakes, on the other hand, must be quite fast because they are largely chase predators who must chase down their prey.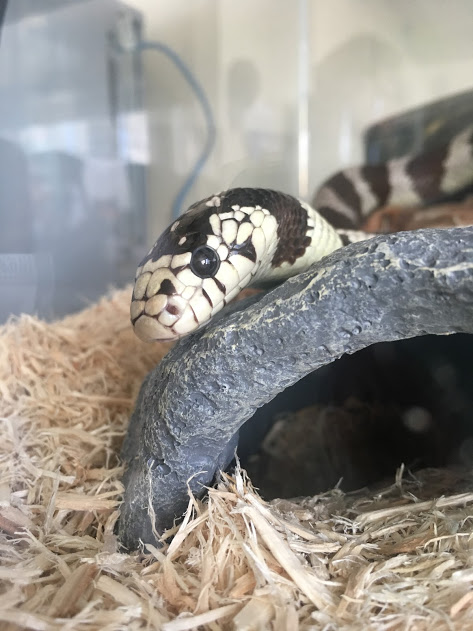 NPS Photo/McKenna Pace – Our oldest California Kingsnake, Boros, checking out the surroundings from his terrarium.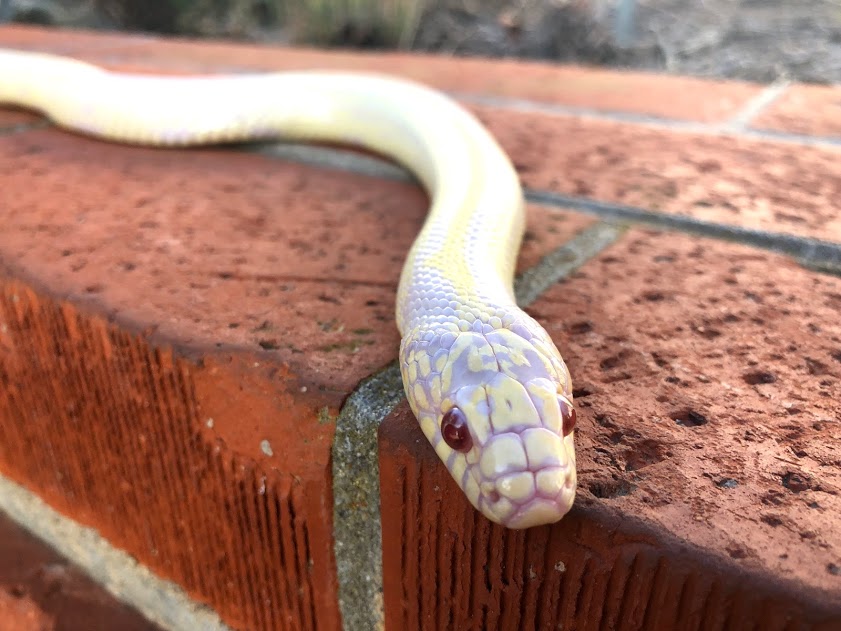 NPS Photo/Nicole Ornelas – Summer, our albino California Kingsnake, going for a "stroll."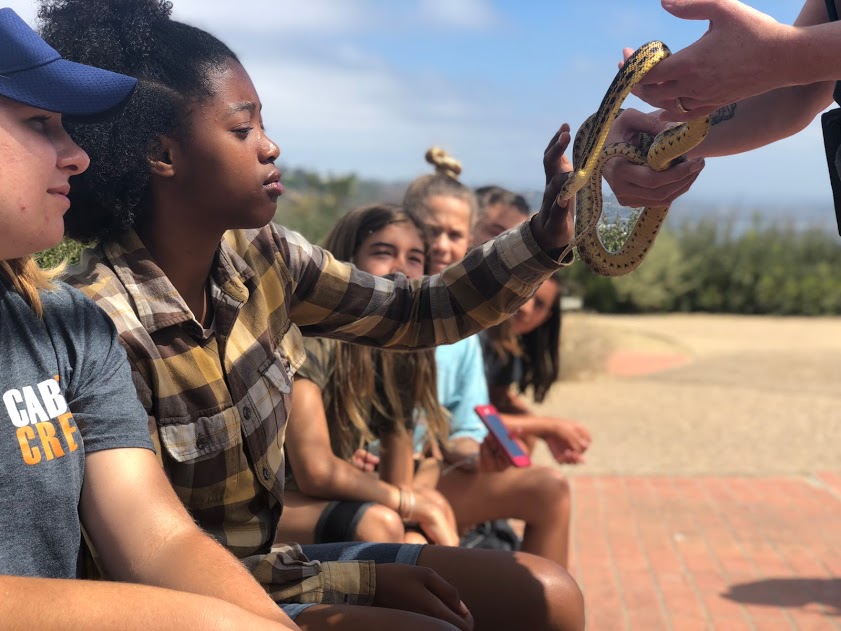 NPS Photo/Nicole Ornelas – A student pets Wilson, our San Diego Gopher Snake, during a "snake meet – n – greet."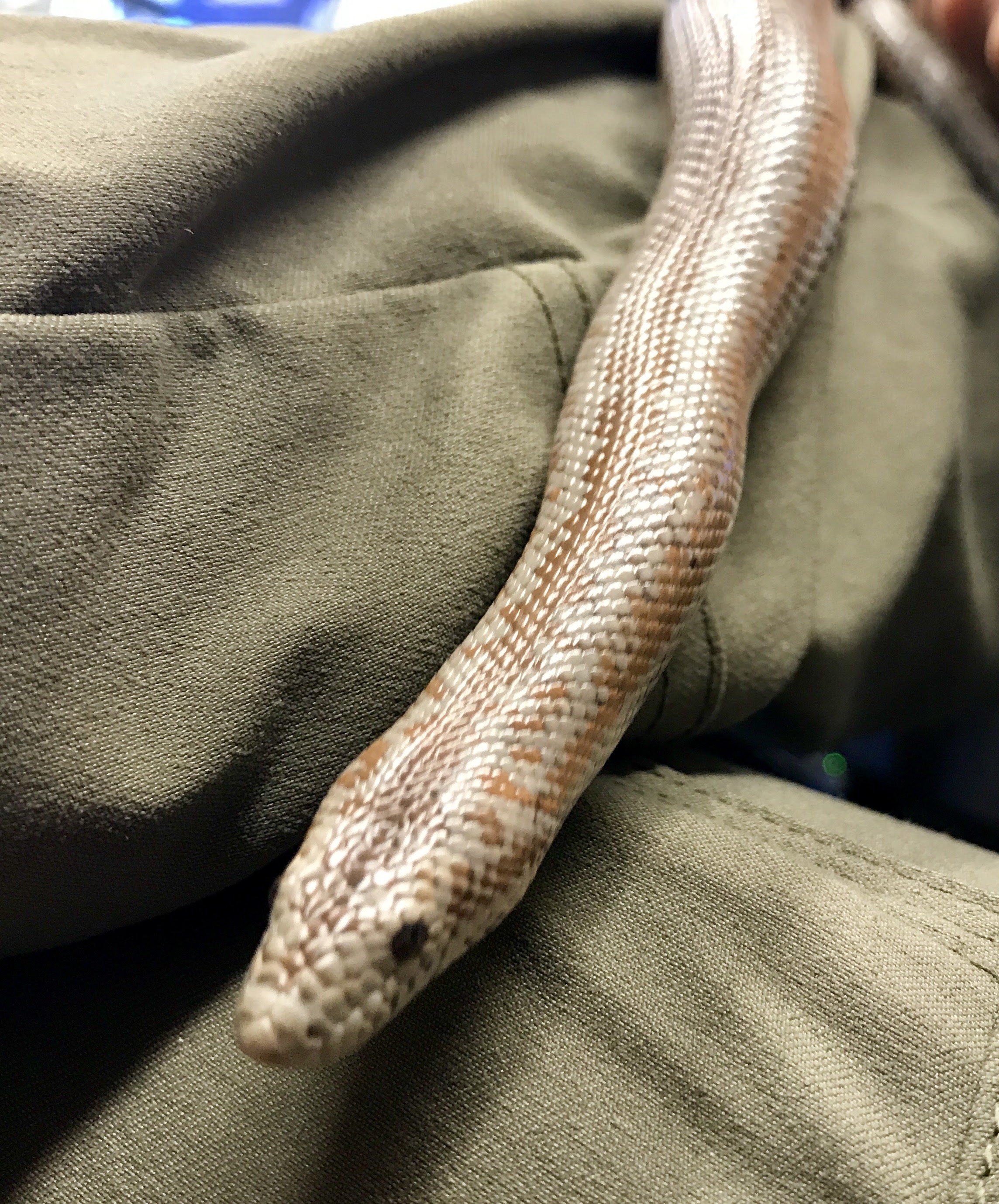 NPS Photo/Nicole Ornelas – Our Rosy Boa, Sal, exploring his environment.
One of the physical characteristics that differentiate snake species from one another is their dentition, or teeth. All snakes have backwards-facing teeth that help them to secure their prey and prevent it from escaping. This is called "aglyphous" dentition. Snakes described as having only aglyphous dentition do not have fangs for the delivery of venom. They are almost entirely nonvenomous snakes. Aglyphous species of snakes include all boa constrictors (like our Rosy Boa, Sal), rat snakes, bull snakes, and North American kingsnakes like our two ambassador California Kingsnakes, Boros and Summer. There are three additional types of snake dentition – solenoglyphous, proteroglyphous, and opisthoglyphous – all of which include different types of fangs. Fun fact: these words are derived from the Greek word "glyph," meaning "groove," probably in reference to the grooves on the teeth. 

Photo courtesy of Mittleman & Goris (1974) – The backwards-facing aglyphous teeth that are present in every species of snakes.
Solenoglyphous snakes are snakes with teeth and BIG fangs. This is the type of dentition found on all viper species such as rattlesnakes. These fangs are hollow and sharp for the injection of venom, much like a hypodermic needle. This type of fang is hinged, meaning when the snake's mouth is closed, the fangs lay flat (parallel) against their upper jaw. But when the snake strikes, the fangs swing forward to a perpendicular orientation. Unsurprisingly, the venom glands of species with solenoglyphous dentition are well developed – venom is delivered to the fangs through a duct, and once the snake strikes and closes its jaws, compressor muscles deliver venom at high pressure.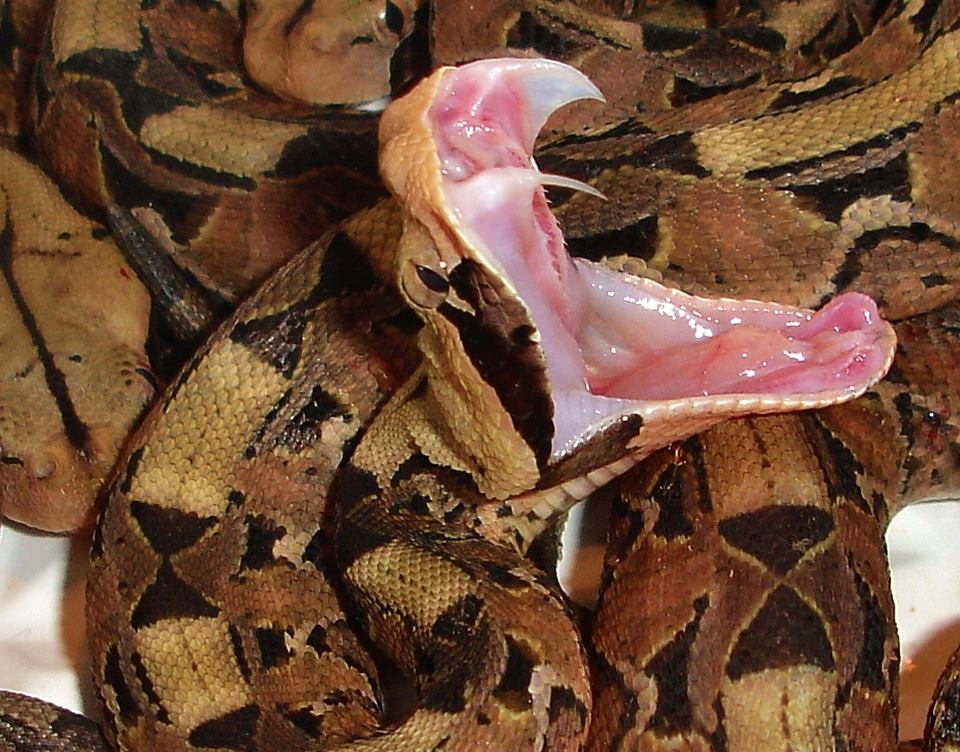 Photo courtesy of Andrew M. Durso – The hinged, hollow front-fangs of a Gaboon Viper (Bitis gabonica).
Another tooth-type, proteroglyphous, belongs to snakes that have teeth and smaller, non-hinged fangs in the front of their mouths. This group of snakes includes cobras, coral snakes, mambas, sea snakes, and more. These snakes have smaller fangs that are approximately three times shorter than solenoglyphous fangs because they are not hinged. How they attack their prey and inject venom is also different from solenoglyphous snakes – they tend to strike and hang on, rather than quickly injecting venom and releasing. While most solenoglyphous snakes strike their prey, release, and then hunt down their injured prey, proteroglyphous snakes will simply grip and wait until the venom takes effect, avoiding the hunt down. Some species will even envenomate (inject venom) AND constrict, which subdues and kills their prey more efficiently.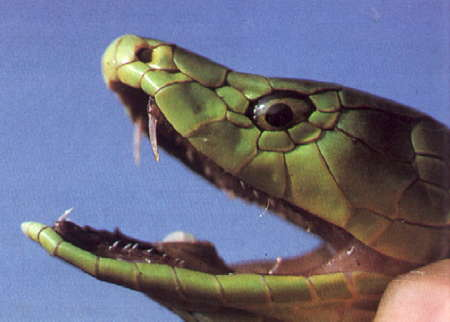 Photo courtesy of Bauchot (2006) – The front-fanged proteroglyphous dentition of an Eastern Green Mamba (Dendroaspis angusticeps).
Finally, the fangs of opisthoglyphous snakes differ because they lie in the back of their mouths. The structure of their fangs also differs – rather than a hollow, "hypodermic needle," their fangs are simply grooved. In fact, opisthoglyphous snakes, such as all hog-nosed snakes, don't even have a venom gland. Instead, they have something called a Duvernoy's gland which lacks an interior cavity, a duct, and modified muscles to inject venom forcefully like solenoglyphous or proteroglyphous snakes. Because of their grooved fangs and underdeveloped venom delivery system, opisthoglyphous snakes actually gnaw on their prey. Venom is released by "chewing," and the more they chew, the more venom is delivered to their prey - this venom plays a bigger role in digestion than other species with different dentition.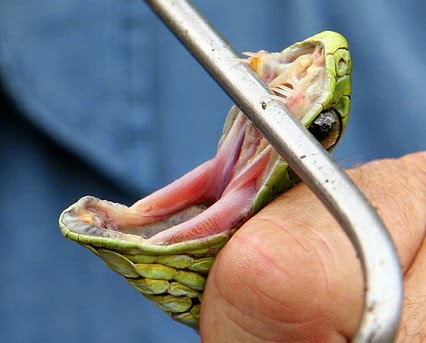 Photo courtesy of Daniel Rosenberg – The opisthoglyphous back-fangs of a Boomslang (Dispholidus typus).
Whatever their dentition, it's our job as the National Park Service to preserve and protect all living things within Cabrillo National Monument's boundaries – every plant, every mammal, and, yes, every snake. Predators like snakes are essential to keeping a balanced ecosystem – an absence of snakes means an overpopulation of rodents and other small mammals. Too many rodents, and the plants suffer. And if the plants suffer, so does every other animal within that ecosystem. So, take a moment to marvel at these fang-tastic friends – they're important!
References
Snake Dentition:
http://snakesarelong.blogspot.com/2013/09/basics-of-snake-fangs.html
The snakes of Cabrillo National Monument:
https://vipvoice.wordpress.com/reptiles-and-amphibians-at-cnm/
https://vipvoice.files.wordpress.com/2015/12/reptile_bulletin.pdf
Everything about snakes in California:
http://www.californiaherps.com/